It's a hardly a revelation to learn that MSI's new CR630 is simply an updated version of the capable CR610 . The CR630 still has the Blu-ray drive which made its predecessor such excellent, but improves on that model by having a newer and faster AMD Athlon II X2 P320 processor.
A benchmark result of 56 overall shows this to be faster than the CR610, but only by around 10%. It's still well below the performance you could expect from an Intel-based system, but it's adequate for most applications. With 4GB of RAM you have plenty of space to handle large files, and only processor-intensive tasks such as video-encoding will show up the performance gap.
The integrated ATI graphics chip can handle Blu-ray decoding, but it's not powerful enough to run games, scoring only 4.2fps in our Call of Duty 4 benchmark. Even with settings turned right down, you'll be lucky to get playable frame rates in any recent games, although older games such as World of Warcraft, which is optimised for online play, will be playable at very low settings.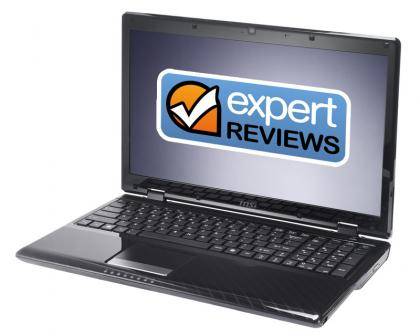 Sound is handled by a set of tinny speakers that lack the volume to fill a small room. They sound weirdly compressed too, as if part of the sound is missing, and they certainly lack bass. If you want to listen to music or watch films, you'll want to attach a set of external speakers, For watching Blu-ray movies we recommend using the HDMI output to connect the CR630 to your TV or an AV receiver.
One cutback from the previous model, is a reduction in storage capacity, with 320GB hard disk replacing the old 500GB model. It's still adequate for most needs, although if you have a large video or music library you would be well advised to invest in some external storage.
Luckily there's still a shared eSATA/USB port, so you could attach a fast eSATA disk. Alternatively, you could install faster USB3 ports via the ExpressCard/34 slot, for example the Buffalo 2 Port USB 3.0 (IFC-EC2U3UC) for £29 (see What's New, Shopper 270). This would also help to fill out the CR630's measly complement of three USB ports. There's a memory card reader, though, which is handy for quickly transferring files from a camera or mobile phone. And the now-standard support for 802.11n wireless networking.
With a 1,366x768 resolution, the CR630's display can't present Blu-ray films in their Full HD, 1080p glory, and you'll lose around half the detail once they are scaled down to fit. That said, it's still a lot of picture detail for such a relatively small display. The image quality is far better than the CR610, with natural colours and decent contrast, and the backlight is bright and even. The glossy screen finish attracts reflections, and you have to adjust the tilt of the screen carefully, as vertical viewing angles are quite tight.
There's a different keyboard, too. This one uses separated keys with flat tops that aren't as comfortable to press as the moulded keys on the previous model, but they still retain the light action and crisp bite that provides plenty of feedback for touch-typists. The inclusion of a numberpad means that the keys aren't as large as on other laptops, and the layout is cramped, with some keys moved from their natural positions, such as the Backslash key which is placed to the left of the Space bar.
Below the keyboard is a medium-sized touchpad which doesn't make use of the huge space available. It's responsive though, but lacks support for multi-touch gestures. It uses a single see-saw button which we found to be too stiff, but it's large and placed close enough to the edge of the case for your thumb to find it easily.