Everyone in the world of cryptocurrency knows the name Satoshi Nakamoto, the pseudonymous creator of Bitcoin and author of its eponymous white paper. If you believe everything you see on the internet, it might seem as if Nakamoto is not yet done with their writing exploits.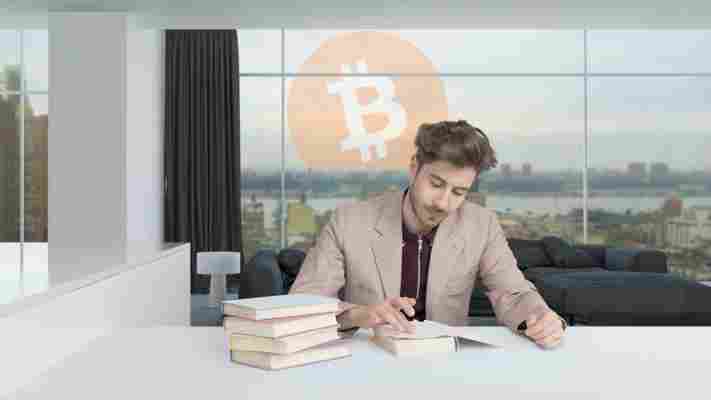 Over the past few weeks, two books allegedly written by none other than Satoshi Nakamoto have appeared on Amazonom . According to a BitcoinTalk thread , they're due to be released over the next month.
One book, titled The Official Bitcoin Coloring Book claims to be 64 pages of zen-inducing, cryptocurrency coloring fun. It's even printed on "brilliant white paper," get it?
"…discover the relaxation and inner calm that is proof of the coloring work, the zen state that can help you to capitalize on Bitcoin's tremendous potential," the product description reads.
Credit: Amazon
According to the product page, the book also claims to include a number of clues relating to a "cache of priceless Bitcoin treasure" that Nakamoto supposedly hid somewhere in the depths of the internet. It's obviously dubious whether this is true.
The second book is a collection of Wave and Ripple designs . No, not designs of the cryptocurrencies, but a series of Mori Yuzan style illustrations supposedly inspired by Nakamoto's personal collection.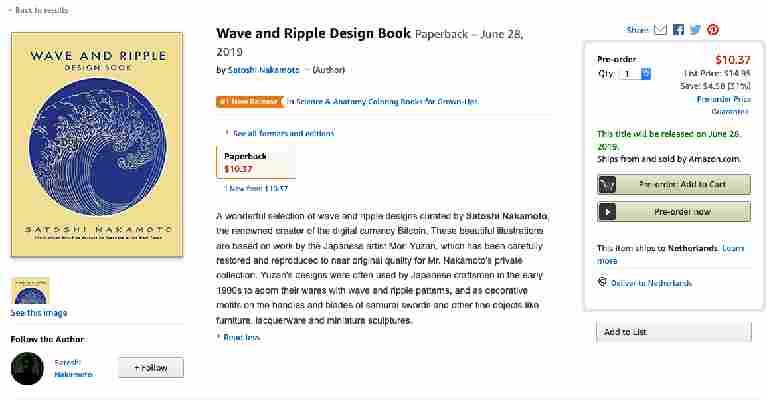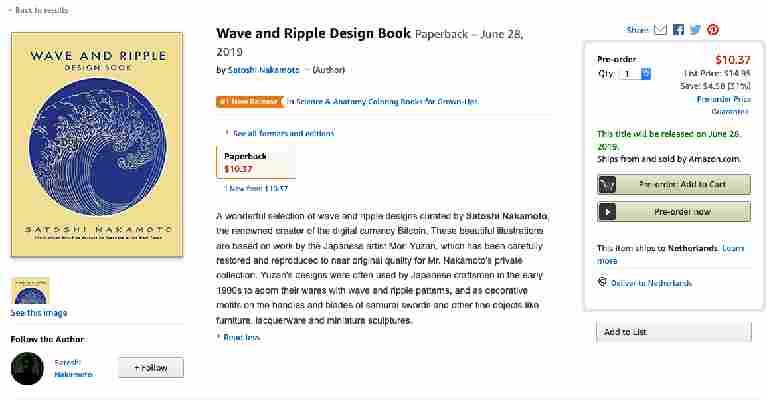 Beyond the name of the book there appears to be no other ties to cryptocurrency. Clearly, the book is playing on the notion that Satoshi Nakamoto might be Japanese because, well, the name looks and sounds Japanese.
Glittering reviews
Scrolling down to the review section you should start to realize this is probably all a big gag. Apparently, the likes of Diamond James of JP Morgain, Vitallike Buttering of Etheorum, and billionaire investor Buffet Warden have all left reviews.
It might be more than just a joke, though. According to the Amazon author profile, all proceeds will be going to charity.
"He is donating 100 percent of his book royalties to support STEM and environmental education programs serving underprivileged youth," it says.
Clearly, this is just some high-level trolling. We haven't verified the identity of the author of these books, let alone the writer of Bitcoin's original white paper. So, the truth in all the above claims is questionable, at the very least.
But if all the proceeds do indeed go to charity, it all seems to be a bit of fun in the name of a good cause.
If you are looking for some legit books about Bitcoin, blockchain, and cryptocurrency though, Hard Fork previously put together a list of top seven must reads, take a look here .
Poloniex to repay $18M worth of Bitcoin lost in margin trade flash crash with trading fees
Cryptocurrency exchange Poloniex has announced a new scheme to reimburse users affected by an unexpected "flash crash" that saw 1,800 BTC ($20 million) wiped from its margin trading lending pool in May.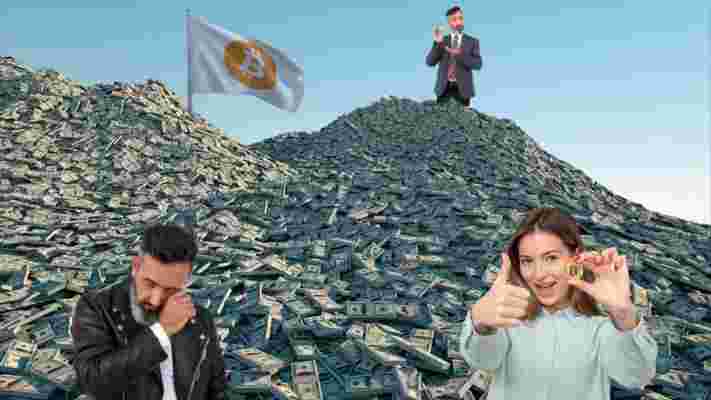 An official blog post promises to return trading fees (in Bitcoin) to impacted lenders until all losses have been repaid.
"Every time you pay a trading fee, we will convert the fee to BTC and then credit you those fees each day. Your first credit will include all the trading fees you have paid since June 6, 2019," wrote Poloniex.
Poloniex supports peer-to-peer margin trading , a system in which users send their Bitcoin to a "lending pool" so that other users may borrow cryptocurrency to trade with larger stacks.
Lenders are supposed to receive interest for doing so, and borrowers must keep collateral to ensure that debts can actually be repaid.
Bitcoin margin trading and flash crashes do not mix
In late May, the value of an obscure token named Clams (which was available for margin trading through Poloniex) suddenly crashed by almost 80 percent in under 45 minutes.
Usually, this scenario should trigger the exchange to close the positions of borrowers – a move designed to protect the capital of cryptocurrency lenders by cutting borrower's losses as soon as possible to ensure they can repay their debt.
As it turned out, the sheer velocity of the Clams market crash actually caused malfunctions in Poloniex' automated liquidation system, leaving its lenders to be collectively out-of-pocket 1,800 BTC (worth roughly $13.5 million at the time).
So far, Poloniex has paid back just over 180 BTC ($2 million) to those users.
"Our work to make [affected] customers whole isn't limited to our first payment or this new step of crediting trading fees. We are actively pursuing other strategies, and will update […] when we can," said Poloniex. "We understand how upset customers are with this loss and we appreciate [their] patience. In addition to being committed to making [them] whole, we remain dedicated to earning back [their] trust."
Other popular cryptocurrency exchanges have also had troubles with suddenly illiquid markets. Last December, the price of Ethereum briefly collapsed from $100 to a measly $13 on Coinbase Pro.
1 million crypto-jacking attempts blocked daily, despite Coinhive's demise
The cryptocurrency mining script Coinhive may have shut down earlier this year, but crypto-jackers are still active across the internet. Many devices originally infected with Coinhive are also still trying to illicitly mine cryptocurrency.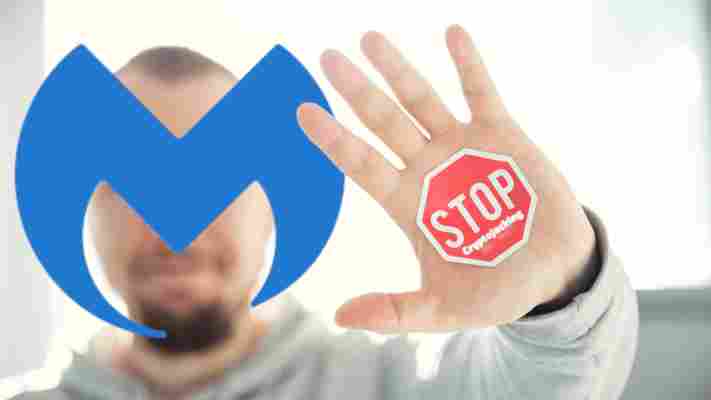 According to new figures from Malwarebytes, the cybersecurity firm blocked over 200,000 requests to connect to the Coinhive network the day after it shut down on March 8. Domain requests have since tailed off to an average of 50,000 per day over the past week.
Malwarebytes is also blocking over 1 million cryptocurrency mining requests per day from Coinhive competitor CoinLoot.
Credit: Malwarebytes
Late last year, reports suggested that over 400,000 MikroTik routers around the globe had been infected by crypto-jacking scripts. Indeed, the research shows there are still a substantial number of attempts to connect to the Coinhive network every day.
Try as they might, infected routers and websites can't connect to Coinhive and so cannot go on to mine cryptocurrency.
That said, Malwarebytes has identified a new miner, WebMinePool, that's targetting routers previously infected with the Coinhive script.
Credit: Malwarebytes
Coinhive is gone but crypto-jacking is still happening
Again, even though Coinhive is no longer operational, there are other scripts being used to illicitly mine cryptocurrency.
According to the figures, a Coinhive competitor – originally used by a Pirate Bay proxy – called CryptoLoot is still active. Malwarebytes says it's been blocking over 1 million requests to connect to CryptoLoot every day, on average, for the last two months.
Since late February, most of the blocked requests have come from the US, Canada, and Australia.
Credit: Malwarebytes
"We could compare crypto-jacking to a gold rush that didn't last very long, as criminals sought more rewarding opportunities," Jérôme Segura, Head of Threat Intelligence at Malwarebytes said. "We can certainly expect web miners to stick around, especially for sites that generate a lot of traffic."
However, it's likely that it'll take on new forms. Malwarebytes' Q1 report , stated that consumer targeted crypto-jacking was "essentially extinct."
Indeed, last month reports highlighted the emergence of a new breed of cryptocurrency mining malware called Beapy . With that in mind, it would seem that institutions might be the next targets for illicit cryptocurrency miners.
While crypto-jacking might continue to exist in 2019, tech companies are wising up to help protect users.
Mozilla recently announced its Nightly and Beta Firefox browser releases would come equipped with the option to automatically block crypto-jacking scripts .
Did you know? Hard Fork has its own stage at TNW2019 , our tech conference in Amsterdam. Check it out .