It appears that Syscoin (SYS) cryptocurrency's blockchain has been compromised. ( Update [July 4, 8 AM UTC] : Syscoin has since released a statement claiming the complications did not originate from its network. Read the updates at the bottom for more details.)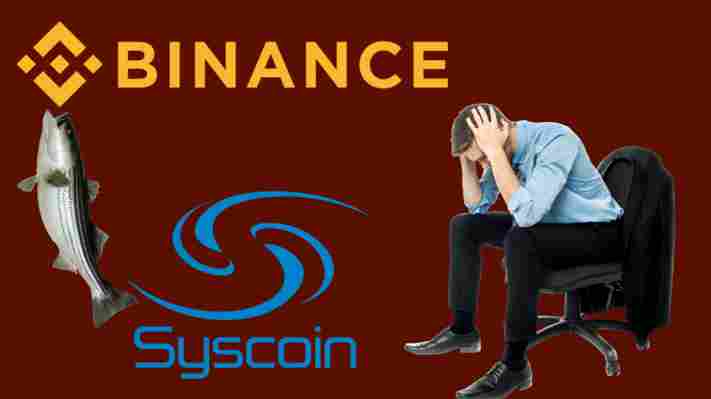 Syscoin's blockchain explorer shows that more than one billion of its coins were transacted in a single block ( Updated: The piece earlier wrongly used the word 'mined'). This is peculiar because the cryptocurrency's total possible supply is 888 million — significantly less than the amount in the block number 87670.
Syscoin confirmed on Twitter that it's investigating a possible issue with its blockchain, and stated that it has asked all cryptocurrency exchanges to halt its trading for the time being. The company hasn't been able to determine the cause of the vulnerability yet.
Bitcoin developer Jameson Lopp told Hard Fork over email that if a hack indeed occurred, the hackers could have exploited a vulnerability in the blockchain's protocol to achieve this.
"Breaking the monetary supply rules for a cryptocurrency can't be accomplished via a 51 percent attack; this indicates that a flaw has been found and exploited at the protocol level," Lopp told Hard Fork. "It's likely similar to the buffer overflow vulnerability that was exploited in Bitcoin in 2010 that allowed someone to create 184 billion BTC."
But it is not just the block that is raising eyebrows about Syscoin. It saw further suspicious activity on the cryptocurrency exchange desk Binance.
One single SYS coin (valued at $0.453290 at the time of writing) — was bought for 96 BTC on Binance ($623,000).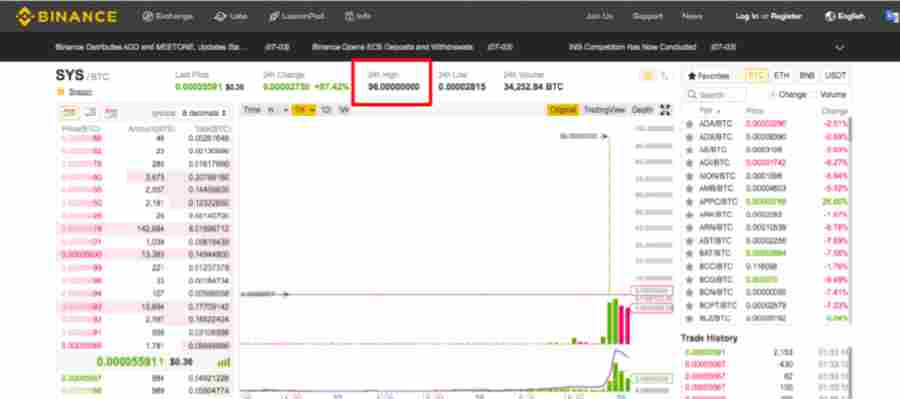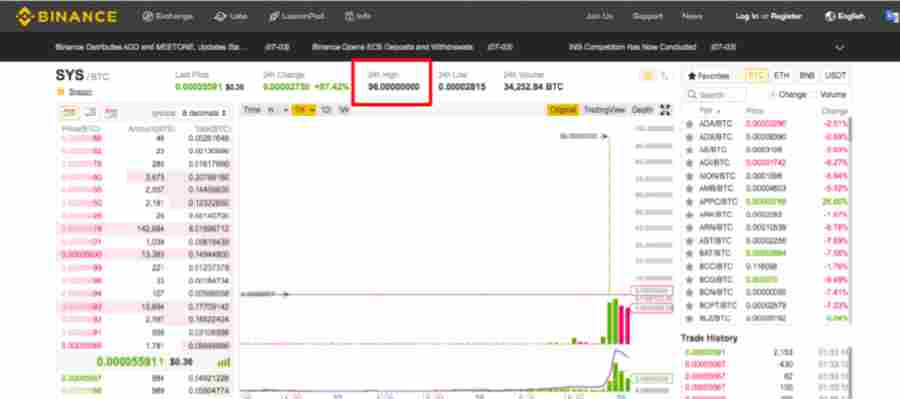 The ridiculously high buy order placed on Binance has led to a skyrocketing pump in the price of Syscoin, despite the possible blockchain hack. As per CoinMarketCap data , Syscoin's price has surged by nearly 85 percent over the last 24 hours.
Whether the trade on Binance and the surge in price are related to the blockchain compromise is not yet established. But it would be a surprising coincidence if they are not, given how closely both these events occurred.
Update 1 [July 4, 01:30 AM UTC]: Binance has announced a system maintance following the Syscoin debacle. Some social media users are hinting that it could have been an issue with Binance rather than Syscoin.
Update 2 [July 4, 8:00 AM UTC]: Syscoin has since stated that while it observed "odd trading behavior coupled with atypical blockchain activity," the blockchain itself remains safe.
Binance has also announced that it is resetting its trading API.
" Due to irregular trading on some APIs, Binance will remove all existing API keys as a precautionary security measure," the company said on its website. "All API users are requested to recreate their API keys."
The exchange has refrained from revealing the exact reason for resetting the API keys in the statement. It remains unclear whether the Syscoin trading irregularity that took place on its platform had anything to do with this move.
Update 3 [July 4, 9:00 AM UTC]: Binance has acknowledged that the system maintenance was launched in the wake of the Syscoin incident. The exchange desk has announced that it will offer zero-fee trading between July 5 and July 14 to all those who were "negatively affected by choosing to trade the rising SYS price."
Binance has also stated that it is creating a separate fund — named Secure Asset Fund for Users (SAFU) — to reimburse its users in situations such as this one.
" To protect the future interests of all users, Binance will create a Secure Asset Fund for Users (SAFU) . Starting from 2018/07/14, we will allocate 10% of all trading fees received into SAFU to offer protection to our users and their funds in extreme cases. This fund will be stored in a separate cold wallet," the company said on its website.
Disclaimer: This post was temporarily unpublished as we gathered more details. We apologize for the inconvenience.
'Crypto-Twitter' is explaining Bitcoin in 280 characters or less
Self-professed cypherpunk Jameson Lopp has set the cryptocurrency community a seemingly impossible task: explain Bitcoin in less than 280 characters.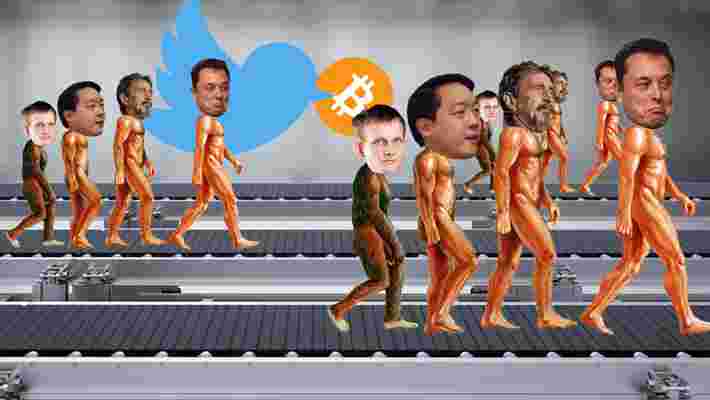 While some responses, like the one above, were overtly genuine, others were more sarcastic.
"Bitcoin is free Internet money that will make everyone rich, automatically solve ethics without any effort on our part, cure cancer, and bring about world peace," joked Bitcoin Core developer Eric Lombrozo.
It also wasn't long before proponents of alternative cryptocurrency projects like Bitcoin Cash (BCH) and Bitcoin Satoshi Vision (BSV) assigned similar challenges to their communities. Some responses were pretty unforgiving.
Few factors separate Bitcoin from its derivative networks BCH and BSV more than its block size limit .
This caps the amount of data (and how many transactions) miners can fit into a certain block, and has been the focal point of considerable controversy throughout Bitcoin's history.
Bitcoin blocks are set to not exceed 1MB (but can technically be stretched to around 4MB). On the other hand, blocks up to 32MB in size are allowed to be added to the BCH blockchain, and BSV encourages the network to accept larger blocks up to 128MB .
Cryptocurrency fans (thankfully) shared some versions of the meme that were a little more frivolous.
One requested Twitter to "explain the @TSA as completely as possible in a single tweet." Another demanded the meaning of love in its entirety with just one post.
As for Lopp's original challenge; there's certainly a clear winner: a tweet posted by user @JackScottE.
This wall of emoji artfully represents the world's most popular cryptocurrency with great efficiency, leaving little more to be said – regardless of how big or small you like your blocks.
Goldman Sachs might launch its own 'cryptocurrency' – just like JP Morgan
American banking giant Goldman Sachs might be following in the footsteps of its competitor JP Morgan . The bank is considering launching its own cryptocurrency.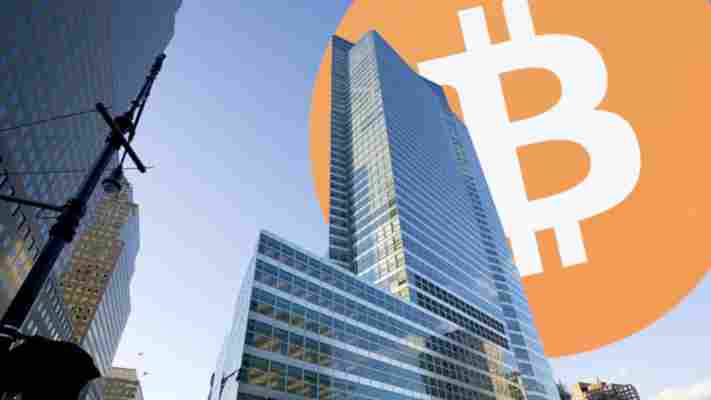 In an interview with French financial newspaper Les Echos today, Goldman Sachs CEO David Solomon said that they are doing extensive research on the concept of "tokenization."
Solomon expressed his belief in the potential of blockchain-based digital currency in enabling frictionless cross-border payments. Similar to JP Morgan, Goldman Sachs believes such a currency will need to be backed by actual fiat currencies.
According to Solomon, cryptocurrency regulations are likely to see a change in near future.
Asked if Goldman Sachs is in talks with Facebook for a potential partnership for its Libra cryptocurrency , Solomon declined to comment.
On the race among tech companies and mainstream financial organizations to get hold of the cryptocurrency market, Solomon said the following:
He further said that any of these projects will take a lot of time to realize. "S heryl Sandberg [ COO of Facebook] herself said they are still very, very far from the launch, " he added.
As for why banks are so keen on joining the cryptocurrency race, Solomon is clear: " B anks must remain innovative, otherwise they will disappear."
[H/T CoinDesk ]