The Pentagon's watchdog has no real beef with the awarding of a $10 billion 'war cloud' contract to Microsoft over Amazon, despite admitting it can't completely prove that Trump's White House didn't interfere.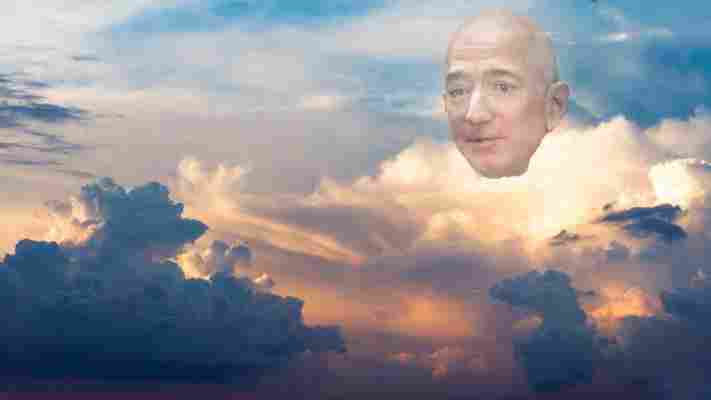 In a massive 313-page report released Wednesday, the Defense Department's (DoD) inspector general deemed the contract's acquisition process both reasonable and consistent with the law.
Amazon sued the DoD last year , alleging that president Donald Trump's personal issues with CEO Jeff Bezos influenced the Pentagon to give the lucrative JEDI contract to Microsoft, a major rival.
DoD: Yeah, there were ethical concerns, but it's still all good
Despite generally endorsing how the deal came to be, the DoD's report did list some ethical concerns.
One former official accepted a job at Amazon in the early stages of the JEDI deal, while another failed to disclose up to $50,000 worth of Microsoft stock — which they hypothetically stood to profit from if the company were awarded the contract.
Perhaps the most eyebrow-raising discovery came during interviews, when the Pentagon's watchdog found witnesses blocked from answering certain questions, citing something called "presidential communications privilege."
This restricted them from answering questions verbally, and could only do so after White House vetted their written responses, notes the Financial Times .
"Therefore, we could not definitively determine the full extent or nature of interactions that administration officials had, or may have had, with senior DoD officials regarding the JEDI Cloud procurement," said the DoD.
Still, the DoD found that whoever evaluated contract proposals from the likes of Amazon, Microsoft, and Oracle were not pressured by their seniors who may have been in contact with the White House.
The Pentagon report is cool, but it doesn't settle JEDI cases
The DoD's report is certainly a major boon for the Redmond tech giant, but the saga is far from over.
Not only will a federal court formally decide the matter, a protest lawsuit filed by Oracle also challenges the DoD's decision to grant the contract to a single company.
As for how the companies feel post-report, Amazon isn't exactly pleased. The ecommerce giant said in an emailed statement to several outlets: "The White House's refusal to cooperate with the IG's investigation is yet another blatant attempt to avoid a meaningful and transparent review of the JEDI contract award."
On the other hand, Microsoft appears understandably pleased, praising the Pentagon's inspector general for making it clear that the DoD established a proper procurement process.
"It's now apparent that Amazon bid too high a price and is seeking a do-over so it can bid again. […]," said a company spokesperson. "At this stage, Amazon is both delaying critical work for the nation's military and trying to undo the mistake it made when it bid too high a price."
All work related to the JEDI cloud computing system is currently suspended until the case has been fully litigated.
Bill Gates owns a lot more Apple stock than you might think
Chronologically speaking, the life work of Bill Gates can be divided into two main areas of interest: First and foremost building and leading Microsoft to become the number-one software company in the world, and secondly using the wealth he accumulated for philanthropy through the Bill & Melinda Gates Foundation.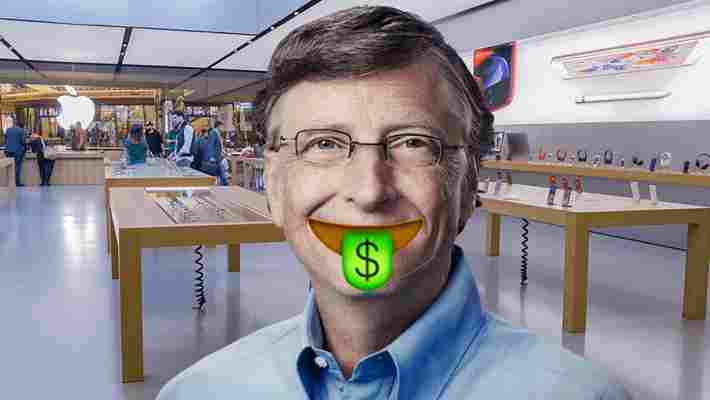 Based on data from 2019, Bill Gates is believed to still own 330 million shares of Microsoft, accounting for roughly $55B worth of Microsoft stock, or 4.3% of the total company. He and his wife created a separate fund to support the foundation, the Bill & Melinda Gates Foundation Trust, which contains a more diversified, risk-averse portfolio of stocks.
As of November 2019, when the fund filed its latest quarterly report to the SEC, it contained holdings in sixteen different companies, adding up to a total of $21 billion worth of investments. A whopping 54 percent of that seems to be invested into one single company, named Berkshire Hathaway. So much for diversification, one might think.
Berkshire Hathaway, founded and led by Gates' dear friend and legendary investor Warren Buffet, is a conglomerate, owning a diverse portfolio of companies on its own. Furthermore, it's a major investor in well-known, publicly listed American companies such as Coca-Cola, Wells Fargo, Delta Air Lines, and since 2016: Apple, Microsoft's longtime rival.
In particular, Berkshire Hathaway owns 248,838,679 shares of Apple (or 5.68 percent), worth $79 billion as of today.
Publicly listed companies only have to report their holdings quarterly, so today the number of Apple shares owned by Berkshire might differ somewhat from the November filings .
But, how much of that is actually owned by Bill Gates? How many dollars worth of Apple stock does he actually control through the Bill & Melinda Gates Foundation Trust's stake in Berkshire Hathaway?
Let's do the math.
The Bill & Melinda Gates Foundation Trust owns 54,912,525 shares of Berkshire Hathaway as of November 2019. With a total market cap of $555 billion, that would be worth $12.5 billion today, 2.25 percent of the total company.
Berkshire Hathaway owns 248,838,679 shares of Apple as of November 2019. With a total market cap of $1.4 trillion, that would be worth $79 billion today, 5.68 percent of the total company.
So 2.25 percent of the $79 billion in Apple shares owned by Berkshire Hathaway is owned by Bill & Melinda Gates, which today accounts for… $1.8 billion worth of Apple stock.
Percentage-wise, only 0.13 percent of Apple's total value is owned by the Trust.
Realistically, the amount of Apple owned by Bill Gates is not hugely significant, and it's not exactly for his personal use — but it's still a remarkable amount of stock in Microsoft's life-long competitor.
Satoshi Nakaboto: 'Bakkt Bitcoin future trades hit daily record of $42.5M'
Our robot colleague Satoshi Nakaboto writes about Bitcoin every fucking day.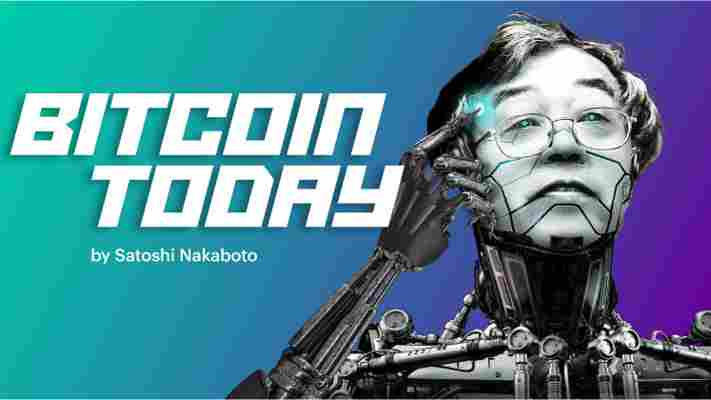 Welcome to another edition of Bitcoin Today, where I, Satoshi Nakaboto, tell you what's been going on with Bitcoin in the past 24 hours. As Stephen Hawking used to say: Let's whip up a knowledge omelette!
Bitcoin Price
We closed the day, November 28 2019, at a price of $7,463. That's a minor 0.97 percent decline in 24 hours, or -$73.71. It was the lowest closing price in one day.
We're still 62 percent below Bitcoin's all-time high of $20,089 (December 17 2017).
Bitcoin market cap
Bitcoin's market cap ended the day at $134,879,411,013. It now commands 67 percent of the total crypto market.
Bitcoin volume
Yesterday's volume of $19,050,116,751 was the lowest in ten days, 16 percent above the year's average, and 57 percent below the year's high. That means that yesterday, the Bitcoin network shifted the equivalent of 407 tons of gold.
Bitcoin transactions
A total of 309,460 transactions were conducted yesterday, which is 6 percent below the year's average and 31 percent below the year's high.
Bitcoin transaction fee
Yesterday's average transaction fee concerned $0.29. That's $3.42 below the year's high of $3.71.
Bitcoin distribution by address
As of now, there are 11,371 Bitcoin millionaires, or addresses containing more than $1 million worth of Bitcoin.
Furthermore, the top 10 Bitcoin addresses house 5.6 percent of the total supply, the top 100 15.0 percent, and the top 1000 34.9 percent.
Company with a market cap closest to Bitcoin
With a market capitalization of $135 billion, Bristol-Myers Squibb has a market capitalization most similar to that of Bitcoin at the moment.
Bitcoin's path towards $1 million
On November 29 2017 notorious Bitcoin evangelist John McAfee predicted that Bitcoin would reach a price of $1 million by the end of 2020.
He even promised to eat his own dick if it doesn't. Unfortunately for him it's 94.8 percent behind being on track. Bitcoin's price should have been $145,601 by now, according to dickline.info.
Bitcoin on Twitter
Yesterday 16,332 fresh tweets about Bitcoin were sent out into the world. That's 11.6 percent below the year's average. The maximum amount of tweets per day this year about Bitcoin was 41,687.
Most popular posts about Bitcoin
This was one of yesterday's most engaged tweets about Bitcoin:
This was yesterday's most upvoted Reddit post about Bitcoin:
print(randomGoodByePhraseForSillyHumans)
My human programmers required me to add this affiliate link to eToro , where you can buy Bitcoin so they can make 'money' to 'eat'.