Best Laptop for College- How to Choose
Whether you're heading off to college yourself or trying to help your favorite student, searching for and finding the best laptop for college may seem like a daunting task. Fortunately, this is an open-book test and we can help you find the right answers.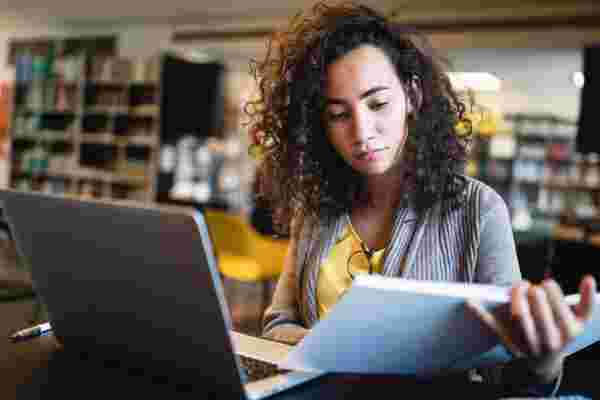 The very first thing to consider when shopping for a new college laptop is how you'll use it now and in the future. With technology advancing rapidly year after year, it's a good idea to consider a laptop that can handle new applications and programs. This is called "futureproofing" your purchase or buying a PC that has headroom for more advanced technology yet to be introduced.
Ask yourself these questions—your answers will help narrow your choices.
What programs or applications are requirements for your classes?
What field or major are you interested in?
Do you play video games, or do you want to get into gaming?
Do you use video to chat with friends or family?
Do you enjoy creating your own content—videos, podcasts, etc.?
Consider Performance First
How you use your laptop will directly influence how much performance you'll need. Using heavy-duty apps like Adobe Premiere Pro* or playing video games requires a lot of horsepower from the CPU. However, if you or your future college student will use the laptop for more basic tasks like word processing, downloading music, and posting to social media, then a top-of-the-line CPU might not be necessary.
Form Factors
Today's laptops are a far cry from the thick, bulky machines of the last two decades. In fact, the traditional clamshell laptop design is now joined by other types of designs and form factors.
Clamshell
Once the only design option for laptops, clamshells (laptops that open and close) are still a popular choice. But nowadays, many clamshells offer more features, such as touchscreens, super high-resolution displays, chassis made from non-traditional materials, and improved connectivity options, such Thunderbolt™ 4 ports.
2 in 1s
2 in 1 laptops offer great flexibility without a need to compromise. 2 in 1s offer the best of both worlds—the performance of a PC and the fun of a tablet, in one sleek device. There are two different types of 2 in 1 laptops: Detachable and convertible.
Convertibles
Keyboards stay attached and can swivel, twist, or flip.
Flip for "tent" or "stand" modes to share content or present.
Fold entirely in half for "tablet" mode.
Great for productivity-minded students who work hard but want tablet functionality for entertainment.
Detachables
Provide super-fast switching from laptop to tablet modes.
Offer a pure tablet experience when keyboard is detached.
Perfect for web surfers who also need to type now and then.
When thinking about these different form factors, consider the weight and thickness of your new laptop. A long trek across campus can quickly become uncomfortable if you're lugging around a heavy laptop. Thankfully, laptops available today come in a range of sizes and weights. Which leads us to your next consideration—the laptop's screen.
Screen Size
The size of a laptop's screen will directly influence its weight and price. Laptops are typically categorized in stores and online by the size of their screens. Common screen sizes for laptops usually start at 11 inches and continue up to 17 inches.
Again, ask yourself where and how you'll use your new laptop to help you decide on a screen size. Does either your schoolwork or interests require you to use an external monitor?
11- to 13-inch models
If mobility is most important to you, consider these options:
A small laptop.
A super-thin, lightweight laptop (sometimes referred to as an Ultrabook).
Small laptops with 11- or 13-inch screens are a great choice if you have a strict budget, need extreme portability, and only need to complete basic tasks, such as Web browsing, e-mail, and word processing.
17-inch models
If performance is your top priority, or you want a laptop that can replace your desktop, go for a 17-inch workhorse. These models may weigh more than others, but they really pack a punch. These large laptops are usually best for gamers, content creators, or video editors who need a lot of processing power to complete complicated tasks. This large screen may eliminate your possible need for an external monitor.
15-inch models
For a good balance between mobility, performance, and price, check out some 15-inch models. Many weigh four pounds or less and are targeted for the mainstream consumer—meaning you'll probably find more features you want, such as more ports, an optical (DVD or CD) drive, and better battery life.
Battery Life
Battery life is always a main concern when it comes to purchasing a laptop. Unfortunately, establishing the battery life of a laptop is no easy task for manufacturers. How long a laptop's battery will last depends on what you're using the PC for; it's best to look at manufacturers' specs as a general guideline.
Generally speaking, the bigger the screen size of your laptop, or the heavier the model, the less battery life it will provide. Smaller laptops and Ultrabooks use lower voltage processors designed specifically to offer better battery life. Go online to manufacturers' Web sites to research battery life, or read online reviews. Typically, mid-sized to larger laptops will offer between four and six hours, while ultra-portable models can go for as long as ten hours.
Ports/Connectivity
Don't understate the importance of ports and how you'll connect different peripherals cameras, phones, and other devices) to your laptop. While many peripheral devices can connect wirelessly, sometimes you just need a USB port. Smaller laptops, and thin models will have fewer ports.
What kinds of ports are available on laptops?
How to Choose the Right Laptop brand
Laptop Buying Guide: How to Choose the Right Laptop for You
When you decided to buy a new laptop, it's a bit tough to decide which one you should buy. There are hundreds of laptop models to choose from and prices ranging from under $200 for netbooks to over $2,000 for high-end laptops.
How to Select the Best Laptop for your need?
1. Windows OS or Mac OS?
If your budget is enough, it's not easy to decide to choose Windows laptop or Mac laptop. Here are overview of each platform's strengths and weaknesses. They should help.
Windows laptop: Generally Windows notebooks are affordable and offer a much wider range of design choices from more than a dozen major vendors. Microsoft and its partners also allow you to buy notebooks with touch screens, letting you transform from notebook to tablet mode. Windows PCs offer more software choices.
Mac laptops: Apple's MacBook Pros and MacBook Airs can also run Windows, which makes these laptops attractive for their versatility. For industrial design, the touchpad and display quality, Mac laptops outclass most Windows machines. However, Apple's laptops are much pricier. Blu-Ray, touchscreen, TV tuners are not available on the few variants Apple offers.
2. Choose the Right Size
Then you should figure out how portable you need you laptop to be. So consider the size it should be.
11 to 12 inches: The thinnest and lightest laptop around have 11 to 12 inches screen and typically weigh 3 to 3.5 pounds. However, at this size, the screen and keyboard will be cramped for some users.
13 to 14 inches: Provides the best balance of portability and usability. Laptops with 13 to 14 inches screen usually weigh between 3.5 and 4.5 pounds providing general sized keyboard and screens.
15 inches: As the most popular size, 15 inch laptops heavy at 5 to 6.5 pounds, but also cost the least. If you're planning to carry your laptop around often, it is good deal for you. Some 15-inch models have DVD drives.
17 to 18 inches: If your laptop stays on the desk all day every day, a 17 or 18 inches laptop is idea because it provides you high-voltage quad-core CPUs, power-hungry graphics chips and multiple storage drives. It's especially useful if you need to play high-end games or do workstation-level productivity.
3. CPU, Hard Drive, RAM, Graphic chip
Like it or not, you still have to pay at least some attention to specs and components.
Don't settle for less than an Intel Core i3 CPU or AMD A Series. Power users and gamers should settle for no less than Core i7 system, preferably a quad-core chip.
RAM: Even the cheapest notebooks have 4GB these days so don't settle for less. If you can get a system with 6 or 8GB, you'll be better prepared for high-end applications and lots of multitasking.
Hard Drive: A fast drive is more important than a large one. A 7,200-rpm hard drive is recommended. 320GB should provide more than enough space even if you have several movies and games on your hard drive.
Flash Cache: While not as fast as an SSD, a flash cache will help boost load and boot times while allowing you to store all your data on a large hard drive. You can select to use 8, 16 or 32GB flash caches.
Solid State Drives (SSDs): These drive lets you enjoy faster boot times, faster resume times, and faster application open times even though they cost quite a bit more than traditional hard drives and come with less capacity (usually 128 to 256GB).
Display: If you have the option, choose a laptop with a higher pixel count 1600 x 900 or 1920 x 1080 —always go for the highest res you can get. You'll see more of your favorite Web pages, multitask better and have a better movie-watching experience. Full HD panels (1920 x 1080) cost about $150 more than your typical display, but are worth the splurge, especially on larger screens.
Graphics Chip: A discrete graphics processor from AMD or Nvidia will provide better performance when it comes to the most-demanding games. Plus, a good GPU can accelerate video playback on sites, as well as speed up video editing.
4. Hybrid or Traditional Notebook?
Hybrid laptop that double as tablets don't provide as good of a slate experience as dedicated tablets or as strong of a notebook experience as clamshell-only devices. It's not suggested to use such a kind of laptop.
5. The Brand Matters
You should consider the manufacturer stacks up to the competition in terms of design, value and selection, performance and other criteria. In 2013 Best and Worst Laptop Brands report, Apple placed first, followed by Lenovo, ASUS, HP, Samsung, Sony, Dell, Acer and Toshiba.
No matter what model you selected at last, if you lost your Windows login password, you can try Windows Password Recovery to recover it. It's efficient and easy.
Please enable JavaScript to view the comments powered by Disqus.
Disqus
How To Choose a Laptop For Graphic Design Buying Guide
When choosing a laptop for graphic design the first thing you should consider is what Operating System you want to use, the most popular OS among graphic designers are iOS and Windows, but which one is better for designers? both of them are good for graphic design work and will offer you great performance, but let's see what are the main differences.
Mac laptops usually have better monitors with great color accuracy and display quality, also another thing to consider about MacBooks is the other devices you are using, for example, if you have an iPhone or iPad, you should invest in a MacBook to have great compatibility between devices.
On the other hand, PCs are more suitable for general software, being a great choice if you want to use your laptop for work and personal use, another advantage of PCs is the variety of ports they have been really useful among graphic designers, and the most important thing is that laptops using windows are much easy to upgrade than Macs being really useful to replace different components of the laptop.