Is There A Difference Between Lenovo, HP and Acer?
The Lenovo, HP, and Acer are all big names, but which one is the best? More specifically, what is different about them? There is a great deal of variability between Acer, HP, and Lenovo laptops, ensuring that there is something suitable for any user.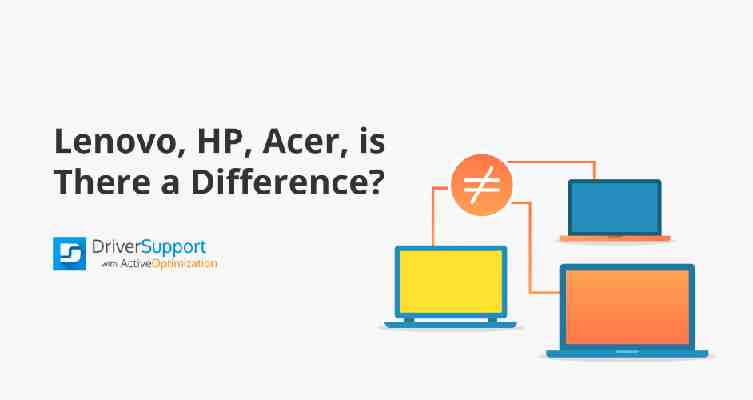 Find out which brand is best for you when shopping for a new laptop and also learn how to keep it running smoothly with driver updates. Here are the major distinctions between these brands.
Finding the Right PC from the Best Laptop Brands
The only way to determine the best laptop from these brands is to separate them by their differences. These differences don't make one brand universally superior to the other as different users have unique priorities.
HPs will be better for some users and Lenovo's will be better suited for others.
What You Should Know About The Best Laptop Brands
These brands all have something to offer when it comes to different users with unique values. If your main priority in purchasing a laptop is the price, for example, you may want to go with an Acer or an HP.
Here's what you need to know about the best laptop brands.
Lenovo
Chinese firm Lenovo launched in 1984 and grew gradually until they gained more legitimacy after gaining a controlling interest in IBM's ThinkPad laptop computers in the 2000s. They have grown their sales and customer base tremendously ever since.
Lenovo has proven to be one of the best choices for office laptops. The ratio of price to reliability is favorable, making it a wise choice for professionals in office environments.
HP
HP has been a trusted giant in personal computer manufacturers for many years. As a highly recognizable and powerful brand name, HP commands a strong position in the laptop market. One of their most impressive feats to date has been their mastery of laptop and tablet design.
The HP Chromebook x360 14, for example, is a marvel in design. The model has some unique features as a laptop/tablet hybrid. One of its most impressive features in terms of design is that the screen pivots 360 degrees on a hinge.
Sporting powerful Bang & Olufsen speakers, this model is a veritable powerhouse when it comes to sound. More impressive still, when it comes to performance, the HP Chromebook x360 14 beats the Acer Chromebook Spin 13 when it comes to performance.
Superior performance is one of the major cornerstones of HP's success in computer manufacturing. While prices may fluctuate, customers can always rely on HP's performance.
Acer
The Acer Chromebooks have had an interesting rise to power, and have recently shifted their focus to customers who value PCs featuring high-end hardware. Their sudden rise has been of remarkable interest to the computer manufacturing community.
Curiously, as of last year, Acer has been proclaimed the top seller of Chromebooks, a remarkable feat. Just six years ago Acer was struggling, and now it has become a respected leader in Chromebook sales.
More impressive still, Acer is one of the few firms to have entered the Chromebook market and survived after the early years. One of Acer's key trademarks that have helped fuel their success is the focus on both features and flexibility.
The combination, especially their lower rates of electricity consumption have made Acer laptops high-ranking choices for schools. HP is also heavily sought by educational facilities, much for the same reason.
Is Acer Better Than Lenovo?
Comparing Acer to Lenovo is an interesting exercise as they both have some pros and cons. Of the two, Lenovo, based in Beijing, is a markedly bigger firm than Taiwanese manufacturer Acer.
Lenovo ThinkPad technology featured above.
When comparing their laptops, they both come close in business, portability, and gaming laptop models. Acer features one of the top-selling business computers and offers incredible value for the price.
Acer also has a powerful presence in gaming; however, Lenovo's line of gaming laptops ranks remarkably close in terms of performance. The bottom line is that these high-ranking players are making it a close call.
It is worth noting, however, that Lenovo features some of the best office laptops. Which one is best? You decide, they both have something for everyone.
Which Brand Has the Laptops with the Right Price?
HP and Acer can be more conservative compared to other brands like Lenovo, however, the quality is worth it for certain users, especially professionals.
Acer's conservative prices at the unit level have also helped keep them a top choice for schools looking to save money on tight budgets.
Traditionally, Acer has voluntarily placed itself in the economic sector of the laptop market, which has been quite rewarding.
More recently, however, Acer has made plans to market more expensive, high-grade models.
Input Design, Which One Got It Right?
Input design is one of the most important aspects of any laptop. A $1,000 machine isn't much use when you can't stand typing on it. Keyboard and touchscreen design are of the utmost importance in terms of usability.
The Lenovo beats the Acer Chromebook hands down when it comes to touchscreen capability as the Acer has no touchscreen. That would make Lenovo better in the eyes of some consumers who value the touchscreen feature.
HP is relatively consistent in its input designs in terms of quality, a characteristic that resonates with consumers.
The Importance of Keeping Your Device Drivers Updated
After buying your new laptop, there are some important things you need to do in order to maximize the use of your new PC. Firstly, you should make sure that you have adequate anti-virus, anti-malware, and anti-spyware installed.
Having these installed is smart thinking and will help protect your computer from external threats that could potentially compromise your new investment.
Another thing you need to do is ensure that your laptop's device drivers will be routinely updated. The easiest and most effective way to do this is to install some reliable software that will keep your device drivers updated automatically.
The consequences of neglecting your laptop's drivers and letting them get outdated can lead to some serious problems down the line. Outdated device drivers can cause problems like the blue screen of death, and other extremely frustrating performance issues.
Protect Your New Investment
Buying a new laptop is a great feeling, it's an exciting experience. Laptops represent a significant investment as the price point, even among the more economical models like Acers, can still be quite high. You wouldn't want anything to happen to your brand-new laptop, and device drivers are often the first thing to go after the first year of use.
Driver Support can take the worry out of problems resulting from outdated device drivers by updating them automatically. In today's fast-paced world, there's no sense in wasting your time applying manual driver updates.
The process is tedious and can lead to countless hours of hair pulling. Much better to let sophisticated software like Driver Support take care of it for you.
One of the things that makes Driver Support one of the best possible choices is that they have been in the business of keeping device drivers updated automatically for over 20 years.
A trusted industry leader, Driver Support is one of the best automatic driver update solutions on the market. Give Driver Support | ONE a try today! today and let our software take the worry out of updating drivers.
HP vs Lenovo: Best Brand Comparison of Laptops & Chromebooks
Are you confused in opting between the brands HP vs Lenovo? Are you hunting for a laptop for gaming? Or did you need one for your regular company job? Regardless of where you look, HP and Lenovo are two brands, you come across everywhere. This article will help you in choosing the right product (HP vs Lenovo) whether it is for gaming laptops or business laptops or Chromebooks.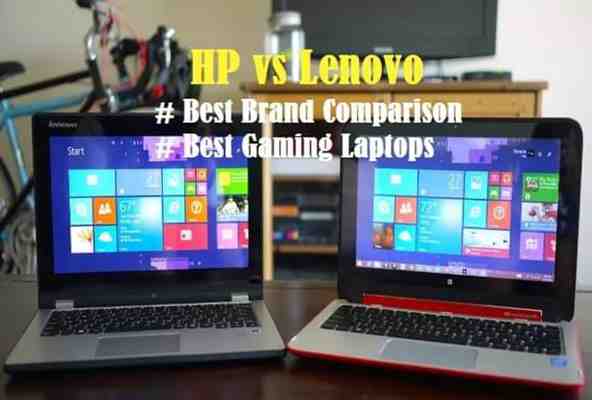 Bipolar Junction Transistor – Def... Please enable JavaScript Bipolar Junction Transistor – Definition, Construction, Types & Applications
HP vs Lenovo – Which Brand to Go For
Brands gain their popularity and position over time and the brand matters, when it comes to buying a laptop. So many brands exist in the market, but when you think of laptops, only a few names still hit in the minds of consumers, and this is due to the consistency and reliability that they have to offer in their goods over the years.
Fig. 1 – HP vs Lenovo Comparison
Two such brands are Lenovo and HP, both competing hard for the top place in the industry, delivering excellent products over and over again. Based on the features that matter most, here's a detailed review of HP and Lenovo.
Better Features: HP Vs Lenovo
The different Features that you might want to look for in both the brands is listed under two categories:
Why HP is Better
Why Lenovo is Better
Why HP is Better
HP is better in terms of:
Design
Display
Graphics
Design
The design of HP laptops is way better than Lenovo laptops. So, if you are looking for anything that is great to look at, they are a much better choice aesthetically.
There are, however, those who like Lenovo's traditional no nonsense style, which is why the ThinkPad has become so popular not only in the US, but worldwide.
Display
In terms of monitor display and resolution, HP leads the field. Their screens look great and they are crystal clear, which might make them a better alternative for those looking for a monitor screen with a high resolution.
Graphics
Usually, if we look at the two brands' graphics across their whole spectrum, then the HP laptops appear to have superior graphics. However, bear in mind that they are also expensive.
Lenovo's laptops aim to meet business needs and are less graphically oriented.
Fig. 2 – Which has Better Features : HP or Lenovo
Why Lenovo is Better
Lenovo is better in terms of:
Customer Support
Great and Steady Products
Customer Support
Nowadays, HP is known for its bad customer support, so that's one reason you might want to avoid their products. In comparison to them, Lenovo currently has one of the best customer facilities in the computing industry, and you should be able to find a solution quickly if you have any concerns.
Great and Steady Products
Lenovo is commonly best known for its ThinkPad series, which has become one of the most dominant models in both the business sector and the education industry. For capital, they give great value. They have also released their own Lenovo Legion line of gaming notebooks, as well as their ThinkPad range, which has also been met with positive reviews.
HP Vs Lenovo – Best Brand Comparison
Based on the user requirements, we have tried to list three categories and their comparison accordingly.
Best Gaming Laptop: Lenovo or HP
Best Business Laptop: Lenovo or HP
Best Chromebook: Lenovo or HP
Best Gaming Laptop: Lenovo or HP
Lenovo Gaming Laptops
If you're looking for a laptop for games, then Lenovo is the brand for you. Lenovo brings gaming laptops to you with the Legion Series, both inexpensive and yet powerful enough to run most gaming titles such as FIFA, GTA V, Fortnite, PUBG, etc.
Fig. 3 – Lenovo Gaming Laptops
HP Gaming Laptops
If you think the Y740 Lenovo Legion was impressive, that's because you haven't experienced HP Omen. Even though it costs lot more, but its aspects can make your jaw drop.
Fig. 4 – HP Gaming Laptops
Best Business Laptop: Lenovo or HP
Lenovo Business Laptops
If you're searching a laptop for your business, and you're considering Lenovo and HP, you can go with Lenovo. This is since, for commercial purposes, Lenovo has a wide variety of convertible laptops that are ideal. A great example is the Lenovo Flex.
Fig. 5 – Lenovo Business Laptops
HP Business Laptops
HPs' ZBook and Lenovo Yoga stand toe- to- toe. In fact, as ZBook features a 4k resolution monitor, it outperforms Lenovo Yoga on several fronts. Combined with its portability, its strength and speed make it, the perfect workstation for the workaholics.
There are a few other laptops that are worth considering, but only fit people who have a desk job and are not always on the move for business purposes, can think of HP Pavilion.
Fig. 6 – HP Business Laptops
Best Chromebooks Lenovo or HP
Chromebooks are ideal because they are affordable for anyone who simply needs a laptop for entertainment and light work purposes.
Lenovo Chromebooks
If you're looking for a Chromebook convertible, Chromebooks such as the Lenovo C330 are handy versions that work to give you optimum convenience in laptop and tablet modes.
HP Chromebooks
HP Chromebooks also don't lag far away. Since they are the perfect combination of style, strength, and cost-effectiveness, they give the best value for money and we believe so. Most HP Chromebooks, such as the newest HP 14, have a Celeron Processor or AMD processor that is much faster than the Lenovo Chromebooks MediaTek Processor.
Fig. 7 – Chromebook Comparison
Conclusion
Overall, it is an individual decision to determine on one of these laptops based on their requirements. For individuals hunting for a discount, brands such as Lenovo and Acer typically have the best value for money. But just because Lenovo is regarded as a cost-effective company, it doesn't mean you can undervalue their products.
If you're looking for a more expensive office laptop, their ThinkPad series is one of the better choices. HP will always be a great option for looks, since they normally put a lot more thought into their laptop design than Lenovo.
How to Transfer To Lenovo Laptop From HP, Dell, or another Lenovo (Files, Programs, Accounts, And Everything Else)
How to Transfer To a Lenovo Laptop – From Dell, HP or another Lenovo

Got a new Lenovo laptop? Let's see how to transfer your apps, profiles and files to the new Lenovo, from your old Dell, HP, another Lenovo or any other brand.
Of course, to really make a new computer feel like home, you need more than just files. We'll see how to also copy your programs, profiles, accounts, passwords, settings, documents, pictures, music, movies, favorites, and all of your files.
This tutorial covers all Lenovo modes, such as Lenovo ThinkPad, Lenovo Yoga, Lenovo IdeaPad, Lenovo Legion, Lenovo Gaming and so on, and any Windows version (even if old computer has an older Windows). Transferring from Dell to Lenovo or from HP to Lenovo can now be a breeze.
This tutorial is covers transfer to a new Lenovo. If your new computer is not a Lenovo, check out our guides for Transfer to new Dell, Transfer to new HP, or a general guide for Transfer to New Computer.
Here is what we'll be copying to your new Lenovo:
Files , such documents, pictures, music, pictures and emails
, such documents, pictures, music, pictures and emails Settings , such as user profiles, emails, accounts, passwords, favorites, bookmarks, wallpaper and other personalization
, such as user profiles, emails, accounts, passwords, favorites, bookmarks, wallpaper and other personalization Programs, such as for example Microsoft Office (and Outlook for email), Google Chrome, Quickbooks, Adobe, and any other applications that you use on the old laptop
Let's see how it is done.
Video tutorial – transfer from Dell / HP to Lenovo
How to transfer to a new Lenovo laptop
Once you unpack the new Lenovo laptop, turn it on and get it online, you are ready to start the transfer. You don't need special hardware or complicated technical manuals; these days, computer transfers can be fully automated. We will be using a tool called Zinstall WinWin for that (available here).
Here is how to do the transfer:
Run Zinstall WinWin on your old computer (the one you are transferring from). Run Zinstall WinWin on the new Lenovo laptop You don't need to do any configurations for the computers to connect – it's automatic If the computers are already connected to same router, same Internet connection, or same wireless connection, you don't need anything else If there is no way to get both computers online, you can still do the transfer, using Zinstall with USB drive. See here for transfer to new computer using USB external hard drive. If you'd like to select which applications and files you want to transfer, press the Advanced menu. If you just want to transfer everything, you don't need to go to the Advanced menu. Press "Go" on the new Lenovo laptop to start the transfer
That's it! Once the transfer is done, you will have all of your files, your profiles, accounts, and of course your programs – on your new Lenovo laptop. It's that easy.
Ready to copy everything to your new Lenovo?
Get Zinstall WinWin here
You keep mentioning Dell to Lenovo and HP to Lenovo. Can I transfer from a different brand?
Yes, of course. This works exactly the same regardless of what you have as your old computer. We are simply mentioned Dell and HP because that's what we are most frequently asked about. But any Windows PC works, such as ASUS to Lenovo, Acer to Lenovo, and so on.
What if my old computer is a desktop / tower PC, not a laptop?
Same deal. You can this same tutorial for transfer from a desktop to a Lenovo laptop, same as laptop to laptop. Desktop and laptops are different physically, but in terms of how programs and files behave on them – there is little to no difference. So there is no problem to transfer from one to another.
Ready to transfer everything to your new Lenovo?
Get Zinstall WinWin here