Remember the Exodus 1 – HTC's attempt at building an ultra-secure phone for the blockchain? Well, thanks to a collaboration with Opera, the device now seamlessly pairs with the browser and its built-in cryptocurrency wallet , making it a tad bit easier to interact with the decentralized web.
This means Opera users can now access their wallet, transact cryptocurrency, and log in to various Ethereum-based services in a matter of a few clicks. But while this might sound like a huge UI improvement, there are a few things we should address.
Let's get into it.
How Opera's cryptocurrency wallet works on the Exodus 1
To take advantage of the new functionality, Exodus 1 users need to install the latest software update ( 1.57.709.2) , which is already rolling out over-the-air. In addition to a few pre-installed blockchain apps (which you can get on any Android handset), the update also brings a revamped version of Zion – HTC's "hardware-backed" private key management system.
Zion, which also doubles as a cryptocurrency wallet, is the system underpinning the Exodus 1. It's ultimately a private key storage platform which resides on a "secure enclave" inside the phone – a quarantined chip specifically built for handling cryptocurrency transactions in what HTC claims is a highly a secure manner.
So why on earth would you use Opera's wallet if Zion already does that? Well, this is where HTC's new Zion Key Management API comes into play. The phone-maker is releasing a standalone interface that lets third-party software developers make use of its Zion technology – and Opera is the first one to adopt it.
Instead of filling in your private keys (or mnemonic phrase) manually each time you need to spend some cryptocurrency, Opera now leverages Zion to let you sign into your wallet with just one click. This is possible since Zion already stores your private keys in Exodus 1's secure enclave. The new Zion API merely lets you reuse them to access other services.
Once logged in, users can make transactions as they normally would with the Opera wallet; the only exception is that you will also need to enter your Zion passcode (a six-digit code selected by users) to confirm the transfer.
While the new feature is nothing particularly impressive, it's certainly a lot more user-friendly than what most cryptocurrency holders are used to – and hopefully slightly more secure, thanks to HTC's dedicated enclave.
But there is one big shortcoming: the new Zion management API is exclusive to the Exodus 1. So unless you are willing to shell out $700 for the handset, you won't be able to use Opera's new feature.
Where things fall short
Smooth user experience aside, experts note that smartphones – even those coming with additional cryptocurrency-specific security measures – aren't particularly well-suited for storing large amounts of coins. Instead, you might be better off getting a specialized hardware wallet solution. As the old adage goes: complexity is the enemy of security.
This brings an interesting conundrum: the Exodus 1 is not secure enough to use as a legit cryptocurrency storage solution, and too expensive to justify buying as a smartphone.
In a way, the only good use for the device is to interact with Ethereum-based apps. Unfortunately, there is hardly any activity on these apps in the first place. Opera and HTC hope collaborations like this one will change this, but this strikes me as a long shot at present.
In an interview last November, HTC decentralized chief officer Phil Chen candidly admitted the company doesn't consider the Exodus 1 a top priority. " I don't think it's number one on the priority list, but I would say it's number three or four," he shared.
This rings true to the collaboration between Opera and HTC, too. The new integration is fun to use, but it's far from the game-changer the blockchain industry needs to break into the mainstream.
FTC sues entrepreneur who raised $800K for smart backpack – then used it to buy Bitcoin
Serial crowdfunder Douglas Monahan will face court, accused of misusing more than $800,000 raised for a hi-tech range of backpacks to buy Bitcoin and pay credit card debt.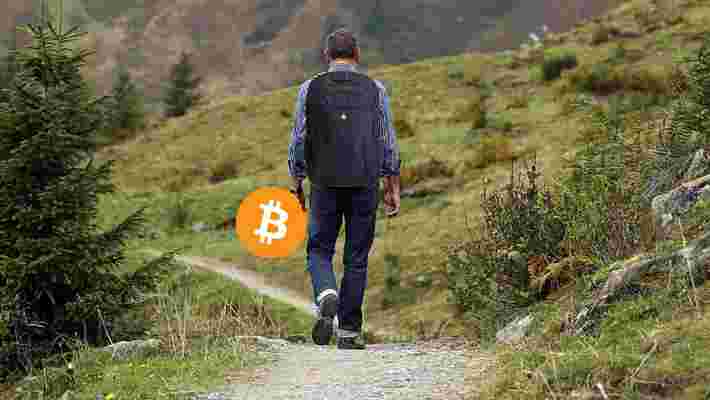 The US federal trade commission (FTC) also claims Monahan threatened hundreds of consumers to silence criticism. He's alleged to have told one investor he knew where they lived, while promising to sue to others for libel and slander.
"Despite missing the delivery date for the iBackPack, Monahan started a second crowdfunding campaign in March 2016 via Kickstarter to produce and distribute the iBackPack 2.0, an updated version of the still-unproduced original iBackPack," said the FTC .
Court docs state Monahan's company, iBackPack of Texas LLC, began raising funds to develop the 'iBackPack' through crowdfunding platform Indiegogo in 2015, and by November 2016 had raised over $720,000.
Contributors were promised specific products depending on the amount invested. Those who gave $169 were told they would receive an iBackPack that included a Bluetooth speaker, various batteries, and some cables.
The campaign for iBackPack 2.0 again promised additional features to those who invested more money. Contributors pledging more than $299 were to receive an iBackPack 2.0 with in-built WiFi functionality.
The second campaign finished in April 2016, having raised more than $76,000. During this time, Monahan is said to have raised another $11,000 with two additional Indiegogo campaigns.
One was for "MOJO," a shoulder bag that came with cables, batteries, and other features. The other was for "POW," a magnetic USB cable system that supposedly had some technological benefits.
The FTC has claimed Monahan used a large share of the $822,000 raised for his own personal purposes, "such as making Bitcoin purchases and ATM withdrawals, and paying off personal credit cards; for marketing efforts to raise additional funds from consumers; and for other business ventures."
Interestingly, Monahan is said to have made false statements about the status of his "products," including promising that the super-special POW cables were "on their way here," or "done/finished/shipped over with" – which some altcoin investors from 2017 may find familiar.
Really, the only thing missing here is a fraudulent initial coin offering. If there was, I can only imagine just how heavy those bags would be…
Did you know? Hard Fork has its own stage at TNW2019 , our tech conference in Amsterdam. Check it out .
Coinbase quietly kills its loss-making cryptocurrency investment packages
Further to shutting down its cryptocurrency index fund, Coinbase has seemingly closed its "Bundle" now too.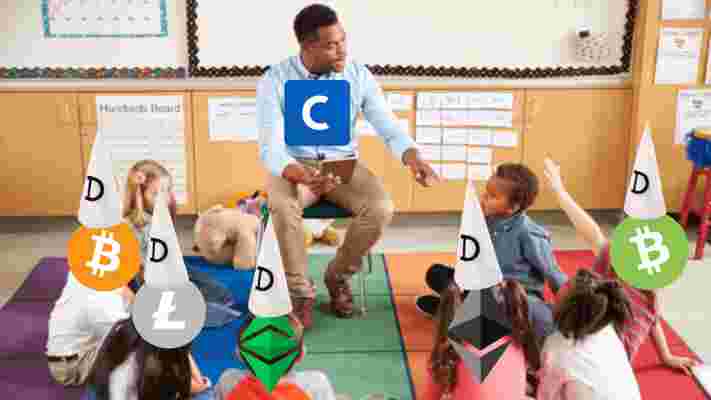 According to an update on its FAQ page , spotted by The Block , Coinbase Bundles "have been deprecated," with all assets in the bundle being "redistributed to their respective individual asset wallets" for users.
The cryptocurrency exchange launched its bundles packages last September in an attempt to simplify the cryptocurrency buying process for new investors. It let investors buy a weighted package of Bitcoin, Litecoin, Bitcoin Cash, Ethereum, and Ethereum Classic.
Alongside the bundles, Coinbase also launched new asset pages and Coinbase Learn, a repository of information about the digital assets listed on the exchange.
Indeed, Coinbase at the time even said this was all an attempt to help new investors get some skin in the game. "The purpose of the bundle is to make buying more convenient and less overwhelming," Coinbase said at the product's launch.
But as ever, more investors means more profit for Coinbase, presumably the bundles haven't been as successful as the company had hoped.
Indeed, in December 2018, a chart from Coinbase showed that if you'd put $100 into Coinbase Bundle in 2017, a year later you'd have just over $20. Clearly, given the state of the market over the last 18 months, they weren't a money making venture.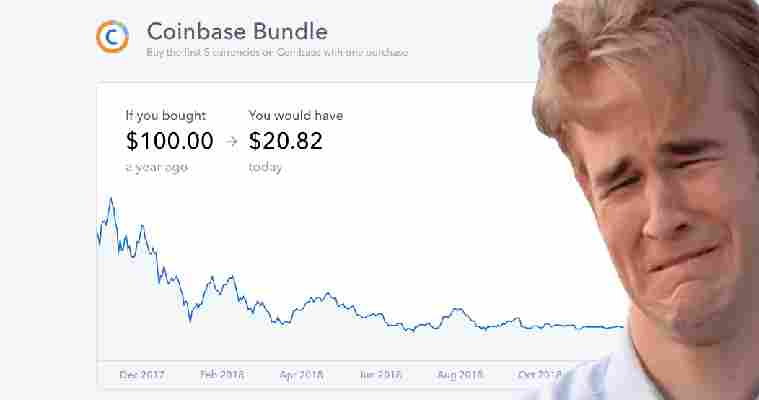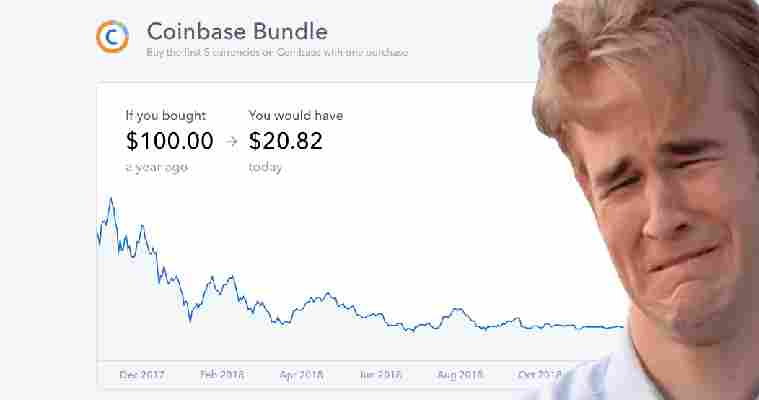 Hard Fork has contacted Coinbase to find out why the exchange took the decision to discontinue the bundles. We will update this article when we know more.
Just a couple of weeks after the exchange launched its cryptocurrency Bundle, it closed its institutionally oriented index fund citing a lack of interest.
The exchange told Hard Fork it shutdown the fund to focus on the (at the time) new Bundle product. Well, with the latest news it seems that train has reached its final destination, too.
Perhaps the exchange is now focusing on its latest new product – launched yesterday – which lets new investors copy the top 10 percent of Coinbase traders. Sounds like another attempt to simplify the cryptocurrency buying process, call it coincidence, but I'm starting to see a trend here.
Coinbase isn't the only cryptocurrency investment platform to dabble with packaging cryptocurrencies into one, a supposedly easy to manage product.
Wallet and trading desk provider Abra launched its "BIT10" Exchange Traded Fund (ETF) styled token around the same time Coinbase launched its Bundle.
The token's value was pegged to a weighted package of 10 cryptocurrency assets. But unlike Coinbase Bundle, owners of BIT10 don't actually own the underlying asset, just a token pegged to their values. In reality, it was actually far more complicated than it sounds.