There's no doubt Microsoft made a few mistakes when it launched the first generation Microsoft Surface RT tablet last year. It was underpowered and had an inferior screen compared to its main rivals. More seriously, its Windows RT operating system was still in its infancy and had few killer apps. One year later, the company is trying again to take on Android and iOS with the Surface 2.
Since we first published this review, a 4G version of the Surface 2 has been released. The Microsoft Surface 2 64GB with 4G costs £539 from the Microsoft Store and comes with one year of free Skype landline calls, a year of free Skype Wi-Fi and 200GB of free OneDrive space for two years.
The 4G version of the Surface 2 is only available with 64GB of storage at present. Aside from 4G, this is exactly the same tablet as the original Surface 2 . The 64GB version of that costs £439, so you're paying an extra £100 for the 4G connection, plus monthly data fees.
By contrast, the Apple iPad Air with 64GB of storage and 4G costs a whopping £659, so by comparison the Surface 2 is a pretty good deal.
We tested the Surface 2 4G with a Three 4G SIM card. To test the battery, we put two accounts on the device - a home Outlook.com account and a corporate Exchange account - and left the laptop synchronising with the two accounts while we ran our continuous video playback video battery life test. This test showed that the mobile network made hardly any difference to battery life; the tablet still managed to play back video for a huge 13h 32m, which is just 10 minutes less than when we ran the test with the tablet in flight mode. It's such a small difference that we'd be inclined to put it down to statistical variation rather than arising from any significant drain from the 4G adaptor.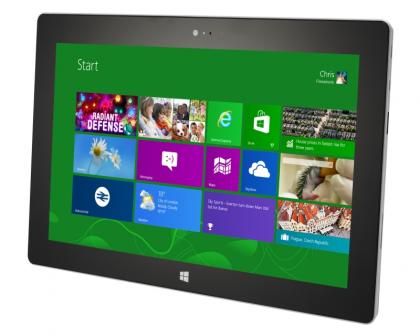 Little has changed externally, with the Surface 2 retaining the same industrial brushed metal design, sharp angles and hinged kickstand as its predecessor. It's now slightly thinner, at 8.9mm versus 9.4mm, but at 680g it still feels hefty compared to most other Android and iOS devices.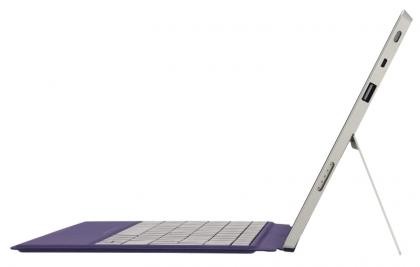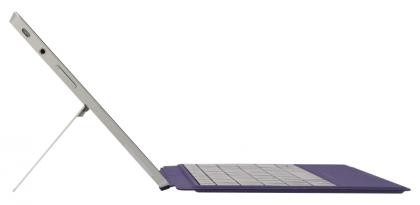 The kickstand now locks into two positions, providing much needed flexibility in your working position
The integrated kickstand now has an additional locking position, which makes it much easier to see the screen when typing on the optional Touch and Type covers. They now have built-in backlighting, which makes it much easier to work in the dark, but still cost £99 and £109 respectively, which bumps the price of the tablet up significantly.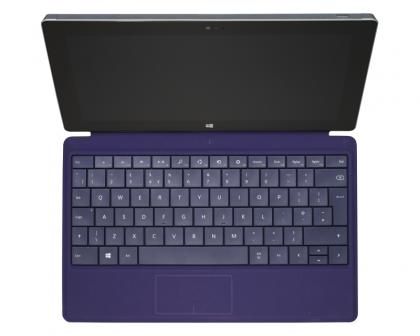 The Surface 2 might be thicker than the competition, but that leaves room for a full size USB3 port. You could turn the Surface 2 into a basic Desktop computer with a USB hub for your keyboard and mouse, or go wireless if you have Bluetooth peripherals. You would also need Microsoft's official HDMI adaptor to connect to an external monitor, as the tablet only has a proprietary video output. There's also a Micro SDXC card reader hidden behind the kickstand, which is handy if you fill the 32GB of internal storage with multimedia files.
The 5-megapixel camera on the rear is paired with a 3.5-megapixel webcam on the front. Both are capable of recording Full HD video for Skype conversations, but neither are particularly adept at taking photos. Unsurprisingly there's no built-in flash, but the lack of tap-to-focus makes it tricky to capture sharp images. Colours are reasonably accurate, if slightly muted, and it understandably suffers in low light, struggling with noise and a lack of detail.
The screen has received a major upgrade, swapping the low resolution 10.6in panel of the previous model for a Full HD, 1,920x1,080 resolution display. It's gorgeous when viewing photos or video, with rich, vibrant colours, excellent viewing angles and ample brightness. We had no trouble reading text in direct sunlight, as the screen was clearly visible at only half brightness. However, switching from the Modern UI apps, which are optimised for high dpi displays, to the Desktop brought its own issues. Icons and text are far too small to be read clearly and Microsoft's scaling settings have a long way to go until they catch up with Apple's OS X.