It's Monday Morning, you should know how this works by now.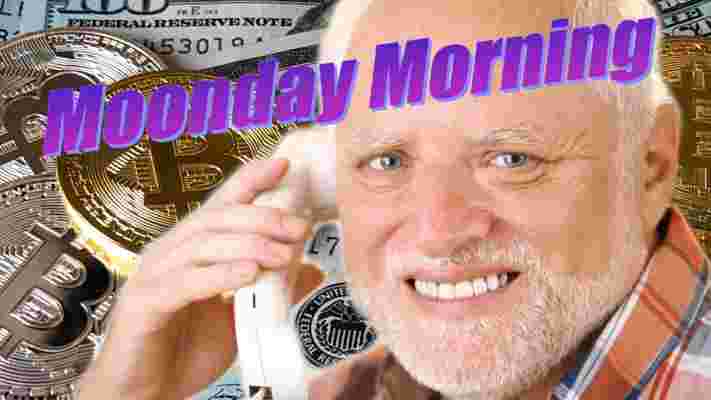 Dive in for a wrap up of the weekend's blockchain and cryptocurrency news.
1. Peer-to-peer Bitcoin trading website, Localbitcoinom, was accessed by an "unauthorized source" last Saturday which allowed the illegitimate third-party to send Bitcoin from a number of affected accounts, the marketplace announced on Reddit . The attacker managed to gain access to six accounts by exploiting a third-party forum feature that prompted users to sign in using their 2FA codes. Only these codes were sent to the hacker, allowing them to login to and empty the victim's account, Bitcoinist reports .
2. A cryptocurrency ATM was lifted from a Californian bakery last week. It seems the criminals kneaded to get their hands on currency in the ATM in Belwood Bakery, Los Angeles. It is one of many attempted burglaries on the bakery, reports CCN . Before you think that this was a highly organized attack, it was far from it. CCTV footage shows a hooded individual with a sledgehammer making their way to the ATM, and then hitting it repeatedly until it broke away from the wall. The individual then picked up the ATM and made off into the street.
3. A Chinese investor is attempting to sue blockchain startup Stox and its founder, Moshe Hogeg, for $4.6 million. Zhewen Hu invested around $3.8 million worth of Ethereum into the blockchain based prediction market, and is claiming its founders misappropriated investments, reports Coin Telegraph . Hogeg denies any wrong doing. It looks like we'll have to wait to see the official outcome of the lawsuit.
4. A blockchain startup based in Malta expected to be vital in earning the country its status as the "blockchain island" has shut up shop after operating for less than a year. DQR has been forced to lay off more than 60 members of its staff after one of its main investors, Genesis Mining, ran into financial troubles earlier last year, Lovin Malta reports . Indeed, Genesis Mining began terminating the contracts of some of its customers after they were struggling to turn a profit. Given the prolonged bear market and volatility of cryptocurrencies Malta might need to rethink its strategy if it's to become the "blockchain island."
5. Ripple released its 2018 Q4 markets report late last week which showed the blockchain technology firm sold $535 million worth of XRP over last year. Ripple sold $129.03 million worth of XRP in Q4 alone, this is equivalent to less than half a percent of total XRP volume.
6. Startup messaging app Kik is heading to the courts and wants a judge to decide whether its coin offering (ICO) should be classed as a security, the Wall Street Journal reports . The Securities and Exchange Commission (SEC) believes Kik's sale of its proprietary token, Kin, took the form of an unregistered securities offering. Whatever the outcome of this court hearing will undoubtedly set a precedent with regard to how tokens are seen in the eyes of the law.
Well, there you have it. It was hacks, closures, and court cases; but that's another weekend of news caught up with.
Public pensions back new $40M blockchain fund raised by Morgan Creek
A prominent digital asset firm has revealed it successfully closed a new $40 million blockchain-specific venture capital fund, thanks largely to contributions made by two public pensions.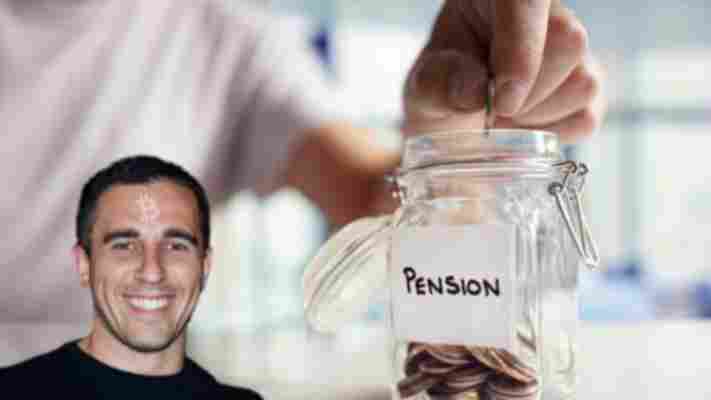 Morgan Creek Digital, a hedge fund backed by institutional powerhouse Morgan Creek Capital , has launched what it calls the Morgan Creek Blockchain Opportunities Fund, geared entirely toward investing in the digital asset industry .
In March last year, Morgan Creek Digital was reported to have had over $1 billion worth of assets under management.
Most notably, the two largest contributors to the new investment pool are public pension funds, specifically the Fairfax County Police and Fairfax County Employee's Pension plans.
It was originally pegged to raise $25 million, but due to investor interest its cap almost doubled to $40 million. The new fund also includes participation from a hospital system, a private foundation, an insurance company, and university endowment.
Bitcoin as a remedy for the pension crisis
One might have seen this coming. Rumours of public pension funds and endowments becoming comfortable enough to invest in the digital asset market have been spinning since CNBC declared 2018 would mark their arrival in April last year.
Well, on Christmas Eve, Morgan Creek Digital founder and partner Anthony "the Pomp" Pompliano rallied public pensions to invest in the blockchain space with a blog, in which he detailed belief that Bitcoin has the potential to save the US from its impending pension crisis .
Considering this, it should be no surprise we now have two public pension funds in the US invested in the space.
"The fundraising for this fund didn't happen overnight, so it definitely took place before that article was written," Pompliano told Hard Fork. "We also have invested a material amount of the fund to date already."
Investors in the fund are reported to already have exposure to blockchain-related companies like Bakkt, Blockfi, Coinbase, RealBlocks, Harbor, Open Finance Network, CityBlock Capital, Namebase, Good Money, and Digital Assets Data.
Pension funds in blockchain is a thing in 2019
The South Korean National Pension Fund, reportedly the third largest public pension fund in the world, was recently revealed to have invested $2.6 billion won ($2.3M) in four cryptocurrency exchanges through two venture capital funds.
Due to the regulatory taboo nature of cryptocurrency in South Korea , the government issued a statement around the same time declaring investment in the virtual currency market from local venture funds as "inappropriate."
When asked of the worries expressed by his new clients throughout the deal-making process, Pompliano commented that it was mostly business as usual, despite it being a somewhat pioneering moment in public pension history.
"The concerns were not so much legal as this is only a traditional venture experience. We haven't tried this in past, so this was the first venture capital fund we tried to raise, and are quite happy with the results," he said.
"But, the diligence process was quite arduous — exactly what you would expect from large institutional investors like these."
In any case, pensioners investing in digital assets is now a verifiable thing, and we're going to find out if it helps them boost their retirement funds. This is blockchain in 2019.
Only 3 of the top 50 blockchain apps are running on Ethereum
Believe it or not, only three of the top 50 decentralized apps (dapps) are running on the Ethereum blockchain, according to data from DappRadar . Instead, developers seem to be largely relying on competing platforms like EOS and TRON.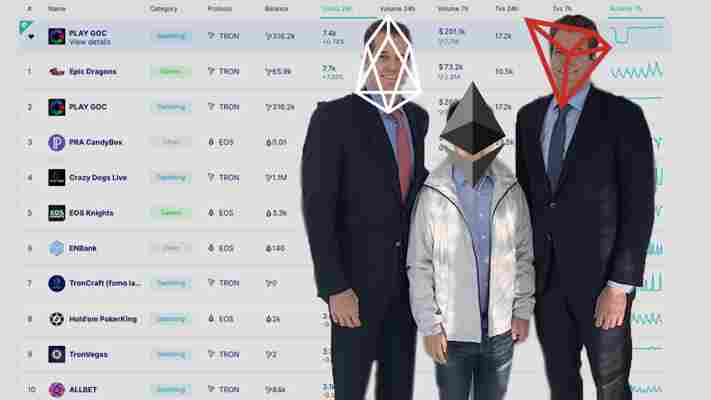 From the remaining 47 most active dapps, 26 are based on EOS and 21 on TRON. Interestingly, gambling dapps account for the majority of the activity on both networks.
Among other things, the main reason for the decline in dapp activity on Ethereum is the scaling bottlenecks the platform has been facing.
Ethereum's scaling woes
Ethereum, which was initially conceived as a platform for decentralized apps, has notoriously been dealing with scaling issues for some time now. Indeed, last year its co-founder Vitalik Buterin conceded that until the platform has a safe scaling mechanism in place, developers shouldn't expect to run high-throughput apps on Ethereum.
That said, Ethereum's builder community has been working on possible scaling solutions for a while, but none of the propositions put forward seem to be production-ready at present.
But in the meantime, EOS and TRON have claimed the lion's share of the dapp market, which is still struggling to pick up steam among mainstream audiences.
Currently, EOS and TRON are responsible for 94 percent of all monetary value transacted across all dapps, leaving Ethereum with a measly 6-percent chunk, according to data from blockchain research unit Diar.
It's all about transaction capacity
DappRadar, which once used to exclusively track app activity on the Ethereum network, recently introduced monitoring tools for EOS and TRON. Since then, apps running on those two platforms have steadily dominated DappRadar's activity charts.
There is a simple explanation to this conundrum: unlike Ethereum which supports up to 15-20 transactions per second, EOS is believed to handle up to 4,000 transactions per second (a claim widely disputed by Ethereum researchers) and TRON – up to 2,000.
Of course, some would argue that comparing the transaction capacity of each platform doesn't quite tell the full story.
Buterin recently criticized blockchain projects boasting high transaction-per-second capabilities, downplaying such undertakings as "centralized piles of thrash." Although the Ethereum co-founder refrained from naming any projects, many interpreted his words as a dig at competitors like NEO, TRON, and EOS.
"The purpose of a consensus algorithm is not to make a blockchain fast," Buterin said at Blockchain Connect Conference recently. "The purpose of a consensus algorithm is to keep a blockchain safe."
"When a blockchain project claims 'We can do 3,500 transactions per second because we have a different algorithm,' what we really mean is 'We are a centralized pile of trash because we only have seven nodes running the entire thing,'" he added.
TRON and EOS are far from perfect dapp platforms
Buterin is not the only one levying such criticism against EOS and TRON. Indeed, researchers recently suggested that – in its current shape – EOS has more in common with a centralized cloud computing service than an actual blockchain. Not only that, the research claimed EOS had greatly exaggerated its throughput capacity.
However, it's worth noting the research in question was commissioned by ConsenSys, a company heavily invested in the Ethereum ecosystem.
For the record, hackers have already had success exploiting kinks in EOS-based gambling dapps – on a number of occasions . But considering the sheer volume of vulnerability reports EOS has received over the past 12 months, this is hardly surprising.
TRON has similarly fallen under fire for its gratuitous transaction-per-second marketing claims. In a recent interview with BreakerMag , former BitTorrent (a venture recently acquired by TRON) exec Simon Morris cast doubt on the platform's advertised throughput capacity.
" The transactional capacity we [were] looking at was needing hundreds of transactions a second just to get started. It's simply not there," Morris said. "You hear all the bullshit out there, oh, this does 10,000 transactions a second . It's all crap. We were going to melt TRON."
The bigger picture
Technical issues aside, the dapp market has mostly become a playground for hopeful cryptocurrency believers who are now stuck gambling their coins away . But hey, at least someone is using blockchain in the real world, right?
Indeed, researchers found that 70 percent of all EOS dapp traffic comes from gambling services; the number was even higher for TRON, which gets 95 percent of its activity from gambling dapps.
In the meantime, struggling corporations and fake prophets in suits continue to sell their utopian visions of how blockchain can fix everything .
What a shame.