A million-dollar scavenger hunt for Bitcoin commenced just a few days ago, but it only took minutes for one ingenious hacker to complete the first stage without actually going anywhere.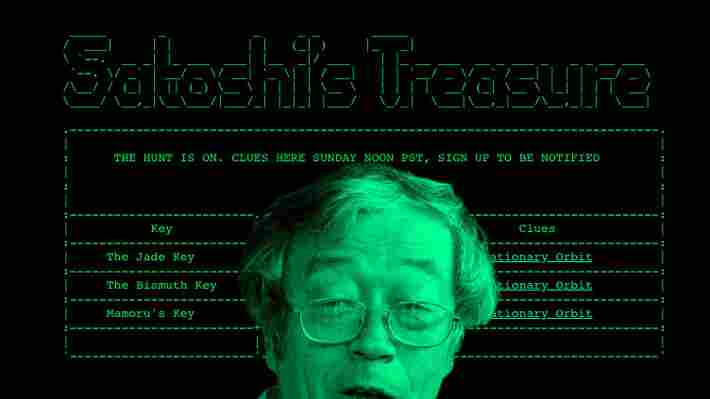 Satoshi's Treasure is an alternate reality game urging players to work together to find private keys hidden in real-world locations. Clues are distributed periodically with a newsletter.
Inspired by Ready Player One , the game features leaderboards to show which teams are closest to collecting the prize. There are 1,000 private key fragments in total, and the $1 million worth of Bitcoin is unlocked once 400 have been found.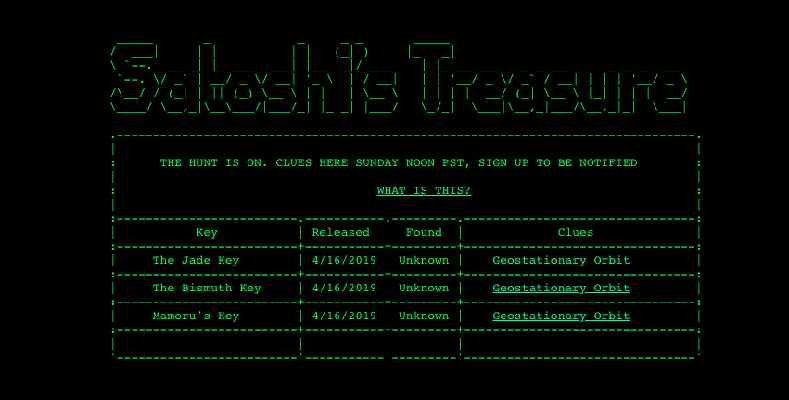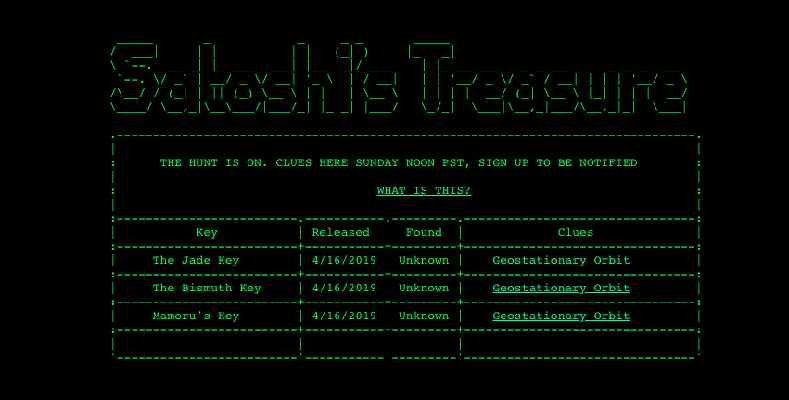 The clues to the first three keys were distributed via Blockstream's Bitcoin satellite on April 15. They were supposed to lead players to discover QR codes buried in locations around the world, like San Francisco, London, Uganda, China, and Australia.
Instead of globe-trotting, player John Cantrell finished the first challenge by hacking it.
He even published his method on GitHub to prove his success. " Just wrote up an explanation of how I obtained the first three key shards in a few minutes today," he tweeted .
Cantrell began by using a QR code found and uploaded by a fellow treasure hunter. As this was the first clue, it was relatively easy – scanning it would send the player to reveal the key with a passphrase included at the same location.
"Now, we were supposed to wait until April 17 to get clues from the other cities for keys #2 and #3, but that wouldn't stop me from digging around with all the new information we had," wrote Cantrell. "All that time 'playing' notpron years ago was going to help me here."
Cantrell then checked the source code of Satoshi's Treasure sites, only to discover the passwords for the next two keys, albeit encrypted.
"After I saw this source code, I realized because the check for whether or not the passphrase was correct was done locally, I could brute force this using a dictionary attack," he added. "I also assumed the passphrases for key #2 and key #3 would be English words.
A Ruby script was used to crack the encryption almost automatically, which revealed the words required to collect the second and third keys a full day before the clues were scheduled to be released.
Dovey Wan of Primitive Ventures, one of the firm behind Satoshi's Treasure, wrote : "Yup, this is intended so we can test the level of crazy smartness of internet people. The faster it gets solved, the quicker difficulty level will go up."
For those keen to play Satoshi's Treasure but can't be bothered to leave their rooms, you can read Cantrell's full walkthrough here .
(Edit: This piece has been updated to clarify Primitive Ventures is one of the firms behind the quest, of which Dovey Wan is a founding partner. We apologize for the mistake.)
South Korea's largest telecom could bring blockchain to 38M people
SK Planet, one of Korea's largest telecommunications firms, is looking to step up its blockchain game with a nationwide collaboration.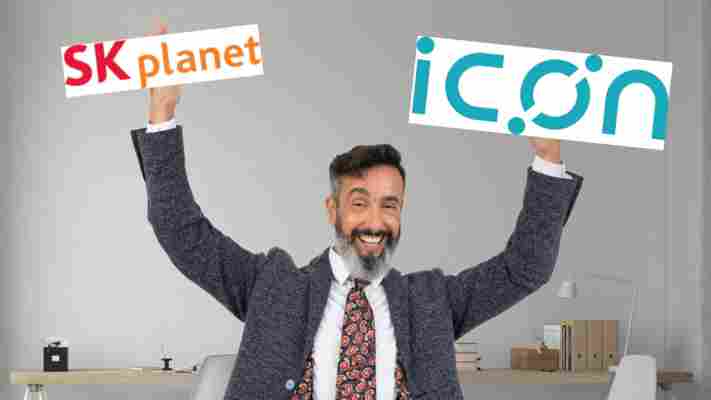 The telecom giant has signed a memorandum of understanding with the ICON Foundation. The cooperation will see SK planet integrate blockchain into a number of existing products, such as OK Cashbag. The collaboration aims to make "a real-life blockchain use case."
OK Cashbag is already one of the country's largest loyalty programs, boasting nearly 38 million subscribers – half of the population of South Korea.
We will have to wait before we know what this use case will look like exactly. The announcement does not outline any specific details on how ICON and SK plan to incorporate blockchain into its range of products.
The whole thing is mysterious – as is most of the news of ICON development.
Unlike other companies in the blockchain space, ICON never made its software open source, which has made it difficult to assess how sound its network is.
Two months ago, ICON Head of Global Business, Henry Lee, teased a tentative release of opening the platform's source code in the Around the Block podcast. However, there is no timeline in place.
It would seem any future developments of ICON's platform at the moment are speculative.
It should be noted too that ICON is predominantly an ICO platform, and ICOs are banned in South Korea – for now.
ICON was able to circumnavigate the ban by launching its business from Switzerland. Despite this, it still had its token, ICX, listed on all major Korean exchanges.
As far as Korea's ban on cryptocurrency goes, it will be interesting to see if SK Planet's involvement in the space will convince regulators to give blockchain another go.
If you're interested in everything blockchain, chances are you'll love Hard Fork Decentralized. Our blockchain and cryptocurrency event is coming up soon – join us to hear from experts about the industry's future. Check it out!
Police bust 2 goons linked to $3B OneCoin cryptocurrency pyramid scheme
Two men were charged in Singapore today for promoting a cryptocurrency-based multi-level marketing scheme. Local police believe this is the first case of its kind in the country.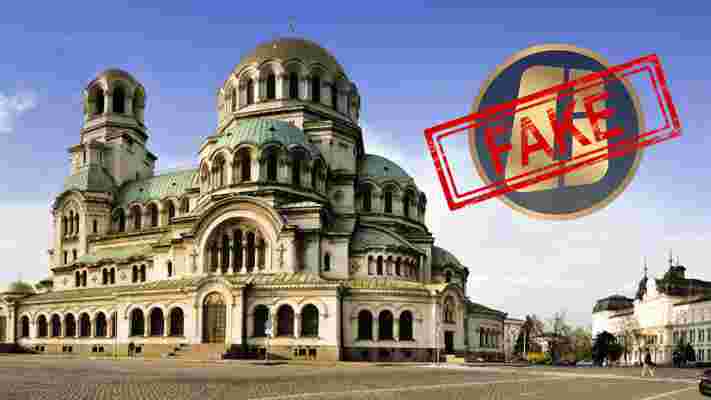 The perpetrators in question had been promoting the notorious multi-billion dollar pyramid scheme OneCoin, Channel News Asia reports .
One of the men was also charged with running a company called One Concept Pte Ltd set up to promote the scheme.
Singapore residents that took part in the scheme were sold educational courses and promotional tokens. The scammers claimed the tokens could then be redeemed to "mine" OneCoin. In reality, the tokens couldn't be redeemed for anything.
Those who bought into the scheme were encouraged to promote it with other incentives and commissions.
According to local police, OneCoin's promotional structure contravened the Multi-Level Marketing and Pyramid Selling (Prohibition) Act. Each of the perpetrators could face up to five years in prison and a maximum fine of S$200,000 ($147,000).
The Monetary Authority of Singapore (MAS) has listed both OneCoin and One Concept Pte Ltd , along with a host of other related organizations, on its investor alert list.
Back in March, those at the top of the pyramid, Konstantin Ignatov and Ruja Ignatova were apprehended at Los Angeles International Airport for their role in the international scam.
Ignatova, was charged with securities fraud, wire fraud, and money laundering. Ignatov was arrested on grounds of conspiracy to commit wire fraud.
As is the case with pyramid schemes, investors were promised greater returns for every additional investor they brought to the scheme. However, the scheme was an entire sham , and none of the "cryptocurrency technology" OneCoin claimed to operate actually existed.
Despite all the red flags and being nearly identical to the infamous BitConnect scam, OneCoin has still been able to defraud investors for over $3 billion .
Did you know? Hard Fork has its own stage at TNW2019 , our tech conference in Amsterdam. Check it out .