It's not easy making a slim compact camera that excels in low light. This usually requires a large sensor or a wide-aperture lens – ideally both – but both tend to result in a bulky camera. There are exceptions, such as the stunning Fujifilm X100S , but it dispenses with a zoom function to achieve its just-about-pocket-sized design.
For those who want a zoom and who don't have £1,000 to spend, the Panasonic LX7 and Fujifilm X20 are better options. Their sensors aren't as big as the X100S's but bigger than those used in most compact cameras. They're paired with wide-aperture lenses to capture lots of light, and also include a modest zoom function. The X20 is a little bulky at 65mm deep while the LX7 is 50mm – a bit of a squeeze for jeans, perhaps, but slim enough for more spacious pockets.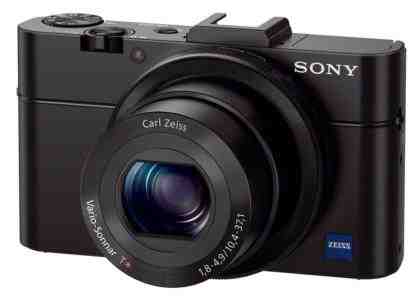 Sony's answer is its RX100 range. It's going to be important to take note of which version you're looking at, as there are in fact multiple. There's the DSC-RX100 (around £290), the DSC-RX100 II (now around £400), the DSC-RX100 III (around £569) and the DSC-RX100 IV (£759) and all are still available.
The Sony RX100 II is a mere 39mm thick, so it'll slip in trouser pockets more easily than the LX7 or X20. This is even more impressive when you consider that the 3in screen is articulated, tilting up by 90 degrees and down by 45. It also has an integrated lens cap that opens automatically – much more convenient than the others' removable lens caps.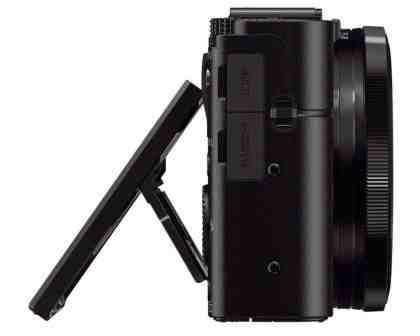 Its 20-megapixel sensor measures 13.2x8.8mm. That's about twice the surface area of the LX7 and X20's sensors, and four times bigger than the standard 1/2.3in sensors used in compact cameras. The lens has an f/1.8 aperture, so it gathers lots of light. However, this is only true at the wide-angle zoom position. The aperture closes to f/4.9 at the long end of the 28-100mm zoom range, which isn't so remarkable.
The minimal design looks great but there's not much to hold onto. This sort of camera should be perfect for parties with its slim design and excellent low-light image quality, but we'd think twice about handing it over to tipsy friends and relatives. It felt more secure once we'd tilted the screen upwards, giving an improvised grip for our left thumb in the hinge mechanism behind the screen.
CONTROLS
There isn't room for lots of physical controls, but Sony has come up with a superb control system that makes the most of the limited space. There's a lens ring that can be assigned to one of eight functions, or you can leave it to the camera to choose based on the selected mode: zoom in Auto mode, aperture in aperture-priority mode, focus when manual focus is selected, as so on. For manual exposure, the ring controls aperture while the rear wheel is assigned to shutter speed.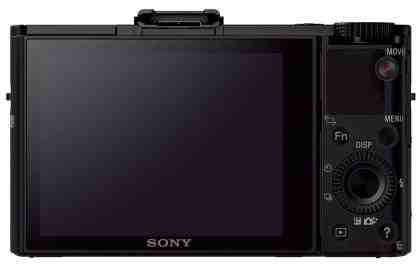 There's an Fn button that cycles through various other functions. These can be reassigned to provide as many or as few as you want. It's one of the better quick-access menus we've seen, and we never felt that the scarcity of buttons was a problem. The main menu is based on Sony's SLRs, with tons of options arranged over 17 tabbed pages. It's worth changing the Menu Start option to Previous rather than Home so you can jump back to the last page you used rather than start from the beginning each time. It's also worth turning off the Mode Dial Guide function, which explains what the selected mode is for but quickly became a distraction, appearing each time the mode was adjusted.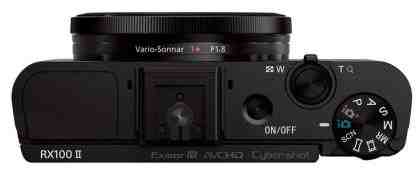 Our only complaint regarding the controls is that the size of the autofocus area could be bigger. The autofocus point can be placed freely in the frame, but the camera sometimes failed to lock onto subjects. We suspect that an option to use a slightly larger area to focus on would eliminate the problem; it wasn't an issue when the camera was left to focus anywhere in the frame.
It's a little slow to power up, taking 2.4 seconds to take a photo. Subsequent photos were reasonably quick, though, at 0.9 seconds from shot to shot. It excelled in continuous mode, setting off at 7.7fps and slowing to 2.4fps after 11 frames. Raw capture produced slightly erratic results, but an average of 3.7fps for 11 frames is a solid result.
Wi-Fi is built in for communication with Android and iOS devices. There's NFC too, allowing the camera to pair with compatible Android devices simply by holding them together. The accompanying apps are relatively light on features, with the ability to capture photos and videos remotely but not much control over settings. Image transfers are handled elegantly, though, with the ability to pick photos on either the camera or the connected device.
Next page for image quality and sample shots ... Continues on Page 2