12 Best Computer Mouse Brands for Gaming and Productivity
Note: Durability Matters is reader-supported. When you buy through affiliate links on our website, we'll make a small commission, without impacting your price. Thank you. Learn more.
A good mouse is an essential tool if you're a gamer or a working professional, and can make all the difference to your daily performance and productivity.
There are many mouse brands on the market, and each has its own unique set of features that can't be found in other brands. Razer, for example, is a company known for gaming mice that typically have a lot of extra buttons and customizable features. Logitech, on the other hand, is known for its high-quality mice, even at more affordable price points.
When choosing a mouse, it's important to consider what you'll be using it for – your needs will differ greatly depending on your main use of your mouse. Whether you're a gamer, a designer, a programmer, or just generally into computers, these brands will have something for you.
Top Computer Mouse Brands
Each of the following brands is known for producing durable, high-quality, and high-performance mice.
Related: How Long Do Computer Mice Last?
In general, you can expect any of these mice to last between 20 and 60 million clicks.
1. Logitech
Logitech MX Master 3
Mouse product range: Home & Office, Ergonomic, Travel, Compact | Connections: Wired, Wireless | Price range: $9.99 – $99.99
Logitech is company that prides itself on its production of a broad range of mice with a variety of shapes, sizes, and grip styles. They have won a number of awards for their unique and modern designs that fit all sorts of shapes and sizes of hands.
The materials Logitech use for their mice are of a high quality, and all the various aspects of each mouse they produce are carefully considered and perfectly manufactured. High quality steel is used for the scroll wheels to ensure comfortable precision scrolling, and all the buttons are carefully placed for ergonomic use of the device.
Logitech is fast becoming known for their new range of silent mice, and have recently become the first mouse producer in the world to become certified by Quiet Mark, producing an excellent range of mice for use in quiet spaces, such as libraries and offices, where the constant clicking of a mouse may annoy others in the space.
Best selling Logitech mouse: Logitech MX Vertical
2. Razer
Razer Viper Ultimate Mouse
Mouse product range: Gaming | Connections: Wired, Wireless | Price range: $29.99 – $169.99
Razer is a brand that is trusted by professional gamers all over the world, and with good reason. Their product range is durable, unique, and technologically advanced. Whatever your gaming needs, Razer has a series of mice built just for you, including MOBA or FPS specialized, wired or wireless, and various shapes, sizes, looks, and grip designs.
In the gaming world, many mouse companies fall short when it comes to wireless mice, because the delay in communication between the computer and mouse is too slow. Razer have worked hard towards overcoming this issue with their Hyperspeed Wireless solution, which provides a fast, stable connection that will impress even the most hardcore gamers.
Other Razer inventions include the "world's most precise optical sensor", 3rd-generation optical mouse switches, which are the culmination of years of research and development, and the Razer Hyperflux wireless charging solution which allows a dedicated mousepad to charge your mouse while you game.
Other variations in Razer mice include differences in weight to suit your needs, right-handed or ambidextrous devices, and extra customizable buttons, with their programmable 12-button thumb grid topping this range of mice.
Best selling Razer mouse: Razer DeathAdder V2 X HyperSpeed
3. Microsoft
Microsoft Ergonomic Mouse
Mouse product range: Home & Office, Gaming, Ergonomic, Travel, Compact | Connections: Wired, Wireless | Price range: $19.99 – $99.99
Microsoft is a company with a history of innovation and unique design, and its range of mice is no different. They have become known for their high-quality, durable, and innovative range of mice just as much as for their famous software applications. They have a wide variety of mice to choose from, so it is easy to find the perfect device for your needs. Whether you are looking for a gaming mouse, a mouse for work, or a portable mouse, Microsoft has you covered.
Many Microsoft mouse models are known for their unique and interesting features. For example, the Microsoft Sculpt Ergonomic Mouse is designed to reduce wrist strain and improve comfort, and the Microsoft Arc Touch Mouse can be folded up to fit comfortably in your pocket for easy portability. Other models have a unique, modern appearance, and yet others are small and simple with only interesting colors or patterns to set them apart.
Best selling Microsoft mouse: Microsoft Ergonomic Mouse
4. SteelSeries
SteelSeries Aerox 9
Mouse product range: Gaming, Ergonomic | Connections: Wired, Wireless | Price range: $69.99 – $159.99
SteelSeries mice are built for gaming precision with esports pros in mind. All SteelSeries mice are available in ergonomic, right-handed, or ambidextrous formats, and are easily customized to suit the style and genre each gamer loves the most. Each mouse is built with the most durable materials, and all of them are equipped with TrueMove sensors for excellent tracking precision.
The SteelSeries range of mice is extensive, and there is something for every gamer. From small and portable wireless mice to large, heavy, and fully customizable pro-gamer options with extra programmable buttons, the choices are endless. With the SteelSeries Engine, mouse-owners can customize their devices to suit their exact needs, including the lighting and sensitivity of the mouse.
Best selling SteelSeries mouse: SteelSeries Aerox 3 Custom
5. ROCCAT
Roccat Kain 200 AIMO
Mouse product range: Gaming, Ergonomic | Connections: Wired, Wireless | Price range: $34.99 – $129.99
ROCCAT is a German company that produces a small but comprehensive range of gaming mice to suit every gamer and gaming genre. These mice come in a variety of designs and lighting layouts, and some of the higher quality ones have up to 15 programmable buttons and 29 extra functions. The durable and reliable build of each mouse is ergonomic, and there are wireless and ambidextrous options alongside the normal wired, right-handed designs.
The Titan Optical switches drastically increase the performance of the devices while providing the extra-quick responsiveness needed for high-level gaming. The excellent signal strength adds to the advantages of gaming with a ROCCAT mouse, and the long battery life and fast charging times mean you never have to be without your mouse for long.
Best selling ROCCAT mouse: Roccat Kone XP
6. Asus/ROG (Republic of Gamers)
ROG Spatha X
Mouse product range: Gaming, Ergonomic | Connections: Wired, Wireless | Price range: $49.99 – $159.99
ROG mice are a series of gaming mice designed and marketed by the ASUS Republic of Gamers. These differ from other gaming mice in a few key ways, the most notable of which is their extreme durability. ROG mice are built to withstand the intense demands of hardcore gaming and come with a number of features that are particularly useful to gamers, such as metal chassis construction, customizable buttons, and on-the-fly DPI adjustments.
Many ROG mice also include ASUS' Aura Sync RGB lighting setup, which allows for synchronization of LED colors and effects across all linked compatible ASUS devices. With XSplit Gamecaster you can record and share your gaming sessions – an excellent feature for YouTubers and professional gamers.
Best selling ROG mouse: ROG Gladius II Core
7. HyperX
HyperX Pulsefire Dart
Mouse product range: Gaming, Ergonomic | Connections: Wired, Wireless | Price range: $29.99 – $99.99
HyperX is a gaming peripheral company known for making high-quality gaming mice, keyboards, and headsets. The company was founded in 2002 by Ahmed Bunni and his son, Nasser. The first HyperX product was a memory card for digital cameras, but the company soon expanded into gaming peripherals and has since become one of the most popular brands in that industry. They are now a division of Kingston Technology and continue to make high-quality gaming products.
HyperX was one of the first companies to introduce RGB lighting into their gaming mice, making them stand out among competitors. Their Pulsefire range of gaming mice offers smooth, precision tracking and excellent tactile feedback, due to their high-quality components. These mice are fully customizable using HyperX's user-friendly NGENUITY software, in which you can program extra buttons, DPI, and lighting settings with ease.
Best selling HyperX mouse: HyperX Pulsefire Haste
8. Corsair
Corsair M65 RGB ULTRA Mouse
Mouse product range: Gaming | Connections: Wired, Wireless | Price range: $29.99 – $129.99
Corsair mice are known for their durability, precision, and customizability. No matter what your gaming style or favorite genre is, Corsair has a mouse that will fit you like a glove. Corsair mice are some of the most customizable on the market, with a wide range of options for changing the weight, customizing the buttons, and even tinkering with the shape and feel of the mouse itself.
Corsair mice are also well-known for their compatibility with a wide range of gaming genres, with certain devices specialized to certain genres. Check out the Corsair range to find mice specifically designed for each of the major genres, including MMO, MOBA, and FPS, making them a great choice for anyone who wants to get the most out of their games.
Best selling Corsair mouse: Corsair M65 RGB Elite
9. Lenovo
Lenovo Wireless Yoga Mouse
Mouse product range: Home & Office, Gaming, Ergonomic, Compact | Connections: Wired, Wireless | Price range: $9.99 – $89.99
Lenovo mice are known for their high quality and durability, as well as their affordable prices. They are precision-engineered to provide a superior user experience, and they come in a variety of styles to suit your needs. Whether you're looking for a gaming mouse, a multimedia mouse, or something portable, designed specifically for laptop use, Lenovo has you covered.
The variety of mice produced by the Lenovo brand is extensive – their famous, ergonomic, V-shaped Yoga series offers an interesting change from the commonly-found "mouse" shape, and their more regular-looking devices have their own useful additions and features. When you buy a Lenovo mouse, expect a very long battery life and on-the-fly DPI adjustments. You can also find models that are ambidextrous, have battery indicator lights, and even have silent buttons.
Best selling Lenovo mouse: Lenovo Wireless Mouse
10. Zowie by BenQ
Zowie EC2-C
Mouse product range: Gaming, Ergonomic | Connections: Wired, Wireless | Price range: $69.99 – $69.99
Zowie mice are known for their incredible accuracy, making them the perfect choice for gamers who want to ensure that every move they make counts. Zowie mice come in a variety of different shapes, sizes, and colors so that every gamer can find the perfect mouse for their individual needs. There are also a variety of buttons and features available on the various Zowie devices so that each gamer can find the perfect setup for their own playing style.
Many professional gamers rely on Zowie mice to see them through their tournaments. These mice have been used to win world championships in games like Counter-Strike: Global Offensive, League of Legends, and DOTA 2. If you have a hand shape or size for which you struggle to find a comfortable mouse fit, Zowie might just be the brand for you.
Best selling Zowie mouse: Zowie S2-C Mouse for Esports
11. MSI
MSI Clutch GM41
Mouse product range: Gaming | Connections: Wired, Wireless | Price range: $17.99 – $94.99
There are a few things that set MSI gaming mice apart from the competition. Firstly, they have a unique design that gives players more control over their gameplay. Secondly, they come pre-equipped with the latest and most innovative gaming technologies. And finally, MSI mice are designed to be as comfortable as possible, so that players can game for hours on end without experiencing any discomfort.
MSI's mice are built with precision and accuracy in mind. The company makes sure that each mouse is calibrated and tested extensively before it is released to the public. This ensures that their products are of the highest standard, and provide a seamless gaming experience. Enjoy useful features, such as adjustable weight, programmable side buttons, and ergonomic comfort when you buy an MSI mouse.
Best selling MSI mouse: MSI Clutch GM20 Elite Gaming Mouse
12. Redragon
Redragon Impact Elite M913
Mouse product range: Gaming | Connections: Wired, Wireless | Price range: $17.99 – $57.99
Redragon has been in the business of making gaming peripherals for over a decade, and in that time, it has established itself as a premier brand in the industry. Known for producing high-quality gaming mice and other peripherals at reasonable prices, Redragon is one of the most popular gaming accessory brands in the world today.
Redragon mice are known for their durability, precision, and ergonomic comfort. The company has a wide range of mice catering to a broad variety of gamers, from those who want a simple and affordable mouse to those who are looking for something more sophisticated and customizable.
Redragon also makes gaming laptops, keyboards, and headsets, as well as a broad range of accessories, including racing wheels, gaming chairs, and monitors.
Best selling Redragon mouse: Redragon Impact Elite M913
The 5 Best Wireless Mouses Reviewed
©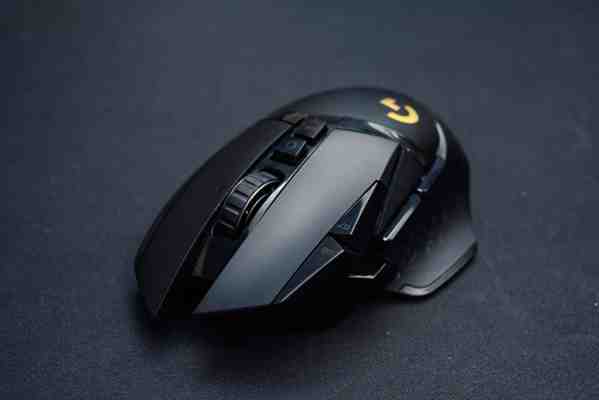 Key Points
When choosing the best wireless mouse, there are several factors to consider, including speed, latency, and grip, among others.
The Logitech MX Anywhere 3 Wireless Mouse was voted the best wireless mouse overall.
If budget is a concern, the Microsoft Bluetooth Ergonomic Wireless Mouse may be for you.
The best wireless mouse will be a great choice for your laptop, desktop computer, or tablet. Wireless mice are suitable because you don't need to sit next to your desk and keep your mouse in range. They are also more convenient as they eliminate the need for a lengthy cable trailing behind your computer desk.
If you have been using a wired mouse for quite some time, you might think that it is time for an upgrade. Wireless mice are not only more convenient but they also allow you to operate your computer faster and easier than before. However, there are so many kinds of wireless mice available on the market, such as optical, laser, dual sensor, ergonomic, etc. To help you find the best one that suits your needs perfectly, we have compiled a list of the top 5 wireless mice suitable for various uses and motives.
Here are our top picks for the best wireless mouse you can buy today:
Best Wireless Mouse Overall: Logitech MX Anywhere 3 Wireless Mouse
Sale Logitech MX Anywhere 3 Compact Performance Mouse, Wireless, Comfort, Fast Scrolling, Any Surface, Portable, 4000DPI, Customizable Buttons, USB-C, Bluetooth - Pale Grey MAGSPEED SCROLLING - Speed, precision, and silence. Effortlessly scroll 1,000 lines at once, and stop on a pixel. Auto-shifts between ratchet and hyper-fast modes. Battery: rechargeable Li-Po (500 mAh) battery
GO-ANYWHERE COMFORT – Low-profile design contoured for your hand, with ultra-soft silicone side grips. Built to withstand the bumps and drops of mobile work.
TRACK ANYWHERE – EVEN GLASS - Track on virtually any surface, including glass – meaning you can work seamlessly at the desk, at a cafe, even on the couch.
USB-C QUICK CHARGING - Stays powered up to 70 days on a full charge – and gets 3 hours of use from a 1-minute quick charge. USB-C to A charging cable included.
MULTI-DEVICE, MULTI-OS - Connect up to three devices and switch between them at the tap of a button. MX Anywhere 3 works with Windows, macOS, iPadOS, ChromeOS, & Linux.
Logitech is known for manufacturing the best wireless mice you can use for various activities. Logitech MX Anywhere 3 Wireless Mouse is our pick for the best overall wireless mouse. As the name portrays, you can use this mouse anywhere you wish, at home, at work, or when traveling. This mouse has a MagSpeed Electromagnetic scrolling wheel that can scroll 1000 lines per second. The wheel is made of machined steel that looks and feels better to scroll. In addition, you won't hear noise when scrolling. So there is no disturbance while working.
You can use this mouse on any surface with ease. No need to find a different surface to place your mouse on while working. Therefore, whether your working table is made of glass, wood, or any smooth surface, you can rely on the Logitech MX Anywhere 3 mouse for better performance. This mouse has Silicon sides which enables a soft touch. Therefore, you can work for long hours comfortably. In addition, dust can't harm your mouse. The good thing is you can clean it after several months of use.
This mouse can stay for 70 days without recharging. Once the charge depletes, it will only take three hours to charge the mouse fully. The mouse comes with a USB type C cable you can use to charge it. This mouse is also fully customizable with any app you use. In addition, your work will be faster with predefined-app-specific profiles like Adobe Photoshop, Google Chrome, Zoom, Microsoft Teams, Microsoft Office, Adobe Premiere Pro, and Final Cut Pro. This mouse is multi-device and multi-OS, which allows you to connect to a maximum of 3 computers simultaneously. You can easily switch from one device to another. Another excellent ability of this mouse is it can mute, start, or stop video calls on Zoom and Microsoft Teams with two buttons on the left.
Check out Logitech MX Anywhere 3 Wireless Mouse on Amazon.
Best Wireless Mouse for Performance: Logitech MX Master 3S Wireless Mouse
Still from Logitech, Logitech MX Master 3S Wireless Mouse has an 8000 DPI sensor that can detect all surfaces. You can work with your mouse on glass, wood, or a book and still experience the best performance. This mouse also allows you to adjust the screen resolution of your device and the tracking sensitivity to match your workflow. There is a new feature of the Quiet Clicks, which allows you to barely hear the clicks or the wheel scrolls while doing your tasks. The MagSpeed Electromagnetic wheel made of machined steel also contributes to the silence.
The MagSpeed Electromagnetic scrolling wheel can scroll 1000 lines per second and stop on a pixel. Logitech MX Master 3S is customizable with every app you use. In addition, your work will be fast on predefined customizable apps such as Safari, Chrome Zoom, Adobe Photoshop, Final Cut Pro, MS Teams, MS Office, and Adobe Premiere Pro. This mouse helps you switch between devices and operating systems such as Chrome, Linux, or Windows. This mouse can also pair up to a maximum of 3 devices via Bluetooth. In addition, you can comfortably transfer files, images, and text between computers. This makes your work easy if you have different tasks at hand.
MX Master S charges for 3 hours and can stay for 70 days before the next charge. The mouse comes with a USB type C cable for charging. The mouse has an ergonomic silhouette to support your palm and fingers while working. In addition, it has textured surfaces that improve the mouse grip, even when you're sweating. The mouse's unique tilt angle puts your arm in a natural posture, so you don't feel uncomfortable while working. There are thumb controls on the mouse that triggers faster access and navigation on various pages.
Check out Logitech MX Master 3S Wireless Mouse on Amazon.
Best Budget-Friendly Wireless Mouse: Microsoft Bluetooth Ergonomic Wireless Mouse
Sale Microsoft Bluetooth Ergonomic Mouse - Matte Black with comfortable Ergonomic Design, Thumb Rest, up to 15months battery life. Works with Bluetooth enabled PCs/Laptops Windows/Mac/Chrome computers Comfortable ergonomic design, with soft easy-to-grip thumb rest, promotes natural hand and wrist position.
Teflon base with precise tracking sensor glides smoothly over a variety of surfaces[4].
Machined aluminum scroll wheel for precise navigation.
Light, durable design with seamless finishes, in premium materials.
3 customizable buttons to add app-specific functions to be more productive[2].
Microsoft Bluetooth Ergonomic Wireless Mouse is our pick for the best cheap wireless mouse. The mouse's ergonomic design provides all-day comfort while working. The mouse has a soft thumb rest that's easy to grip while sweating. You'll also feel comfortable throughout your activities. Microsoft Bluetooth Ergonomic Mouse supports Bluetooth 4.0 and above. In addition, you can connect to your computer 10 meters away in an open area and up to 15 meters in an office environment. Therefore, it's an excellent mouse for doing office work, gaming, and controlling elevated screens.
You can connect your mouse to a maximum of three devices and switch between them easily. The connection frequency is 2.4GHz, which is a good speed for doing various simple tasks. The mouse weighs 91g, including the batteries. In addition, its light design makes it less vulnerable in case it falls accidentally. The mouse battery can stay for up to 15 months. Therefore, it's a good mouse for people who work throughout with little breaks. The scroll wheel is made of machined aluminum, tracking sensors, and a Teflon base that helps navigation on various surfaces. This mouse is compatible with Windows, Mac, and Chrome computers.
Check out Microsoft Bluetooth Ergonomic Wireless Mouse on Amazon.
Best Wireless Mouse for Gaming: Logitech G502 Lightspeed Wireless Gaming Mouse
Sale Logitech G502 Lightspeed Wireless Gaming Mouse with Hero 25K Sensor, PowerPlay Compatible, Tunable Weights and Lightsync RGB - Black Selling Wireless Gaming Gear Brand - Based on independent sales data (FEB '19 - FEB'20) of Wireless Gaming Keyboard, Mice, and PC Headset in units from: US, CA, CN, JP, KR, TW, TH, IN, DE, FR, RU, UK, SE, TR
PowerPlay wireless charging: Never worry about your battery life again. Add the power play wireless charging system to keep your G502 Lightspeed Wireless Mouse and other compatible G mice charged while at rest and at play. Powerplay wireless charging system sold separately
Light speed wireless gaming mouse: Exclusive Logitech G ultra-fast wireless technology used by Pro gamers in competitions worldwide
Hero 25K sensor through a software update from G HUB, this upgrade is free to all players: Our most advanced, with 1:1 tracking, 400plus ips, and 100 - 25,600 max dpi sensitivity plus zero smoothing, filtering, or acceleration
11 customizable buttons and hyper fast scroll wheel: Assign custom macro and shortcut commands to the buttons for each game with Logitech G hub software. Use hyper fast scrolling to rapidly review menus, long web pages and more
Gamers appreciate speed because it matters in their gaming success. The Logitech G502 Lightspeed Wireless Gaming Mouse has a HERO 25K sensor that helps with quick movement on various surfaces. It has a speed ranging from 100 to 25,600 DPI, which helps sense screens at a distance. This high DPI helps gamers because most sit far from their screens due to long hours of staring. You can charge your mouse while playing as it's POWERPLAY compatible. The battery is suitable for continuous use and can last for 48 hours with default lighting and 60 hours without lighting.
The mouse has a mechanical button tensioning system that helps reduce the force you need to click right/left. With this feature, you can expect high-speed performance during your gaming activities. It has a hyper-fast scroll wheel that helps you navigate quickly through your games. In addition, it has a wireless report rate of 1000Hz. This mouse is compatible with Windows 8 or later and Mac OS 10.11 or later. You also need a USB port for data transfer since it has an inbuilt memory and the Logitech G Hub software. It also has a light sync technology that helps to customize illumination to synchronize games and videos.
Check out Logitech G502 Lightspeed Wireless Gaming Mouse on Amazon.
Best Wireless Mouse for Everyday Work: Dell MS5120W Wireless Computer Mouse
This mouse is our best pick for everyday work like MS Office, internet surfing, and simple photoshops. Dell MS5120W Wireless Computer Mouse has dual connectivity of 2.4GHz that allows you to connect to any PC with Bluetooth 5.0. You will use the Windows Swift Bluetooth Pair without configuring the settings every time. In addition, this mouse can also pair with Mac, Windows, and Linux Operating Systems.
You can use a single battery of this mouse for up to three years. Therefore, it's a good choice if you don't like charging every time. This mouse has a 1600 DPI tracking speed that is not bad for everyday activities. This feature helps in handling high-screen resolutions.
In addition, the mouse can rest on various surfaces and still provide the best performance. It has programmable buttons on the left, allowing quick navigation on pages and computer applications. The mouse has a Dell Peripheral Manager that allows you to pair devices and manage mice and keyboards for quicker navigation. This mouse has a warranty of 3 years. So, if your mouse gets faulty within that period, be sure of a replacement after reporting.
Check out Dell MS5120W Wireless Computer Mouse on Amazon.
How to Pick the Best Wireless Mouse: Step-by-Step
It's true that with the introduction of wireless technology, things have become a lot easier. Even so, before spending your hard-earned cash on any of the products mentioned above, you need to consider the following factors:
Cost
When searching for the best wireless mouse, the price will be at the top of your considerations. Some mice are cheap, while others are costly. A low-priced mouse can be good, but sometimes cheap can mean expensive. It is advisable to ensure you are comfortable with the specs before you buy any cheap wireless mouse. Expensive mice are the option if you are not on a tight budget, but you should be careful not to buy a costly mouse that's good for nothing. Always test all the features to see whether you are okay with them.
Weight
The mouse's weight matters a lot, especially if you work long hours with your mouse. Of course, lighter mice can give you a comfortable experience when doing consuming activities like gaming and photoshop. Therefore ensure you check the specs for the best lightweight mice before proceeding with your purchase.
Compatibility
As you've read above, some mice are only compatible with specific Operating Systems. Therefore, you should check software compatibility before you order your mouse.
Grip
A comfortable mouse should have features and design that make them easy to grip. It will be a bad idea to keep picking up your mouse after it has fallen on the ground, and it can get damaged. Some mice have ergonomic features and textured surfaces that make them easy to grip. So, go for a mouse with a good grip.
Click Latency
The click latency is the delay used to avoid so many clicks. So getting a mouse with a lower click latency will be good. When your mouse has a high click latency, you can make mistakes while clicking on pages and applications on your computer. A lower click latency is good for activities like gaming that require top-notch accuracy.
Speed
Mouse movement is critical, especially if you have many activities to do on your computer. If the cursor stays in one place for a long time, it will always feel annoying when using that mouse. Therefore, ensure you get a mouse with high speed. In addition, consider mice with 1000 DPI to 1200 DPI if you are a gamer. A higher mouse DPI will help you navigate faster, even far from the screen.
Scroll Wheel
An easy-to-move scroll wheel will be good if you want to navigate web pages faster. Nothing will feel so bad as hanging webpages when you need them the most. Therefore, check for a mouse with high-speed and easy-to-move features. In addition, a scroll wheel with little to no noise will do you good to avoid distractions during working hours.
What to Know Before Buying the Best Wireless Mouse
Your daily activities should help you determine the best wireless mouse you need. If you do complex activities like gaming or photoshop, you need a mouse with a high DPI. That will help minimize lag time. Understanding your daily activities will help you search for a suitable mouse. Also, when it comes to price, everyone wants to save some coins while making purchases. So, what budget do you have for a wireless mouse? Wireless mouse prices can range from $10 to more than $100. Sometimes you can get discounts, so be keen to get better deals.
If you've never handled a wireless mouse before, you need to be super careful with them. Remember that it's not attached to a USB cable. Therefore, a small push will take it to the ground. As a result, it can get damaged and you can find it tough to repair. In addition, remember a wireless mouse needs to be charged, are you comfortable with that? If not, you can buy a detachable mouse that you can always connect to your computer using a cable.
Using the Best Wireless Mouse: What it's Like?
With the best wireless mouse, you can experience the best performance of all your computer activities. Although these mice need to be charged, some stay for a very long time before they need to recharge. A wireless mouse also saves you from dealing with a disorganized working table. And that promotes a good working environment.
NEXT UP…
Last update on 2023-01-13 / Affiliate links / Images from Amazon Product Advertising API
The Best Computer Mouse for You
A mouse is an essential computer accessory. While every office will provide you a simple peripheral, don't settle for one. Especially if you are clicking a lot and scrolling for extended periods, you need the best computer mouse that money or your budget can get. Such a mouse makes cumbersome tasks a little easier to glide through.

Besides, a good mouse does more than just slide, point, and click. It offers you accurate and quick cursor movements without straining your wrist. On this page, we have rounded out the five best computer mice for you to consider. While not all mice are created equal, these options will work best for most people. Take a look!
1. Logitech's MX Master 3
Logitech's MX Master 3 is the best wireless mouse for productivity, thanks to a 4000 DPI sensor. It's also comfortable to hold, rich with features, and comes with a battery that lasts longer than any other mouse in comparison.
To give you some idea of the battery, you can work with the MX Master 3 for three hours on a one-minute of quick charge. Impressive, right?
The sleek grey design has incorporated all the good things people liked about Logitech's previous mouse iterations. The buttons are nice, the grip is pleasant, and the horizontal thumb wheel makes scrolling easy breezy.
And that's not all.
It's the software department where this mouse outshines the rest. All the functionalities for frequently used programs are preinstalled. From Microsoft Excel to Zoom and Adobe Photoshop, Logitech knows how you will be using the gesture controls and scroll wheel. So, there are optimized profiles for every program.
Not to mention, the Logitech Flow Gesture is another innovative feature. It lets you drag and drop your files between two computers as if they're connected via a USB. Just like that!
What's the downside? Higher cost! The $100 price tag means it's suitable only for serious workaholics.
Buy Here: Amazon
2. Razer DeathAdder V2
Razer's DeathAdder V2 is, without a doubt, one of the best gaming mice. It has higher accuracy, speed, and comfort. Plus, Razer's product quality come really handy in high-octane gaming sessions. That's why it's a favorite among the video gaming community.
This mouse offers a whopping 20,000 DPI levels so that you can get your desirable precision level while gaming.
Moreover, the design is perfect, nicely walking the line between a gamer's peripheral and a minimalist's dream come true. It fits comfortably in your hands if you don't have oversized ones. It's also pretty lightweight, and the braided cable offers minimal to no drag.
The software is a bit CPU intensive, but it lets you sync easily. You can then customize the buttons, adjust different sensitivity levels and change RGB lighting if you wish. Also, you can even change the poll rate from 1000 to 500.
When using it, we noticed one tiny problem. The mouse wheel makes a little squeaky sound, which can be quite annoying. If you use the mouse wheel a lot, give this one a miss. However, it's an overall excellent gaming mouse with outstanding features at a fair price point.
Buy Here: Amazon
3. Microsoft's Surface Mobile Mouse
People who need a portable and ambidextrous option without spending much cash should consider getting Microsoft's Surface Mobile Mouse.
It is designed for portability. The slimmer profile and lightweight construction make it easy to tuck into your backpack or laptop bag. Besides, it connects to your laptop via Bluetooth, and a single charge lasts up to a year. Therefore, there is no need to tug along the charger when you are going out.
Its shape is also pretty unique.
The symmetrical shape ensures both left-handed and right-handed people can use it without any problem. In addition, the size is also very appropriate. People with bigger hands will have no issue using this mouse.
Furthermore, it uses the BlueTrack technology that makes it work on virtually any surface — whether coarse or smooth.
While Microsoft originally designed it for their latest Surface laptops, it works with any other laptop without giving you any hassle.
However, its portable design doesn't naturally curve to the shape of your palms, as you see with more ergonomic options mentioned on this list.
Buy Here: Amazon
4. HP Omen Photon
The HP Omen Photon is an excellent wireless mouse for gamers. Its eleven programmable buttons make it fully customizable. Plus, a wide DPI range and an ambidextrous design making it stand out from the rest of the competition.
The mouse is truly comfortable. The tactile feedback from all the buttons is the best we have seen. Besides, we really appreciate the ambidextrous design, and magnets are a blast to fidget with. Such a design makes it more inclusive than others as it doesn't leave left-handers in the lurch.
The construction materials are also pretty good. Thus, giving it a premium feel. The mouse feels rather heavy but glides fast and without any force.
Oh, and lest you forget!
The HP Omen Photon offers 16,000 DPI options, bringing excellent sensitivity even for competitive gamers. In addition, the mouse uses a 2.4 GHz wireless connection for lag-free performance. HP claims its wireless connection is just like a wired connection, and we agree. We didn't notice any lag during our extensive use tests.
Overall, it's an excellent gaming mouse if you are fine with paying a higher price. Fully customizable and ambidextrous design, excellent sensor, and wide DPI range ensure you get the most value for the money spent.
Buy Here: Amazon
5. Seenda Wireless Mouse
Sweet baby mouse!
If you are looking for a basic mouse with no bells and whistles that matches your room or hardware aesthetics, consider the Seenda Wireless mouse. It's a lightweight, tiny mouse that comes in more than 20 colors to match your aesthetics. You can fit it in your backpack pockets and take it places without any hassle.
While there's no off button to put it to sleep when not in use, it does have the sleep mode. The sleep mode helps conserve the battery as it automatically shuts down all the lights. Then, you have to press the left or right button to make it back up.
What we really love about this mouse is its near-silence. No more obnoxious clicking sounds and disturbing others.
It's a plug-and-play option. You don't have to go through the hassle of driver installation or setting buttons up. The 2.4GHz wireless connection is strong is stable up to a distance of 33 ft.
However, keep in mind this is not a very precise mouse. If you are into photo editing or gaming, look into other options listed here. For basic mouse-related tasks, the Seenda Wireless mouse is a no-brainer, considering its low cost.
Buy Here: Amazon
Buyer's Guide – Best Computer Mouse
Below are a few things to deliberate over, before you purchase a suitable mouse.
Your Needs
A basic mouse with two buttons and a scrolling wheel is enough for most users. However, if you are into specific tasks such as gaming and productivity, you need specially designed mice.
1. Gaming Mouse
A gaming mouse comes with an ergonomic design and customizable buttons that make your gameplay a whole lot easier. These mice have a high-quality sensor, improving their accuracy. They are also comfortable to hold for longer periods without straining your wrists. Today, some high-end gaming mice come with DPI switches that let you easily toggle between different DPI settings for better control. You can also use these mice for productivity tasks such as photo video editing. Gaming mice are big and heavy.
2. Travel Mouse
These are your standard mice that come with two or three buttons. Compact, lightweight, and easy to carry along on your daily trips. Some of them are wireless, while others have a short retractable cable for better connection. Travel mice are also more affordable. However, their design usually doesn't consider ergonomics. This makes travel mice unsuitable for prolonged use.
Comfort
Depending on whether you want a flat handheld or a claw-like grip, consider the ergonomics for comfort. Ergonomic mice fit in your hands much more naturally, hence reducing strain on your wrists. Size also factors in for comfortability. Get one which suits your grip. Similarly, Not all mice are suitable for left-handed folks. Moreover, noise reduces comfort. The incessant sound of a mouse clicking when you are hard at work can get annoying really fast.
Optical or Laser
Optical and Laser mice are the two most popular types of computer mice. Their primary difference comes down to the fact that a laser mouse utilizes a laser to follow movements. In contrast, an optical mouse has an LED for this purpose. You can use an optical mouse only on a flat or opaque surface, while laser mice are suitable for a wide variety of surfaces, including glass.
DPI
DPI is dots per inch. You often see DPI range written on a gaming mouse. Generally, a higher rating is better in most gadgets. However, when it comes to DPI, it isn't always so. DPI merely shows how fast the pointer of a mouse can move per inch of the mouse travel. If you are a typical user, don't worry about the DPI at all. A high DPI ensures you can act quickly for gamers, but a lower DPI gives you precision and better control.
Wireless: Radio Frequency (RF) or Bluetooth
When you opt for a wireless mouse, it either communicates with the computer via Radio-Frequency (RF) or Bluetooth. RF mice are more responsive and easy to set up, but their dongle cogs up one of your USB ports. And if you lose the dongle, good luck finding a replacement. Therefore, Bluetooth is more convenient. It won't use your USB port, and its battery will easily last a year. Such mice can also be used between multiple computers.
Final Thoughts
So, that's all about the best computer mouse. We hope now you know which mouse will go well with your hardware and needs. For most regular users, a simple two or three button mouse will suffice. However, gamers or professionals should consider all the mouse features and styles that can ease their lifestyle. Good luck!