Yesterday, the Bitcoin Cash (BCH) blockchain split in two separate networks , each kicking off a new cryptocurrency.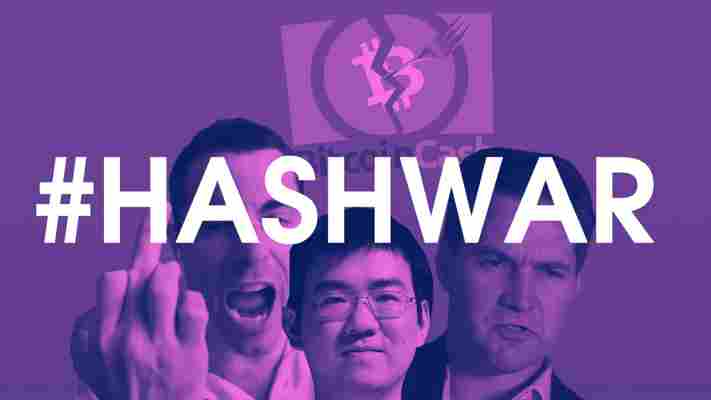 Now that Bitcoin Cash has forked into two rivalling cryptocurrencies – BAB, maintained by Bitcoin-ABC, and BSV, maintained by Craig Wright's nChain – it remains to be seen which network will surface as the dominant chain.
But before we dive into the initial fallout from the split, we need to address what factors go into determining what qualifies as the "dominant" chain.
Height versus Work
There are two main schools of thought when it comes to determining the health of a blockchain – the height of its ledger (or the total number of validated blocks) and the amount of work done to keep the chain secure (or the cumulative computing power it has generated for solving puzzles so far).
From this perspective, two of the most important factors to consider are the number of blocks mined (after the hard fork) and the hash rate possessed by each network.
Let's start with the hash rate.
Even though most miners had initially indicated they will support nChain's SV implementation (see image above), ABC quickly took the lead in the subsequent hash war.
While the numbers have varied significantly in the immediate aftermath, blockchain explorer Coin.Dance indicates that ABC commands 58 percent of the computing power, followed by SV's 42 percent.
It's worth pointing out the numbers might not be entirely accurate, with many industry insiders speculating there might be quite a bit of shadow mining taking place in the background.
Whatever the case is though, ABC seems to be edging out SV when it comes to hash power – at least for the time being.
Similarly, ABC is winning the block height game too.
At the time of writing, its chain has 30 more blocks than SV's. For the record, there has been a total of 171 mines blocked since the chain first split.
War without winners
The most concerning development is that it appears both newly-spawned Bitcoin Cash forks are currently losing from the split.
Most exchange services have temporarily halted Bitcoin Cash trading until consensus has been reached about the hard fork, but chances are both cryptocurrencies will experience a significant drop in price.
To make matters worse, miners are validating transactions at a loss. According to estimates from Bitcoin developer Jimmy Song, both chains are losing about $500,000 in opportunity cost each day. (It should be noted some of those estimates might not be entirely accurate .)
In the meantime, exchanges are still mostly sitting on the sideline, waiting out to see which chain it makes more sense to support in the long run. Of course, some exchanges like (Binance and the controversial Bitfinex) have already announced intentions to support both implementations.
So who is really winning the Bitcoin Cash war? It is difficult to say – but neither side seems willing to concede defeat.
Anyone interested in a more detailed explanation of the Bitcoin Cash network split ought to head to our extended breakdown .
UPDATE: You (cannot) now buy Elon Musk's 'Not A Flamethrower' with Bitcoin
Update 08:38 UTC, October 19: ATTENTION: We've been had! The website showing cryptocurrency payment methods was a fake. We're sorry, but sometimes we fall for internet trickery. We won't remove this story because we want you to see how dumb we can be, so enjoy!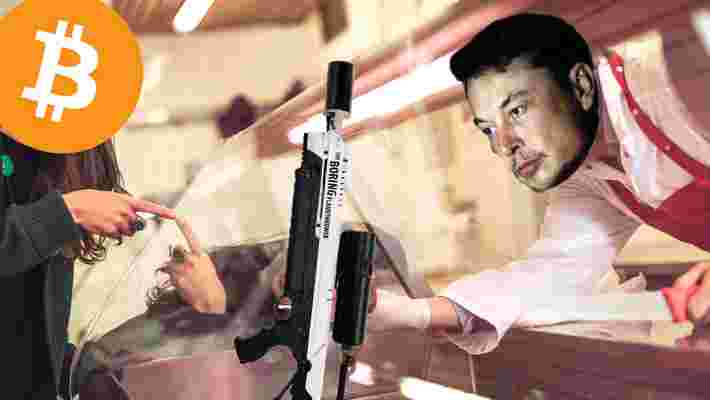 There's something fitting about an Elon Musk business accepting Bitcoin, because, you know, they're about as stable as each other.
I'm here all week.
That's right, you can now buy the Boring Company's Not A Flamethrower (from here on out, referred to as just a flamethrower) with not only Bitcoin, but a range of other cryptocurrencies. Specifically, Ethereum, Litecoin, and Bitcoin Cash.
The website was recently updated to allow this and it has the cryptocurrencies listed alongside more traditional payment methods.


The flamethrowers are retailing for $500, a lower figure than the pre-sale price of $600 . At the time of writing, that means you can get yourself one of the devices for 0.078 Bitcoin. Or 2.48 Ether. That almost sounds reasonable.
For some context, Elon Musk founded the Boring Company – which sells the flamethrower – to dig the tunnels that his Hyperloop transportation system will eventually operate in.
In retrospect, his decision to launch a flamethrower was one of the first red flags in his current downward slide . The whole saga started with this tweet:
And, to be fair to him, he did start selling the flamethrower on January 27 of this year. There's a certain respectability in following through with a claim like that.
The reason behind selling a flamethrower (as well as other items, like a fire extinguisher, propane fuel cylinders, and fire gloves) has never been made entirely clear. My view is that it's a mixture of making some merch money (they've sold tens of thousands of these at $500 a pop) and getting some press attention (I mean, we're still writing about it).
Unfortunately for Musk though, this isn't the first flamethrower you've been able to splurge your crypto on. Throwflame – a business that makes terrifying flamethrowers – also accepts Bitcoin. Looks like you're late to this party, buddy.
The ultimate question though is whether opening up cryptocurrency payments will make any difference to the sales of Musk's flamethrower. In my opinion? Doubtful.
Still, it's hard to complain, because there's something about being able to buy a flamethrower with Bitcoin that just feels right .
EU police seize $5.2M cryptocurrency in continent's largest LSD bust in history
It seems that drug vendors are running out of luck. The European Union authorities conducted a drug raid against dark web sellers seizing $5.2 million worth of cryptocurrencies, Fortune reports .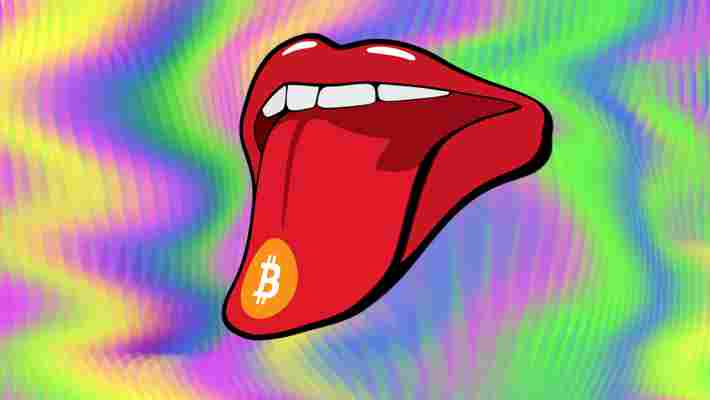 The authorities seized 800,000 LSD blotters, €3.3 million ($3.85 million) in fiat and real estate property, and 10 luxury vehicles in addition to the cryptocurrencies.
The dealers purportedly sold drugs in over 100 countries. Authorities suspect that they had been running an 'organized crime group' since at least 2012.
The details of which cryptocurrencies were seized and in what amounts are not yet known.
The raids, which took place in Spain and Austria, were conducted in collaboration between European law enforcement agency Europol and the Spanish Civil Guard. They arrested a total of eight individuals.
It is worth noting that the US authorities also recently concluded an undercover operation against dark web drug sellers . The authorities seized more than 2,000 BTC as part of the raid, and believe at least another 2,000 BTC is still with the arrested sellers.
The US Federal Bureau of Investigation (FBI) currently has nearly 130 cryptocurrency-related cases with it, as reported by Bloomberg.
FBI supervisory special agent Kyle Armstrong noted to Bloomberg that this is a small number compared to its overall thousands of pending cases. But most of the the cryptocurrency-related cases are associated with selling drugs on the dark web.
Cryptocurrencies are popular on the dark web due to the associated anonymity. But multiple reports over the years have shown that Bitcoin or most other cryptocurrencies aren't perfect at securing anonymity.