Ethereum might feature more decentralized apps (dapps) than any other blockchain, but its rivals are enjoying significantly higher usage.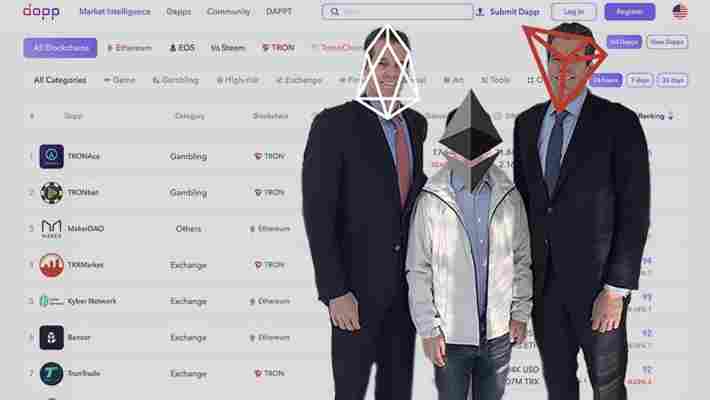 In fact, TRON dapps attracted more active users than any other network over the past three months, reports Dapom with new research.
"484 new dapps were added to the market this quarter, and Ethereum is still the first choice for developers, followed by TRON and EOS," said Dapom. "Newly launched blockchains like TomoChain and IOST are quickly expanding, but the first tier blockchains have already gone way ahead."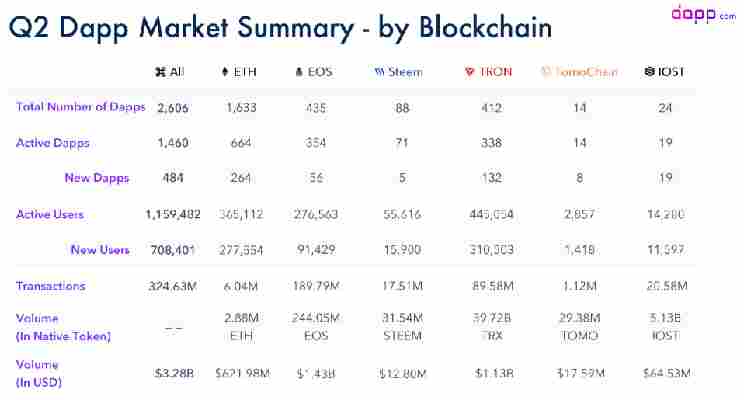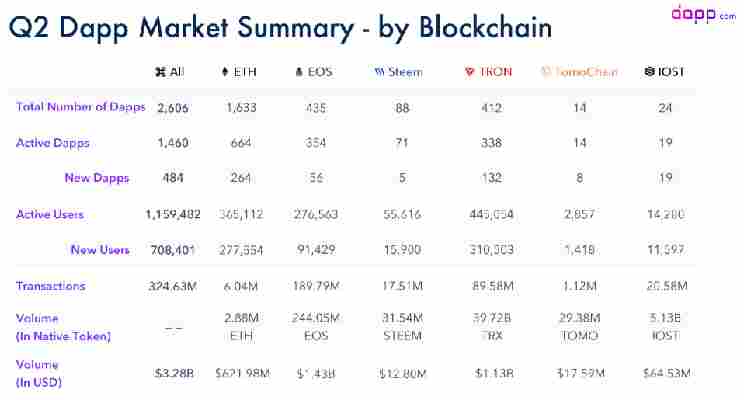 Dapom also announced a new record for active users in a single quarter had been set (1,159,482), as well as all-time highs for transactions and transactional volume.
"User activeness has a strong correlation with ETH price – the higher the price, the more Ethereum dapp users," remarked Dapom. "More token holders have also been converted to dapp users, as the price has increased since mid-May 2019."
Curiously, the opposite appears true for TRON. According to Dapom, a higher TRX price actually makes for a smaller amount of transactions for TRON dapps.
TRON is reportedly the only featured blockchain to experience such negative correlation between token price and dapp usage.
Sadly, cryptocurrency gambling is still the most common dapp use-case, accounting for 39 percent of all active users in Q2 2019, as well as 71 percent of the dapp ecosystem's total transactional volume.
Even worse, 90 percent of TRON dapp transactions during the last quarter were directly related to cryptocurrency gambling. Earlier this year, cryptocurrency gamblers (and their dapps) left the Ethereum blockchain en masse for Delegated Proof-of-Stake systems like EOS and TRON.
You can read Dapom's full quarterly report here .
US couple must forfeit their cryptocurrency riches after being caught running dark web drug ring
A California-based couple will have to forfeit their cryptocurrency riches after pleading guilty to running a dark web drug operation ring.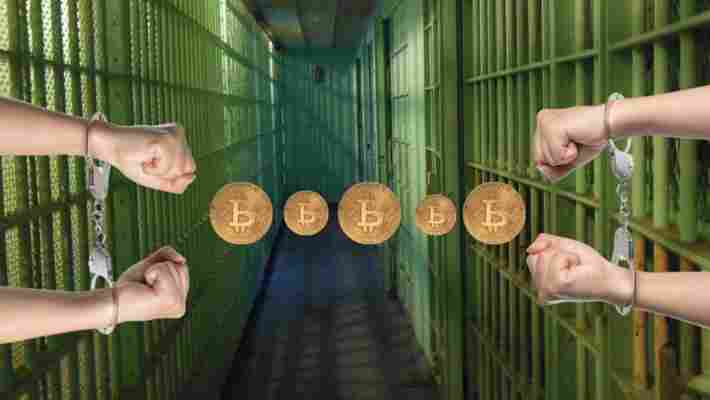 Jabari Monson, 32, of Merced, California pleaded guilty to conspiring to distribute controlled substances.
Saudia Monson, 39, also of Merced, pleaded guilty to a violation of the Travel Act, after using the mail and internet to distribute controlled substances, said US Attorney McGregor W. Scott .
Court documents show that from July 2018 until January this year, the couple ran several vendor accounts on Dream Market – a dark web marketplace – through which they sold cocaine, methamphetamine , and marijuana .
As part of their plea agreement, the defendants agreed to forfeit an undisclosed amount of cryptocurrency , which included Bitcoin and Bitcoin Cash .
Jabari is looking at a maximum statutory penalty of 40 years in prison, a mandatory minimum of five years behind bars, and a hefty $5 million fine.
Saudia, on the other hand, faces a maximum statutory penalty of five years in prison and a $250,000 fine.
Both defendants are due to be sentenced by US District Judge John A. Mendez on November 19.
Blockchain researchers are still finding critical vulnerabilities in EOS
Months after its nightmarish launch , cryptocurrency and blockchain security researchers are still finding vulnerabilities in EOS, according to recent activity on breach disclosure platform HackerOne .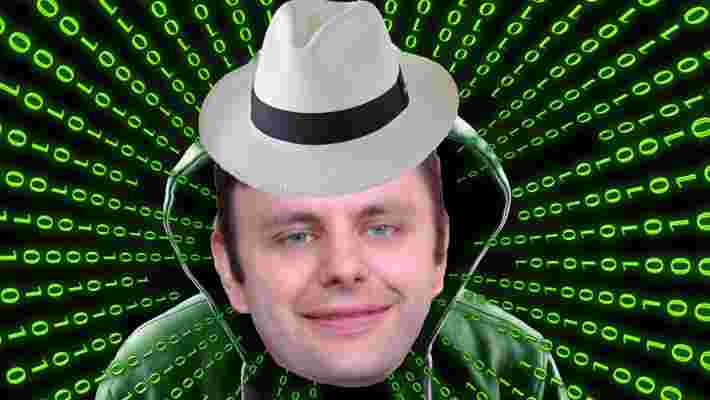 After reviewing the latest bug disclosures on the platform, Hard Fork found that EOS developer Blockne closed eight vulnerability reports submitted by white-hat hackers in January alone, for a total of $50,750 worth of bug bounties.
It's worth noting that out of the eight bounties, five qualified for Blockne's $10,000 reward, reserved for critical vulnerabilities.
This extends Blockne's unfortunate vulnerability disclosure streak from last year. After launching its disclosure program at the end of May, EOS handed out over $500,000 in bug bounties in 2018, accounting for more than 60 percent of all bug bounty rewards awarded by blockchain companies.
Blockne wasn't the only cryptocurrency business to deal with vulnerability reports last month though. Blockchain-based protocol TRON and exchange service Robinhood closed three bug reports each, followed by Cobinhood with two. Coinbase, Monero, Electroneum, and Gatecoin also received at least one bug report each in January.
Unfortunately, none of the vulnerability disclosures are open to the public, so there's no way to gauge the severity of the bugs.
Blockchain bug disclosure activity in the bigger picture
On the bright side, blockchain companies represent only a minuscule fraction of all bug reports submitted to HackerOne in January. In total, there were about 1,400 new bug reports on the platform last month.
By comparison, blockchain companies closed over 3,000 bug reports in 2018, according to data from HackerOne . Of course, the data exclusively refers to bug report activity on HackerOne, which means the real number of bugs in blockchain-powered businesses is likely much higher.