Facebook has outlined the economics of its new Libra cryptocurrency, revealing it will create a secondary token intended specifically to pay dividends to early backers.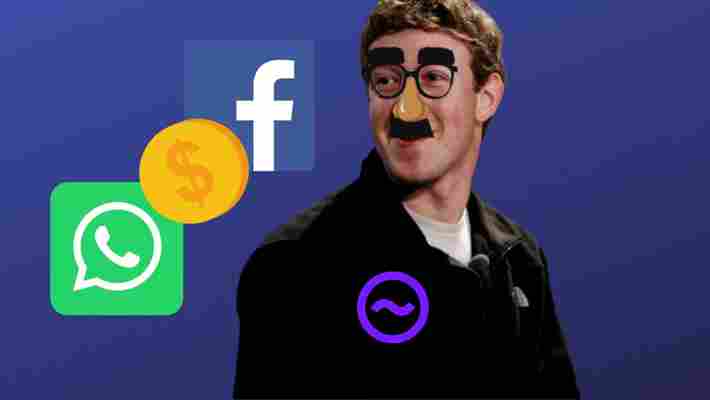 It's called the Libra Investment Token, and it will only be available to members of the Libra Association (which maintains the network) and other accredited investors.
Money raised by selling the Libra Investment Token is said to be placed in low-risk assets, and revenue generated is to go towards supporting operating expenses of the Libra Association itself and other development costs, including grants to non-profits.
Once those are paid for, some of the remaining returns will be distributed to Libra Association members in the form of dividends.
The value of Libra tokens is going to fluctuate
Diverging from earlier reports , Libra won't necessarily be a pure "stablecoin," either. Instead, assets controlled by a firm called the Libra Reserve will back the cryptocurrency, and Facebook is hoping this will keep its value relatively stable (or at least, more stable than Bitcoin).
Quite simply, Facebook says the "value" of the Libra Reserve will determine how much each Libra token is worth, but marketing materials warn Libra could still suffer from price fluctuations.
"The actual assets will be a collection of low-volatility assets, including bank deposits and government securities in currencies from stable and reputable central banks," reads Libra's website. "As the value of Libra will be effectively linked to a basket of fiat currencies, from the point of view of any specific currency, there will be fluctuations in the value of Libra."
"[…] To that end, the above basket has been structured with capital preservation and liquidity in mind. On the capital preservation point, the association will only invest in debt from stable governments with low default probability that are unlikely to experience high inflation," it added.
Libra inherits monetary policy from central banks
The total amount of Libra tokens in circulation will be determined by the balances of Libra users, unlike major cryptocurrencies like Bitcoin that feature a fixed supply limit.
In that sense, there is no monetary policy here. The Libra ecosystem will effectively inherit the monetary policy of the central banks issuing the fiat currencies managed by its Reserve.
There will also be no limit to how many Libra tokens can be "minted" or "burned."
This process is pledged to happen automatically, and only in response to demand from authorized Libra resellers, who will purchase tokens for fiat. " Because the reserve will not be actively managed, any appreciation or depreciation in the value of the Libra will come solely as a result of [foreign exchange] market movements," reads Libra's marketing materials.
Libra says this should discourage "bank runs," and that users should be assured their tokens will be continuously backed by an equal amount of real-world assets.
Exactly who these "authorized resellers" will be is yet to be revealed, but Libra hinted that it had been discussing "ongoing relationships with principal cryptocurrency trading firms and top banking institutions" to allow users to exchange local currencies for Libra tokens, and pledged to encourage listings on multiple regulated exchanges around the world.
Libra is expected to be released next year. You can check out more information about its new digital wallet, Calibra , here .
Swede facing extradition to US over $11M Bitcoin investment scam
A Swedish citizen has been charged with securities, wire fraud, and money laundering in a scheme that saw him encourage victims to invest using cryptocurrencies such as Bitcoin
In a complaint submitted on March 4, 2019, and unsealed yesterday , Roger Nils-Jonas Karlsson and his company, Eastern Metal Securities (EMS), were charged with engaging in a scheme that defrauded more than 3,500 victims of over $11 million.
According to the complaint, Karlsson allegedly used websites to communicate false representations to victims since September 2006.
Karlsson reportedly used the website to invite potential investors to buy shares of the plan for $98 per share in exchange for an eventual payout of 1.15 kilograms of gold per share. As of Jan. 2, 2019, this amount of gold was valued at over $45,000.
The complaint also says that Karlsson allegedly told investors that, in the unlikely event that the gold payout failed, they would receive a 97 percent return of the amount they invested.
The government failed to find any evidence of any accounts held by Karlsson which would enable him to pay off the investors.
Instead, the funds provided by victims were allegedly transferred to Karlsson's personal bank accounts and are tied up in real estate in Thailand.
Karlsson used a second website ( www.hci25om ) to make more communication with potential investors. He reportedly brought the investors in both websites together and posted multiple communications to delay the moment investors realized the payout wouldn't happen.
One one occasion, he allegedly said that a payout had not occurred because releasing so much money all at once could cause a negative effect on financial systems throughout the world.
Karlsson also allegedly said that EMS was working with the US Securities and Exchange Commission to get the payout ready.
Karlsson was arrested on June 18 in Thailand. The United States is seeking his extradition to stand trial in the Northern District of California.
Bitcoin whale moves gooch-tingling ONE BILLION DOLLARS
A cryptocurrency whale has moved a ball-twisting 94,504 BTC (worth over one billion dollars) — paying just $700 in Bitcoin network fees.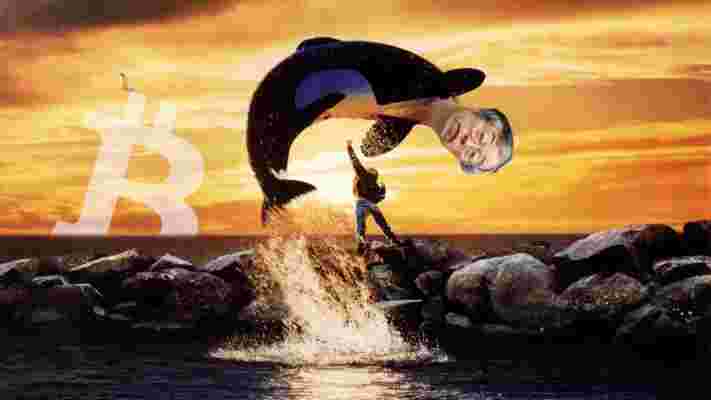 Twitter-based transaction monitor @whale_alert signalled the transfer earlier today, which was included in Bitcoin block # 593468 .
For now, it appears cryptocurrency exchanges do not control these wallets, as those addresses are (typically) flagged by the @whale_alert service and other blockchain explorers.
To make the transfer, this Bitcoiner requested no permission from any bank, government, or financial regulator. This transaction was essentially immune to any form of governance or state oversight.
That goes for every other Bitcoin transaction, large or small. Suck it, central banks!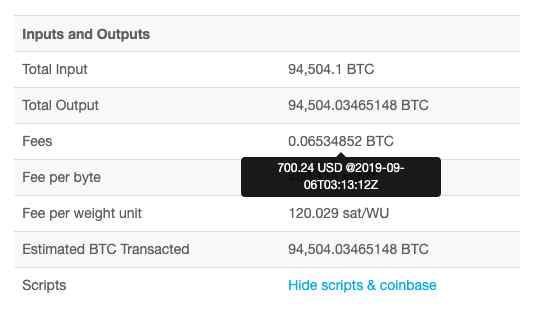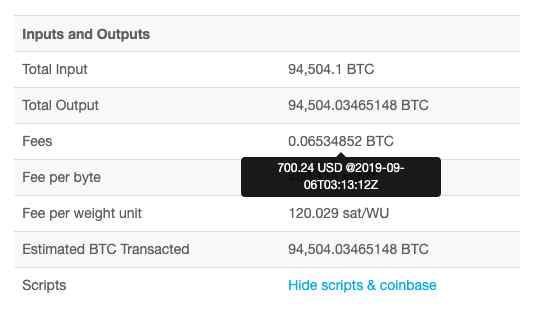 Bitcoin whales have indeed made similarly monstrous moves recently, but not of this size.
In May, one infamous player named Loaded paid just $3.93 to send $212 million worth of Bitcoin . Two months later, another (still-unknown) identity initiated multiple $450 million transactions for just $400 at a time.