You'd have thought by now that cryptocurrency startups would know to focus on their tech rather than PR stunts. But sadly not.
An Israel-based startup is offering a $250,000 bounty for anyone that can crack its supposedly 'unhackable' Bitcoin cold wallet and extract the funds. It's like Bitfi all over again.
The cybersecurity startup GK8 has put around $125,000 (14 Bitcoin) into the wallet itself, and will pay out an additional reward of up to $125,00 (14 Bitcoin) to the successful hacker, The Block reports .
According to the terms and conditions , to be eligible for a share of the additional bounty, hackers must submit in "written detail" how they hacked the wallet. It must state what software, hardware, and processes were used in the attack. All of this must be done within 48 hours of successfully hacking the wallet, too.
It's not clear what one must do exactly to claim the whole prize pot, though. In the bounty's Ts and Cs, GK8 says that additional prizes will be "awarded at its own discretion."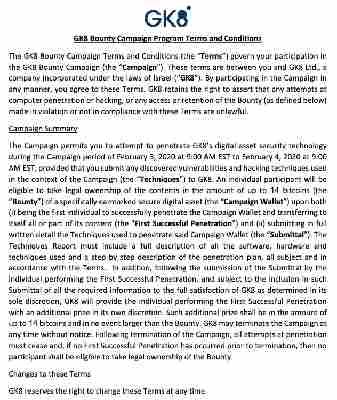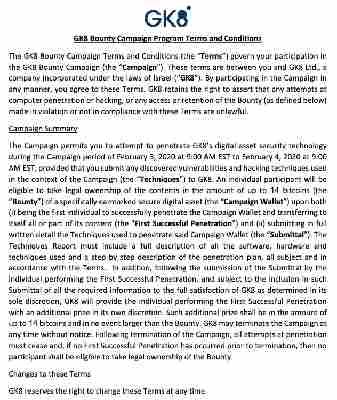 What's more, hackers have just 24 hours to successfully complete their penetration of GK8's wallet. GK8 also reserves the right to terminate the bounty program at any time. So how this plays out is anyone's guess. The wallet might well be hackable, but in just 24 hours? That's a different question.
The 24-hour window will open later this week on February 3, at 9am EST (3pm CET).
If the company was genuinely interested in discovering flaws in its system, it wouldn't have such tight stipulations. One would assume that it would want to incentivize and work with as many white-hat hackers as possible to strengthen its product.
GK8 certainly appears to be throwing down the gauntlet to would-be cybersecurity bounty hunters, though. It claims its wallet is "totally unhackable." A statement that surely won't come back to bite it in its ass, right?
Maybe we should remember when famed crypto-shill John McAfee put down 100,000 US smackeroos for anyone that could hack into the supposedly 'unhackable Bitfi' cryptocurrency wallet.
McAfee didn't lay down a deadline like GK8 has, though. After a week, the Bitfi wallet allegedly got hacked , and then it got hacked again .
A 15-year-old hacker even managed to root the device to load up and play a ROM of the original DOOM .
At the time, McAfee claimed the Bitfi wallet was the "world's first unhackable device." Clearly this wasn't entirely true. It seems even the 'unhackable' can always be hacked with enough time.
Will 24 hours be enough for budding hackers to break into GK8's systems? Will anyone secure the bounty?
We'll have to wait until next week to see how this one plays out.
This artist turns boring stock market data into gorgeous minimalist art
Depending on who you ask, the stock market is either fascinating or painfully dull — but one artist is turning charts into aesthetic vaporwave prints to bridge the gap.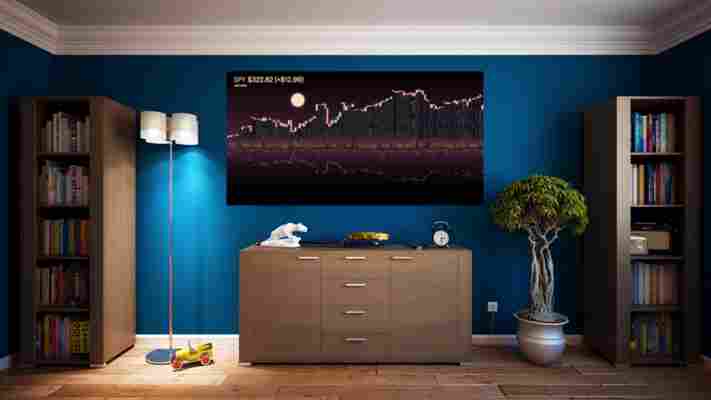 Stoxart is the work of Gladys, a self-described visual insights innovator mixing data with art to capture 2020's monumentally volatile markets.
Entirely hand-drawn with Adobe Illustrator's pen tool, Gladys amplifies the context surrounding this year's biggest stock storylines by transforming sharp price movements into jagged mountain skylines.
Stoxart has loads of Easter eggs for the stock market insider
Stoxart is a relatively new project, but it's quickly gaining traction. Gladys' latest work, inspired by automaker Ford's chart, recently racked up more than 76,000 upvotes from the /r/dataisbeautiful subreddit .
"I remember casually posting the Ford image , then sitting there in awe at how fast the upvotes were going," Gladys told Hard Fork. "Each time I refreshed, it'd go up at least 10 more in that split second. I gained 600 followers in less than 24 hours, it's insane. The best word to describe it is 'overwhelming.'"
Gladys peppers Stoxart with Easter eggs. Take the Tesla piece: a tiny Elon " lurks somewhere in the buildings ," and the trees are in the shape of Tesla logos. There's even a Hyperloop that represents the trade volume of the company's stock.
[
As for what's coming next: "I've been asked to do a lot of Tesla, Microsoft, S&P500, and Bitcoin is mentioned a lot as well," said Gladys. "I've also been exploring the idea of combining two competing companies like AMD and Intel, so I think I have enough content to take me through the year."
Stoxart limited edition prints are available for purchase online, and the artist accepts commissions for custom work (including digital downloads). You can follow them on Instagram here .
Zoom drops $14.7B on cloud call center firm to boost post-pandemic business
Just two years after going public at a $9 billion valuation , videoconferencing giant Zoom has agreed to buy cloud call center firm Five9 for a cool $14.7 billion.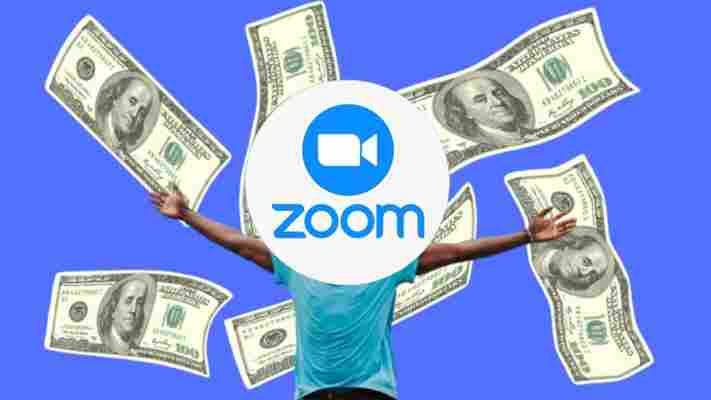 The all-stock deal will allow Zoom to expand its range of services, CEO Eric Yan said in a statement on Sunday:
The acquisition aims to secure Zoom's growth as pandemic restrictions ease.
The company became a household name after lockdowns and working from home orders forced countless businesses to invest in videoconferencing.
In recent months, however, the hypergrowth has slowed , as workers have begun returning to offices.
Zoom has responded by expanding its cloud-based conferencing offerings.
"The trend towards a hybrid workforce has accelerated over the last year, advancing contact centers' shift to the cloud and increasing demand by customers for customized and personalized experiences," said Yuan.
The Five9 acquisition will serve this strategy in several ways. Zoom plans to combine the company's contact-center as a service solution with Zoom's communications platform. It will also harness Five9's customers and software to expand the cloud-calling system Zoom Phone.
The transaction is Zoom's first billion-dollar acquisition and the second-biggest tech deal in the US this year, after Microsoft's $16 billion purchase of Nuance . The transaction is expected to close in the first half of 2022.