JP Morgan has a new digital asset, JPM Coin . It's not really a cryptocurrency, and it's not quite a stablecoin , but it does use a blockchain. It's mostly referred to as a digital coin.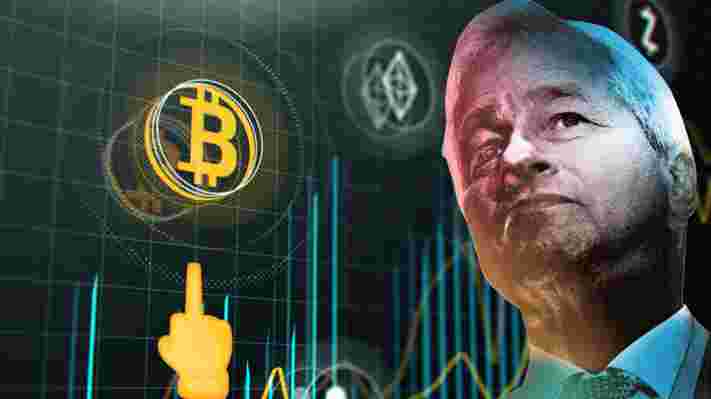 Still, JPM Coin is set to square off against all the other redeemable bank tokens in the market, eventually.
Announced today via a flurry of reports , JPM Coin's drawcards are listed as each token being redeemable for fiat, and that its powered by a "blockchain," specifically Quorum, a distributed ledger platform developed by JP Morgan and some of its partners.
The network powering JPM Coin will be entirely permissioned (private, or if you prefer: centralized), controlled by the bank itself. It will reportedly be available only to its institutional customers that pass JP Morgan's Know-Your-Customer measures.
That's really about it. It is backed by the bank's "strong balance sheet," its attention to cybersecurity, and supposedly robust regulatory oversight. It says this should assure institutional players.
But it's only really specific institutional players that will get access to this… thing. They can use it to send money between thick bank accounts.
Ultimately, Jamie Dimon isn't necessarily trying to pull the wool over your eyes. It's quite honest this product is probably not for you, and if you are looking for cryptocurrency, you might want to check out something like Bitcoin or Ethereum.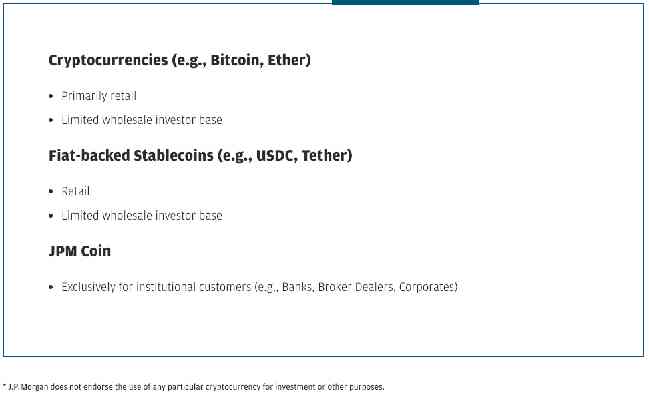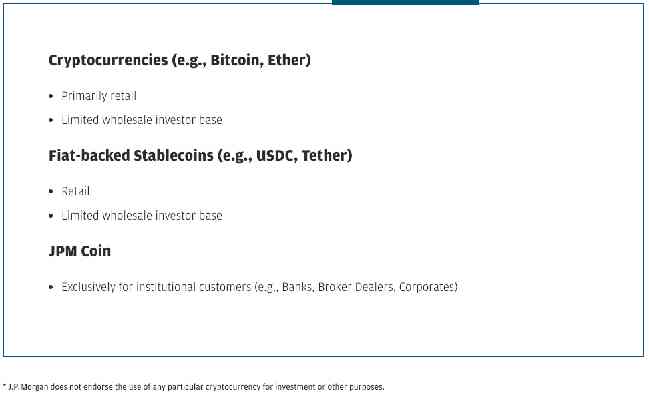 JP Morgan describes JPM Coin as a "prototype that will be tested" with a few of its clients, expanding it into a pilot program later this year.
The last bit really sums up it all up. If you're a corporation and you think that hip solutions like Ripple Labs' XRP token, or the plethora of regulated stablecoins out there, aren't quite centralized enough for you, then JPM Coin might be just what you're after.
Although, in light of the Winklevii's Gemini exchange being forced to close down certain accounts due to a supposed influx of token redemptions, one can't help but suspect this is a well-crafted ploy at publicity, aimed to make a big splash in a now-oversaturated market.
22-year-old gets 2 years in jail for illegally selling hundreds of thousands in Bitcoin
A 22-year-old man in the US has been sentenced to two years in prison for selling hundreds of thousands of dollars in Bitcoin through an unlicensed money transmitting business.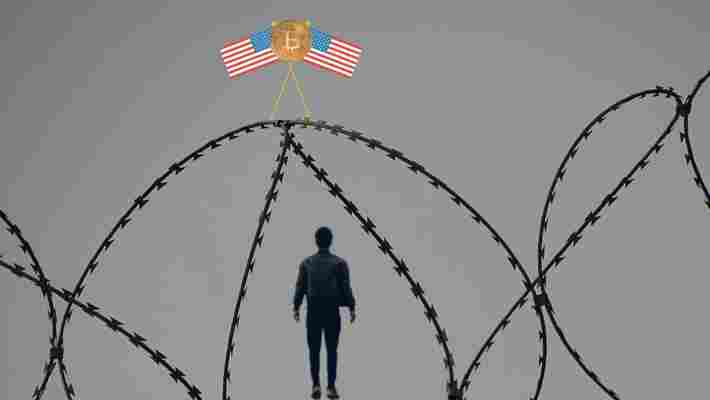 Jacob Burrell Campos, who had been in custody without bail since he was arrested in August last year, was also forced to forfeit $823,357 in illicit profits.
He plead guilty on October 29, admitting he had operated a Bitcoin exchange without previously registering the business with the Financial Crimes Enforcement Network (FinCen) of the US Department of Treasury. He also admitted he had not implemented the necessary anti-money laundering procedures (AML).
"Today's sentencing of Burrell is a reminder to those illegal and unlicensed money transmitters that the laws and rules apply to crypto currency dealings just as they do to other types of financial transactions," said David Shaw , special agent in charge for Homeland Security investigations in San Diego.
Burrell advertised his business on LocalBitcoinom and communicated with customers using text messages and emails, typically resorting to encrypted applications.
He negotiated a commission of 5 percent above the prevailing exchange rate, and accepted cash payments in person, through ATMs, and MoneyGram.
Burrell also admitted he failed to have a "Know Your Customer" program and said he did not perform any due diligence on the source of his client's funds.
At first, Burrell bought his initial supply of Bitcoin using a US-based regulated exchange, but his account was eventually closed due to the suspiciously large trading volume.
Following this, Burrell turned to a cryptocurrency exchange in Hong Kong, where he bought $3.29 million in Bitcoin, across hundreds of transactions, from March 2015 until April 2017.
He then exchanged his US cash – stored in Mexico – with Joseph Castillo, a San Diego-based precious metal dealer.
Burrell also admitted that, between late 2016 and early 2018, he and others imported into the US, on an almost daily basis, a total of over $1 million in amounts slightly under the set $10,000 reporting requirement.
Did you know? Hard Fork has its own stage at TNW2019 , our tech conference in Amsterdam. Check it out .
Alleged head of $3.5M crypto mining scam bought stake in nightclub