The Lenovo Z500 Touch is a general-purpose laptop has a quad-core Intel Core i7-3632QM processor, 8GB of RAM, a dedicated graphics processor and a touchscreen display for just under £800.
It's surprisingly slim for a general-purpose laptop, being 25mm thick and weighing 2.2kg. We suspect this is due to its largely plastic chassis. It doesn't look quite as stylish as other laptops in this price range, but the brushed metal finish surrounding the keyboard tray looks smart.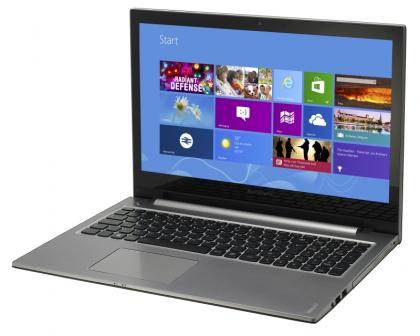 SPECIFICATION AND PERFORMANCE
Its 2.2GHz Intel Core i7-3632QM processor and 8GB of RAM scored the Z500 Touch an impressive 77 overall in our multimedia benchmarks, the same score as Lenovo's more expensive IdeaPad Y580. It's still toward the lower end of quad-core processor performance, but only the Best Buy-winning MSI CX61, which scored four points more, beats it on price.
Its graphics capabilities were even more impressive, and it breezed through our Dirt Showdown test with an average of 43.3fps on High quality settings at a 1,280x720 resolution. At its full resolution of 1,366x768 the Z500 Touch scored 41.2fps with the same quality settings, which is still a comfortably smooth frame rate. This is a great score for a non-gaming laptop, and we only had to lower the settings to Medium at a resolution of 1,366x768 to get a near-perfect 58.2fps.
The Z500 Touch even scraped through our Crysis 2 test. It managed 15.9fps on Ultra quality at a resolution of 1,366x768, but lowering the settings to High produced a much smoother 32.4fps. It should be able to play the latest 3D games as long as you're prepared to tailor the graphics for each title.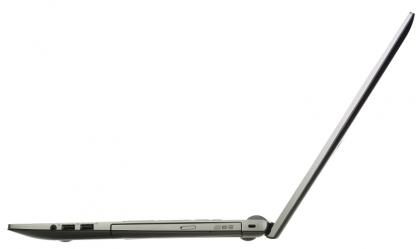 PORTS AND BATTERY
The Z500 Touch has a good selection of connection ports too, including a DVD-rewriter, one USB3 and two USB2 ports, an SD card reader, a Gigabit Ethernet port, a combined headphone and microphone jack and VGA and HDMI video outputs. Its integrated speakers are better than your average laptop speaker, too. There was a pleasing amount of bass present in our test tracks.

The Z500 Touch does better than most general-purpose laptops when it comes to battery life as well, as we managed 6 hours and 6 minutes in our light use test with the screen set to half brightness. This is a good two hours longer than other quad-core laptops we've tested recently, so you should be able to get nearly a whole day's work out of it before returning it to the mains.
DISPLAY AND INPUT DEVICES
It's not all good news with the Z500 Touch, though, as its 15.6in touchscreen display really lets it down. The touchscreen itself wasn't as responsive as we'd like to be, and its brightness was disappointingly dim, which made our solid colour images look very washed out compared to other glossy laptop displays we've seen. Blacks were reasonably deep, but whites looked grey, even at maximum brightness.
Its contrast levels were also average, and the level of detail seen in our high contrast test images varied considerably with each photo. Some images showed more detail than others, but the glossy finish on the screen made it a little difficult to see due to reflections.
The Z500's touchpad has integrated buttons but unlike some there's plenty of feedback when you click them down, the pad itself has a smooth finish but there's the slightest disconnect between your inputs and the cursor movements. We like the keyboard without reservation, all the keys are well-spaced and give lots of tactile feedback, plus there's a numberpad.
The Lenovo IdeaPad Z500 Touch is certainly very powerful for a laptop at this price, but we'd much prefer a more responsive and brighter touchscreen. The Z500 is a good laptop, but we prefer the Best Buy-winning and cheaper MSI CX61 .
| | |
| --- | --- |
| Processor | Intel Core i7-3632QM |
| | |
| --- | --- |
| Processor clock speed | 2.2GHz |
| | |
| --- | --- |
| Pointing device | touchpad and touchscreen |
| | |
| --- | --- |
| Native resolution | 1,366x768 |
| | |
| --- | --- |
| Graphics Processor | Nvidia GeForce GT 740M |
| | |
| --- | --- |
| Graphics/video ports | VGA, HDMI |
| | |
| --- | --- |
| Total storage capacity | 1,000GB |
| | |
| --- | --- |
| Optical drive type | DVD+/-RW +/-DL |
| | |
| --- | --- |
| Wired network ports | 1x 10/100/1000 |
| | |
| --- | --- |
| Wireless networking support | 802.11b/g/n |
| | |
| --- | --- |
| Supported memory cards | SD |
| | |
| --- | --- |
| Other ports | headphone, microphone |
| | |
| --- | --- |
| Operating system | Windows 8 |
| | |
| --- | --- |
| Operating system restore option | restore partition |
| | |
| --- | --- |
| Supplier | http://www.ebuyer.com |
Basic Specifications
Display
Storage
Ports and Expansion
Miscellaneous
Buying Information