Square, the fintech stock led by Twitter billionaire and beard-of-the-people Jack Dorsey, is on fire.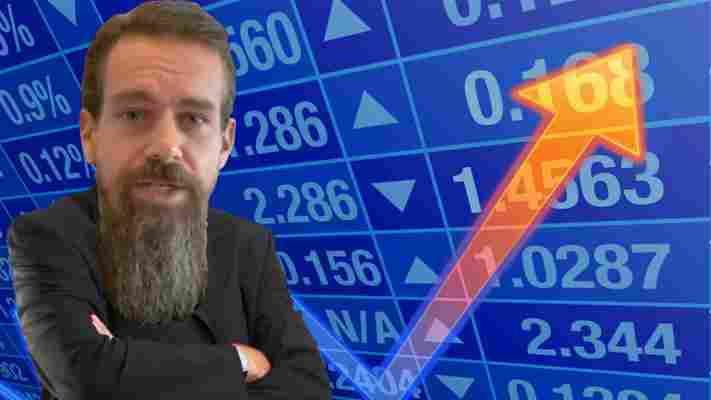 In the past three days, Square's share price has set three consecutive all-time highs, both intraday and closing.
It peaked at $208 on Monday, hit $209.36 on Tuesday, and broke $214 on Wednesday to close the day up 240% for the year-to-date.
Square's previous intraday and closing records were $201 and $198, set on November 6.
If Square was included in benchmark indices like the S&P 500 or the NASDAQ 100 , it would be their fourth best performing stock in 2020.
The only stocks that've returned more profit would be COVID vaccinators Moderna, video callers Zoom, and electric carers Tesla.
Square stock is now up over 1,800% since its IPO in 2015.
More recently, this week's 8% jump was solidified by the company's acquisition of Credit Karma's tax wing for $50 million, which traders were pretty into.
The move comes as part of Intuit's $7.1 billion Credit Karma takeover, which until now was blocked by a civil antitrust lawsuit brought forward by the US Department of Justice.
Intuit's TurboTax is a direct competitor of Credit Karma's tax business, which makes buying it less than sporting 'cos Intuit could end up with a monopoly — so Square agreed to buy it instead, and integrate Credit Karma's tax software and IP into its own peer-to-peer money transfer thing, Cash App.
But while Square's main rival PayPal has also benefitted from a hyper-digitized 2020, PayPal has only just managed to double its share price in the past year.
Still, both stocks are leagues ahead of grandpa payments plays like Visa and Mastercard, which are both up less than 20% since this time in 2019.
All those gains are attributed to Square's healthy revenue , with quarterly gross profit up 59% year-on-year. The company's net revenue rose 140% to $3.03 billion, with Bitcoin transactions (Square does that) making up more than half of that.
But even without the BTC, revenue rose 25%.
In fact, Square loves Bitcoin so much it put 1% of its total assets in BTC (around $50 million) in early October, when it traded for under $11,000.
Now it's worth nearly $17,000, so, there's that too.
Square's done a lot of going up, sure, but how far can it go? Boomer question, but ok. Most Wall Street insiders consider it either a buy or a hold, according to MarketWatch .
SEC halts $ZOOM after coronavirus traders confuse it for Zoom app
Eager traders looking to cash in on the coronavirus (COVID-19) pandemic have flocked to purchase shares in video-calling platform Zoom – except some bought the wrong stock.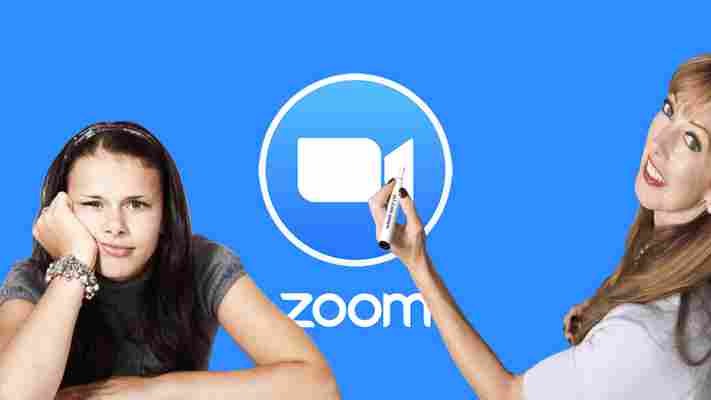 The US Securities and Exchange Commission (SEC) tweeted Thursday it was suspending t rade for Zoom Technologies — a relatively tiny holding company supposedly headquartered in Beijing — due to the confusion.
Zoom Technologies' subsidiaries reportedly develop games and electronic components for mobile phones, among other things, but the SEC shared concerns that it hadn't filed a public disclosure statement since 2015.
Zoom Technologies share price had skyrocketed from around $3 in mid-February to $20.90 last Friday, a nearly-700% increase.
It's highly likely investors had intended to buy shares in Zoom Video Communications, a much larger firm that went public last year, responsible for the popular free video calling app Zoom.
Zoom up 30% while rest of market down 50%
Coronavirus lockdown measures across the world have boosted Zoom's usage big time. Offices, schools, and universities gone digital have readily adopted Zoom as their video-calling platform of choice, while others have used it to host events like weddings and bar mitzvahs.
This increased demand has sent Zoom Video Communication's share price from below $80 in January to an all-time-high of $159.56 on March 19.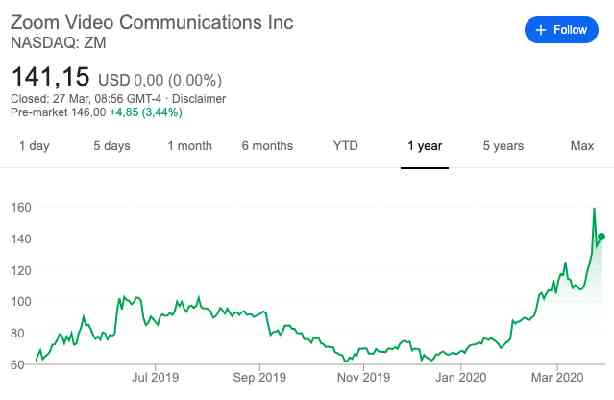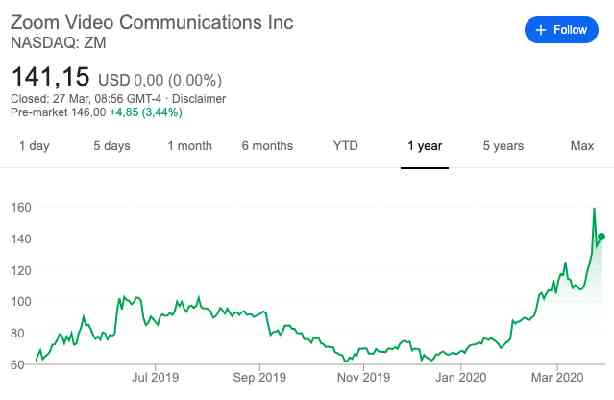 Beyond the liquidity problems associated with small-cap stocks like $ZOOM, the real problem is the tickers. Tickers are sequences of letters or numbers that stock exchanges use to reference companies in a shorthand manner, often abbreviations.
NASDAQ lists Zoom Technologies, which didn't make the Zoom app, as $ZOOM, while the ticker for Zoom Video Communications, which did make the Zoom app, is $ZM.
Confusing, right? The people accidentally buying $ZOOM instead of $ZM share your pain. Thing is, this shit has happened before.
Last year, Business Insider reported that Zoom Technologies' share price had gone from nearly zero to almost $6 just after Zoom Video Communications filed its paperwork to go public — likely the exact same confusion that led to the SEC's intervention this week.
Judge rules Musk's 'Tesla stock too high imo' tweet troublesome, but not enough to sue
Remember when Tesla shares tanked by 10% moments after its CEO Elon Musk tweeted: "Tesla stock price is too high imo"?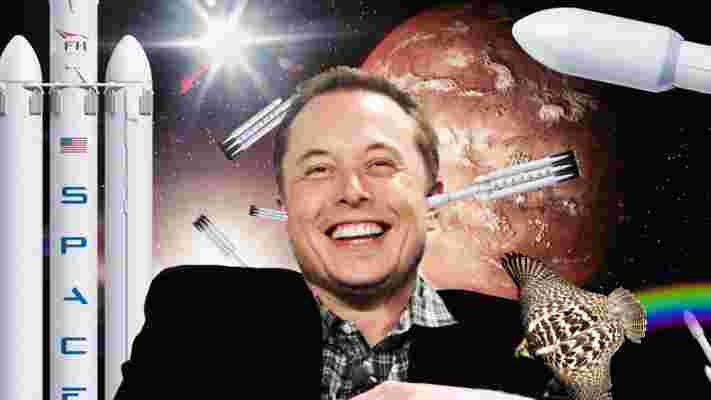 Turns out it was the "final straw" for a group of Tesla shareholders, who've used the fiasco as leverage in a potential lawsuit that seeks to stop the enigmatic billionaire from tweeting any information at all regarding the company moving forward.
According to AP, their lawyers have argued that Musk's continued tweeting poses a direct threat to Tesla, and that his May 1 post breached conditions of a 2019 settlement with the Securities and Exchange Commission (SEC) — which demand any tweet which might affect the value of Tesla stock be reviewed by another person before they go live.
"No rational Tesla lawyer or director could have approved this tweet," wrote the plaintiffs. "Musk clearly is unwilling to comply with the SEC settlements, and the board is equally unwilling or unable to require him to do so and constrain his tweeting."
The attorney defending Tesla's directors responded by highlighting that the stock price crash suffered by Tesla in the wake of Musk's 'too high imo' tweet lasted less than one full business day, implying any damage to shareholders was minimal.
He also reportedly posited that banning Tesla's CEO from tweeting about his own electric vehicle company could breach the First Amendment, which protects freedom of speech.
This echoes what Musk said on the matter during a related 60 minutes interview.
Judge says its unlikely that Musk's tweets tanked Tesla stock
On Tuesday, Delaware judge Joseph Slights ruled that Musk's 'stock price too high imo' tweet was "troublesome on its face," but just one of many questionable posts over a year that has seen incredible growth for Tesla stock.
He's right: despite the "red pill" bullshit , unusual baby name , and newly-found lust for shedding material possessions , Tesla's share price is still through the roof — up more than 430% since May 2019, even after the coronavirus pandemic laid waste to stock markets.
However, AP noted that Slights said he could revisit his decision if Musk's Twitter usage results in "likely" harm to Tesla shareholders. So far, he reckons the allegations put forward have been simply speculation, but will continue to keep the case on hold.
"The decision will be clearer if more of a pattern emerges, especially an unchecked pattern […]. At this point, though, what's done is done," Slights concluded.
That sure sounds a lot like "boys will be boys" to me.