Best Laptops for College Students
Going off to college prepared can make a tremendous difference in getting work done on time without worry. Knowing the best laptops for college students on the market can help in making an informed decision to make sure it addresses all the needs of the student while having the ability to handle additional software and tasks as the years evolve.
This list includes all the popular options when considering the best college laptops for students that can function for school work, as a television, and more. College students have limited space in their dorms, so having an option that takes up little to no space and mobile is key. One of the most common mistakes when choosing a laptop is underestimating how much space or storage will be needed. While some programs give their students a list of the type of computer they should have, this is not always the case.
Being proactive and making a list of how the laptop will be used can serve as an active guide to compare and contrast different options.
What are the best laptops for college? Take a look:
1. Apple – MacBook Pro – 13" Display with Touch Bar
Apple computers are very popular among the college crowd and versatile. For those using Apple products, this is a seamless integration. The MacBook Pro 13″ boasts an Intel 10th Generation Core i5 model with varied options for RAM and 512 GB storage capabilities.
2. Apple – MacBook Air 13.3" Laptop
The MacBook Air 13.3″ has been on the list of best student laptops for college for years. Lightweight and easy to carry, this model has the Apple M1 chip – 8 GB memory, and 256 GB. It is also known for its ease of use and battery life.
3. Microsoft Surface Laptop 4 – 13.5" Touchscreen Laptop
The ultra-thin Microsoft Surface 4 laptop has the AMD ryzen Microsoft Surface Edition processor and delivers a powerful performance in a light design. Battery life is long, and it comes with a Mytrix digital pen for those who want to write or draw.
4. Microsoft 12.4" Multi-Touch Surface Laptop Go
Microsoft's 12.4″ Multi-Touch Surface Laptop Go has an Intel Core i5 processor. This touchscreen computer is offered with 8GB RAM and 128GB SSD with UHD Graphics. Windows 10 Home is standard.
5. HP Envy 13
The HP Envy 13 is a Intel Core i7 computer with a 13.3-inch touchscreen display, Windows 10 Home with a fingerprint reader, and a camera kill switch. Features like unhackable security, BIOS recovery and protection, and Energy Star.
6. Dell XPS 13
The Dell XPS 13 is one of the frontrunners in the best laptops for college students category. It's very thin and light, with a 13.4 inch infinity edge touchscreen. This model is an Intel Core i7 with 16GB RAM, 512GB SS, amazing graphics cards and a free upgrade to Windows 11.
7. Google Pixelbook Go
The Google Pixelbook Go is a lightweight Chromebook that offers a lot of mobility. It has up to 12 hours of power on the battery, and 2 hours of battery use with only 20 minutes of charge. 8th Gen Intel Core processor with quick startup, HD4K resolution, and a high resolution 1080p webcam.
8. Lenovo 5i Pro Gen 6
Lenovo has been known as the workhorse of computers for years and this is no different. The Lenovo 5i Pro Gen 6 is available in a number of RAM and storage options, as this is a gaming laptop with a 16" screen. Backlit with GeForce RTX graphics and a 332GB Micro SD card, this laptop offers a lot for the money, including bluetooth, stereo speakers, 720p webcam with privacy shutter, and up to 7.2 hours of battery life.
9. Dell XPS 17
The Dell XPS 17 is the larger version of the 13". With a 4K UHD InfinityEdge Touch, this is a 9th Gen Intel Core i7 with NVIDIA GeForce video card, 1 TB SSD storage and 16GB RAM. The keyboard is backlit with a keyboard reader and has Bluetooth 5.0.
10. Acer Swift 5
Acer is no secret to the laptop community and their offerings keep getting better over time, like the Acer Swift 5. This thin and lightweight laptop has a full 14" HD touchscreen with Intel Iris Xe graphics, 16G, 1TB SSD, WiFi 6, with antimicrobial gorilla glass backlit keypad and up to 15 hours of battery life.
What Features Make a Good Laptop for College?
Depending on the program of study, there are a few features that can't be overlooked. In general, the best laptops for college should have room for advancement. Before deciding on the best laptop to meet certain needs, make sure all the computer requirements for the program are met. This includes all applications and other programs needed.
You always want to consider the following:
Mobility
If there is a lot of movement, it is important to determine how easily the laptop can be carried. How light or heavy the laptop is can make a huge difference to whether it is the right purchase for the student.
Performance
How well does the laptop perform? For students who have creative arts majors, this is very important. A lot of these programs take up a lot of space, which could slow down the computer. Additionally, purchasing a computer that is slow and cannot handle tasks very well would not be a good idea.
Price
While it would be nice to get a computer with all the bells and whistles, this may not be the case for college students on a budget. The key is in getting all the features needed while staying within a designated price point. That may mean getting another brand that includes everything instead of the more popular brand with limited features at that price point.
Battery life
The battery life of a laptop is important, especially for students that move around a lot. The worst thing that could happen is being in class taking notes or giving a presentation and the battery runs out because there is no outlet for charging. It may not seem like a big deal, but it really is.
Video
Let's face it – video rules the world, and having an inadequate video experience on a laptop is not a very good thing. Many classes are now being held online with instructors requiring students to have their cameras on. Additionally, watching a video on a computer or students who are into gaming should have a robust experience, so the video card should be a good one.
Storage
For some students, storage is not that big of a deal because they use the cloud to upload their information. While this is a great idea, it is always a good idea to have some sort of backup for the backup. At minimum, there should be at least 8 GB. Students use a hard disk drive (HDD), solid-state drive (SSD), or a hybrid of both. The SSD is faster to start and process.
Screen size
Students who only use their laptops to type information may be able to get away with having a smaller screen size. This is also true for those who move around a lot. Students who need larger screens for art or because they need to see better should move up from the 12" or 13" screen sizes. The larger the screen, the heavier the laptop may be, depending on the brand.
Ports
With disc drives no longer an option on most computers, laptops should have a number of ports available for students to use. There should be at least two USB ports (or more), a Thunderbolt 3 port, Ethernet port, HDMI/VGA/DVI port, and an SD card reader at the minimum.
Keyboard
The keyboard is a very important feature. It should be backlit, easy to use, comfortable to type on (keys) and have additional features such as a sound bar, easy to reach number pad, etc.
How Important is Brand?
There are a number of no-name laptops on the market that work just as well as the larger well-known names, but when considering warranty, the bigger brand names have better options and protection in place to make sure their brand name is not tarnished. If the no-name computer has all the same specs as that of a major brand, it may be worth taking a look to stay within the budget. In addition, there are different versions of a brand name that may fit into the current budget without having to compromise functionality, style, or money.
It's also important to read the reviews, because big brands can have just as many issues as off-brands. When reading the reviews, check the specifications to see how it measures up to current needs to make the final determination. Some brands offer all the bells and whistles when they aren't needed, so students end up purchasing something for the name when they could have gotten exactly what they needed without the added cost of a brand name.
This comprehensive list can help current students in the market for a new laptop, and prospective students decide what laptop is best for college. It is important to know that choosing the right laptop takes time and research to ensure every consideration is made.
Related:
25 Colleges that Offer Free Laptops
Best laptop for high school students 2023
The best laptops for high school students need to be powerful, offer great value, be rigid enough for daily use, and have a sound design that younger consumers would want to use. The Dell XPS 13 (9310) ticks all these boxes and is one of the best 13-inch laptops you can buy. In fact, it's one the best Windows laptop options available today. The latest model comes rocking 11th Gen Intel processors and plenty of storage and RAM for schoolwork.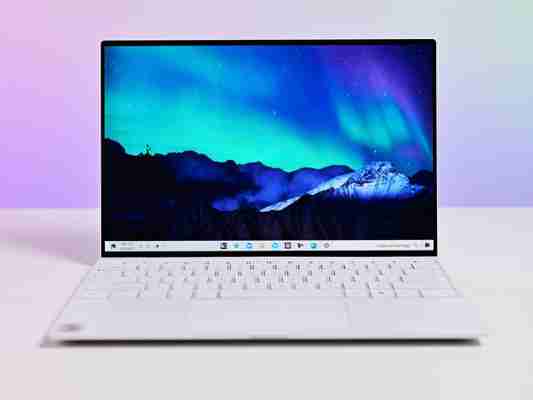 Best laptops for high school students
(Image credit: Future)
Dell XPS 13 (9310) laptop Best overall: This laptop doesn't just look amazing Today's Best Deals View at Dell (opens in new tab) View at Amazon (opens in new tab) View at Walmart (opens in new tab) Reasons to buy + Alpine White and gold chassis is gorgeous + Strong performance and good battery life + 4K OLED display + Windows Hello support + Full Thunderbolt 3 USB-C ports Reasons to avoid - Pricey - Poor webcam
The Dell XPS 13 is the entry product in the XPS line of premium laptops but is an ideal match for students looking to take advantage of capable hardware to help with their studies. Picking the best laptop before heading back to school in 2021 doesn't have to be yet another chore on the list of things to get done. The beauty of the XPS 13 is you're able to configure it exactly how you wish. Need more than 128GB of solid-state drive (SSD) storage? Simply add a 256GB (up to 2TB) drive when ordering or install one after the laptop gets delivered.
Then you have a Full HD display with barely any bezel, which can be bumped to 4K. Speaking of specifications, the XPS 13 was refreshed by Dell to include Intel's 11th Gen processors. These components are matched with up to 16GB of RAM and Wi-Fi 6 connectivity. The latter improvement with the XPS 13 is a significant benefit for students, thanks to its excellent wireless range and reliability.
The keyboard is likely what will be used the most, and this is probably the laptop's weak spot. It's not the worst keyboard by any means, but it's also not among the best. With only 1.3mm of key travel (how far the key can be pressed down), it can feel somewhat "mushy" to those who are used to desktop mechanical keyboards or other portable PCs with enhanced means of input. There's also an issue with oil stains after considerable amounts of use.
Overall, you'll get a super-portable laptop with a gorgeous display and excellent performance. Couple all that with improved battery life (thanks to expanded capacity and the newest processors), and you've got one fantastic device for any student.
(Image credit: Future)
HP Pavilion Aero 13 laptop Runner-up: All the power without the bulk Today's Best Deals View at HP (US) (opens in new tab) View at Newegg (opens in new tab) View at Best Buy (opens in new tab) Reasons to buy + Great battery life + Excellent port selection + Incredibly lightweight + Capable AMD Ryzen 5000 CPUs + Precision touchpad Reasons to avoid - No Thunderbolt 3
HP worked some seriously dark magic with the Pavilion Aero 13 and it's all in the name, Aero. This thing is stupendously light. Even with a powerful AMD Ryzen 5 processor and integrated Radeon graphics, you've got a laptop that weighs in at less than 1kg. Throw in 8GB of RAM and 256GB for storing all your files and you're onto a student winner here.
If you have a little bit of spare cash, it's possible to configure the Aero 13 with up to an AMD Ryzen 7 CPU, 16GB of RAM, and 512GB SSD. Compared to the Dell XPS 13, this laptop is upwards of 200g lighter, making it ideal if you're on the move across campus or require something to use out in the field.
The 43Wh battery will ensure you're able to keep going through the day, and Wi-Fi 6 means you won't have any issues getting online. Ports-wise, HP went with a USB-C port capable of power delivery and video out (DisplayPort 1.4), USB-A, HDMI 2.0, AC power, and an audio jack for good measure.
(Image credit: Microsoft)
Surface Laptop 5 Best Ultrabook: The best Ultrabook for serious students Today's Best Deals View at Walmart (opens in new tab) View at Best Buy (opens in new tab) View at Microsoft US (opens in new tab) Reasons to buy + Latest 12th Gen Intel Core processors + Excellent performance and decent battery life + Still the best keyboard, trackpad, and audio in a Windows laptop + Available in 13.5- and 15-inch screen sizes with 3:2 aspect ratio Dolby Vision IQ displays + Very quiet fan Reasons to avoid - More affordable options are available - Port selection is limited
Available in a choice of two screen sizes, Microsoft's latest Surface Laptop 5 has been updated to use the latest Intel 12th Gen processors that give this series 17 hours of battery life. As one of the sleekest Ultrabooks on the market with its Intel Evo platform branding, the Surface Laptop 5 got some subtle upgrades this generation, including a color-calibrated display, Dolby Vision IQ support, and Omnisonic speakers with Dolby Atmos tuning.
And even though it was built as a standard laptop, the screen of the Surface Laptop 5 can accept both touchscreen input as well as Microsoft's Surface Pen, the latter can be useful for drawing quick notes or signing documents.
Along with Bluetooth 5.1 and Wi-Fi 6 support, you will find a selection of ports on this device, though the number of inputs may be limited. Thunderbolt 4 over USB-C, USB-A, 3.5mm headphone jack, and the Surface Connect ports are all present. If you need more than one type of port, you'll need to turn to a hub for expansion.
The Surface Laptop 5 is available starting with 8GB of LPDDR5x RAM, which can be upgraded to 16GB on the 13.5-inch model or 32GB on the larger variant at the time of purchase. The solid-state drive capacity starts at 256GB, though this is removable.
For the style-conscious student, depending on the build and configuration of the Surface Laptop 5 you choose, you can opt for either a standard all-aluminum palm-rest on the keyboard deck or one that uses a premium Alcantara fabric material that's typically found on luxury automobiles. The latter is definitely a unique take, but can wear out more quickly if you intend on holding on to your Surface Laptop 5 for some time.
(Image credit: Future)
Microsoft Surface Pro 9 Best portable: When you need to do some work wherever you may be Today's Best Deals View at BHPhoto (opens in new tab) View at Amazon (opens in new tab) View at BHPhoto (opens in new tab) Reasons to buy + Outstanding hardware design + Unlocked 5G mobile broadband on Arm variant + Upgradable SSD + ARM and Intel variants available + Slim Pen and keyboard are super clever + Excellent audio, display, and typing Reasons to avoid - Keyboard and pen are optional extras - Not ideal for gaming
As the successor to both the Surface Pro X and the Surface Pro 8, Microsoft's latest Surface Pro 9 combines both of its predecessors into a single family. With this generation, you won't have different branding for Arm or Intel chipsets, and the Surface Pro 9 is available with either Arm silicon or Intel's 12th Gen chips in the same, sleek design.
Here, you're getting a well-built, aluminum-clad tablet with a sleek built-in kickstand that makes the Surface tablet's design so iconic, along with an optional keyboard cover with a garage to charge and house the Surface Pen when you're not using it. The only thing "optional" about the keyboard cover is that it's not included, so you'll have to shell out extra money to acquire it. That said, if you're looking to get the Surface Pro 9 for educational use, you'll definitely want to invest in the keyboard cover, which is instrumental for typing out reports and assignments.
Microsoft claims up to 19 hours with the Arm version, which is powered by the Microsoft SQ3 chipset, though you may want to stick to the Intel variant if you want better performance and improved compatibility when using legacy software. The Intel version isn't too shabby, either, with its 15.5 hours of battery life.
The PixelSense Display gains Dolby Vision IQ support this year, but it retains the 3:2 aspect ratio found on the prior generation Surface Pro 8. The fast 120Hz refresh rate display seems a bit superfluous on this non-gaming slate, but it should make scrolling more smooth. If you opt for the Arm variant, you'll also have access to built-in 4G and 5G mobile broadband support, a feature that's missing on the Intel model.
(Image credit: Future)
Razer Blade 15 (Base model) Best gaming: The ultimate portable PC gaming machine Today's Best Deals View at Amazon (opens in new tab) View at Amazon (opens in new tab) View at Amazon (opens in new tab) Reasons to buy + Gorgeous 4K and QHD display options + Insane gaming performance + Slim, premium build + Decent port selection + Enormous Precision touchpad Reasons to avoid - Expensive - Runs hot
When it comes to PC gaming on a laptop, the Razer Blade 15 (review is for Advanced model) is one of the best options out there. Not only can it be configured with an NVIDIA RTX 3070 discrete GPU, but also an 11th Gen Intel Core i7-11800H CPU, 16GB of DDR4 RAM, and a 512GB SSD for maximum performance. While you'll be able to play most modern PC games, you'll find the battery life depletes rapidly when all these power-hungry components are put under load.
The 15.6-inch display can have a Full HD, QHD or 4K resolution and up to a 165Hz refresh rate for smooth graphics.. No matter which display you choose, you'll fail to notice any bezel and instead appreciate outstanding color reproduction. The RGB keyboard can be fully customized, and you can use the large Precision touchpad for standard tasks when not gaming with an external gaming mouse — and we recommend you buy a mouse for gaming.
For ports, you're getting HDMI, Thunderbolt 3, USB-C, Gigabit LAN, and USB-A 3.2 Gen 2, which allow you to connect external monitors and other accessories for a gaming battle station when you're not on the move.
(Image credit: Windows Central)
Dell Inspiron 15 (3000) laptop Budget-friendly: Powered by value Today's Best Deals View at Dell (opens in new tab) View at Amazon (opens in new tab) View at Best Buy (opens in new tab) Reasons to buy + Affordable + 11th Gen Intel CPU + Decent battery life + Fingerprint reader Reasons to avoid - Lackluster performance
You may think the Inspiron 15 3000 is sorely underpowered due to the price, but it's really not. It all depends on how much you're willing to spend. Inside you'll find up to an 11th Gen Intel Core i7-1165G7 processor, but the most affordable model comes rocking a 11th Gen Intel Core i3-1115G4 CPU.
The design isn't too bad for a sub-$500 laptop. In fact, it looks relatively premium when compared to more pricey alternatives. The CPU and GPU are joined by 8GB of RAM and a 128GB SSD (up to 12GB of RAM and 512GB SSD), both perfect for schoolwork, and the 15.6-inch display will make all your work pop. There's even a fingerprint reader with full support for Windows Hello.
The performance and design won't blow you away, but if you simply need a budget-friendly laptop to get the youngling off on the right track with school with a battery to last the day, the Inspiron 15 should be shortlisted.
(Image credit: Microsoft)
Microsoft Surface Go 3 Best affordable 2-in-1: Size, power, and price Today's Best Deals View at Amazon (opens in new tab) View at Best Buy (opens in new tab) View at Walmart (opens in new tab) Reasons to buy + Up to 10th Gen Core i3-10100Y processor + Windows 11 Home in S Mode + USB-C port + Up to 11 hours of battery life + Wi-Fi 6 support + Premium Magnesium build quality Reasons to avoid - No Thunderbolt 3 - No LTE - Bezels are a bit thick
For students who don't want to carry a larger or heavier laptop to class, the affordable Microsoft Surface Go 3 may be just the ticket. As a more budget-oriented model, this slate doesn't come with the most powerful internals, but it still boasts a fanastic all-metal build-quality, a useful built-in kickstand, and up to 11 hours of battery life.
Considered the little sibling to the Surface Pro lineup, the Surface Go 3 has a 10.5-inch display with a similar 3:2 aspect ratio display, and this little tablet can also be equipped with LTE connectivity for moments when you need to connect to the Internet while you're away from a Wi-Fi network.
To keep the price more affordable, you'll have to make due with the slightly slower 4GB or 8GB of LPDDR3 memory. For those who need a bit more performance, we'd recommend upgrading to the 128GB solid-state drive model over the 64GB eMMC drive.
Like other Surface tablets, the Surface Go keyboard cover is unfortunately an optional accessory, but one that we'd recommend you get if you intend to use this slate for school, work, or any sort of productivity.
Best high school student laptops
The XPS 13 by Dell is a stunning laptop and is one of our favorite Windows laptops. A gorgeous design, solid performance, and reliability make it fit for purpose at school. You've got Intel 11th Gen processors, speedy storage, plenty of RAM, and great wireless connectivity, making it ideal for schoolwork (and play).
Other notebooks in our collection are worthy considerations like the excellent HP Pavilion Aero 13. Should you need a little more, Microsoft's Surface lineup is where it's at, taking into account student discounts. Then you have some steep savings with Dell's own Inspiron range. It all boils down to your available budget and just what kind of work you need the laptop for.
What Is The Difference Between A Laptop And A Computer?
Choosing the Best Laptop

Gone are the days when a computer was an option for a college student. All college students would agree: choosing the right computer is a big decision. College students know a computer is not just a tool to keep up with email or surf through social media. College life is demanding and academic reliance on computer technology is only growing.
Students know their computer is where the bulk of coursework is created and completed and where tons of research happens. There is no clear replacement of the computer for serious word processing, required for essays and term papers.
Having a fast computer is not a luxury anymore, it is a necessity. For all the things that phones and tablets can do, the need for a computer is still a must. Luckily, college students have a plethora of computer options, more today than ever before. From small, lightweight little notebooks to fully-loaded laptops, options abound.
Having a solid computer is also necessary for the ever-growing trend of online courses, and for interacting with professors and classmates.
Data storage on the hard drive or a cloud gets saved through the computer. Security features protect data and even the student's identity and personal information. This is all before even mentioning the things that college students use their computer for in their free time: from gaming to streaming movies, surfing the web, or just keeping up with social media.
Whether you are looking for a convertible laptop that can also become a tablet, a low-budget powerhouse, or a brand that you trust and are familiar with, this list can help you narrow down your options and find what is best for your specific usage, based on your school and major.
Some students care more about memory, storage, and tech specs like the processor or display. Others value what sort of programs come preloaded on the machine or the kind of battery life it offers. Another thing not to be overlooked is the overall value of the machine and keeping within a student's tight budget.
This list was created to help make the decision a bit less stressful. Plain-spoken descriptions help narrow down the pros and cons in easy to understand language.
Sponsored Schools
What Are the Best Laptops for College?
The methodology for our ranking is based on a weighted score from aggregated ratings from high-quality consumer site and rankings such as Laptop Mag, CNET, Macworld UK, PC Mag, Laptop Mag, Tech Radar, WIRED, PC World, Laptop Ninja, Digital Trends, and more.
We went through multiple computer review sites and took an aggregate of the scores by standardizing them to a scale from 0-100. We then took an aggregate of those scores to come up with our rankings.